SPRINGFIELD HALL
Introduction
An in depth look at the lives of the families known to have lived at Springfield Hall between 1813 and its demolition in 1937. It is one of the many halls in the Wigan area that have been lost and have now disappeared into history.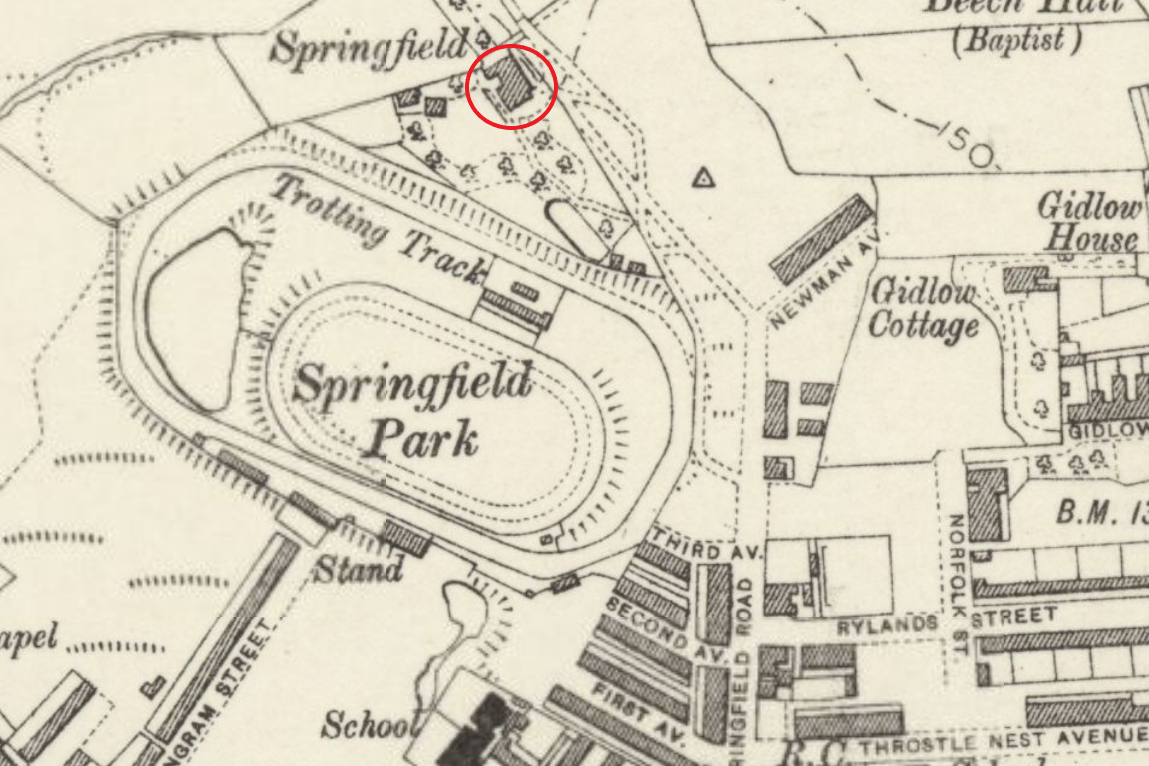 Location of Springfield HallSpringfield Hall was located within the loop of what is now St. Andrews Drive off Springfield Road. The driveway to the Hall, which was along the section of St. Andrews Drive nearest to Sacred Heart Junior school, led to a substantial property in five and half acres of lush meadow land.
The hall boasted dining, drawing, breakfast, and billiards rooms, and befitting the gentry of the late 18th century a servants hall, butler's pantry, kitchen, scullery, and laundry. Upstairs were nine bedrooms, two dressing rooms, a water closet and bathroom. In the grounds were a pond, tennis court, croquet lawn, coach house, stables, a greenhouse heated by hot water and a cistern containing 5,000 gallons of water.
Photographs and information about the hall are hard to come by. Nevertheless, it has an interesting past, with some of Wigan's most prominent and influential families having lived there at one time.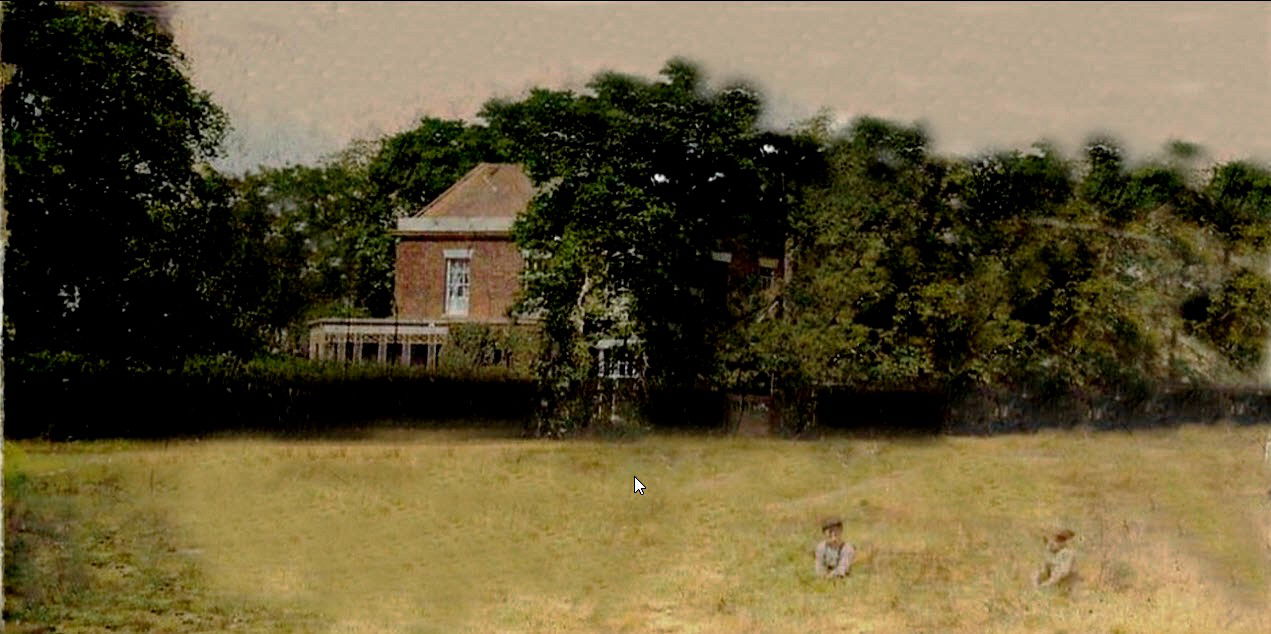 Springfield Hall - Early 1900's
JOSEPH BEVAN
The first recorded occupant of the hall so far found is Joseph Bevan, who was a brewer by profession. The baptism records of his youngest daughter Emma in 1805 show that the family lived in Standishgate at the time. Later the marriage notice for his eldest daughter Sarah Ann, who married in 1813, shows her father residing at Springfield Hall. So it was sometime between these event dates that the family moved into the hall.
Joseph was born 19 July 1755, the ninth child and sixth son of Reverend Richard Bevan, who was vicar of St. Thomas CE church in Ashton in Makerfield from 1742 to 1779. He married Ellen Clegg on 10 October 1792 at St. Annes CE church in Richmond, Liverpool. They were to have seven children, five girls and two boys.
The U.K. Land Tax Redemption register of 1798 shows that he was the owner of five properties in Wigan for which he received a total rent of 16 shillings and six pence. Joseph went into local politics and was Mayor of Wigan on two occasions, in 1811 and 1818 and was made an Alderman of Wigan Borough in in 1824.
In 1814, Joseph, along with Henry Robinson, took control of the Wigan Brewery in King Street, which had been founded in the 1780's. This partnership was later dissolved leaving Henry in control. Robinson was joined as a partner by John Hodson Kearsley Esq who had married Mary Ann Bevan, the daughter of Joseph's younger brother Richard Bevan, a solicitor based in Liverpool.
Following the death of his wife Ellen in August 1837 Joseph relocated to North Meols in Southport. He sold Springfield Hall by auction over two days on 13th and 14th November 1837 at the Eagle and Child public House in Standishgate. Included in the sale were over 700 bottles of choice foreign wines in excellent condition, a pair of carriage horses with double and single harness, a gig, cart and gears, and a large rick of excellent hay.
Joseph died six months later on 20 May 1838 of cholera at his Southport home, his body was brought back to Ashton in Makerfield to be buried alongside his wife in St. Thomas's churchyard.
The Bevan Children
All of Joseph's children were born in Standishgate and were baptised at St. Georges Chapel in Water Street, Wigan before moving to Springfield Hall.
Sarah Ann Bevan, the eldest was born 16 September 1793, she married Thomas Mawdesley at All Saints parish church in 1813. Following his death she married the newly appointed vicar of St. Aidan's church in Billinge. Rev. John Bromilow at All Saints church in 1833. Sarah died in 1861 aged 68.
Harriet Ellen Bevan was born 10 September 1795, she married Rev. James Hayes in 1819 at All Saints parish church. The couple moved to James's home village of Wybunbury, near Nantwich in Cheshire where James was curate of St. Chad's church. They were to have eleven children. Harriet died in 1836 aged 40 and was buried in St. Chads graveyard.
Elizabeth Bevan was born 11 Sept 1798. She died at Springfield Hall aged 27 in June 1826 of Tuberculosis. Elizabeth was buried in St. Thomas's church, Ashton in Makerfield.
Richard Bevan was born in 1801. He married Eliza Tomkinson, who hailed from Frodsham, in St Nicholas church in Liverpool on 1 Dec 1825. The couple were married by Richard's brother in law, Rev. James Hayes, the husband of his sister Harriet. His best man was Ralph Anthony Thicknesse, his childhood friend from nearby Beech Hill Hall, who became Wigan's MP in 1847. Richard and Eliza were to have seven children, four girls and three boys.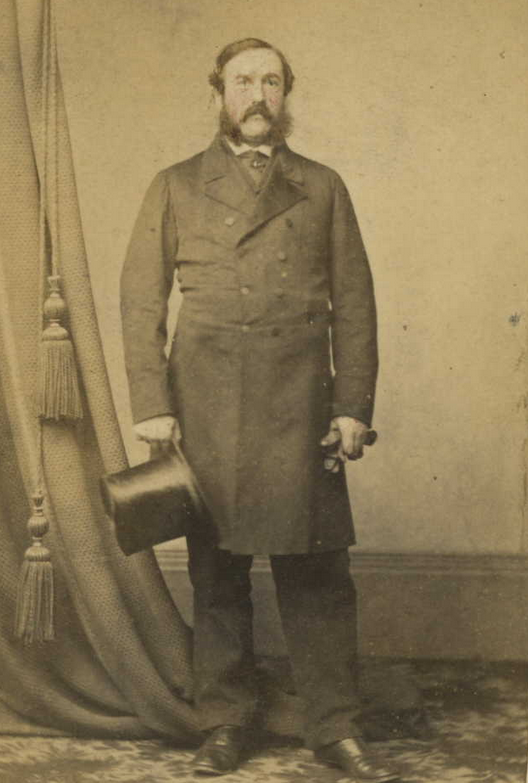 Richard Bevan
Richard stayed in Liverpool after his marriage and became a successful businessman, purchasing Leyfield House in Knotty Ash. (The building is now Grade 2 listed and is part of Cardinal Heenan High School).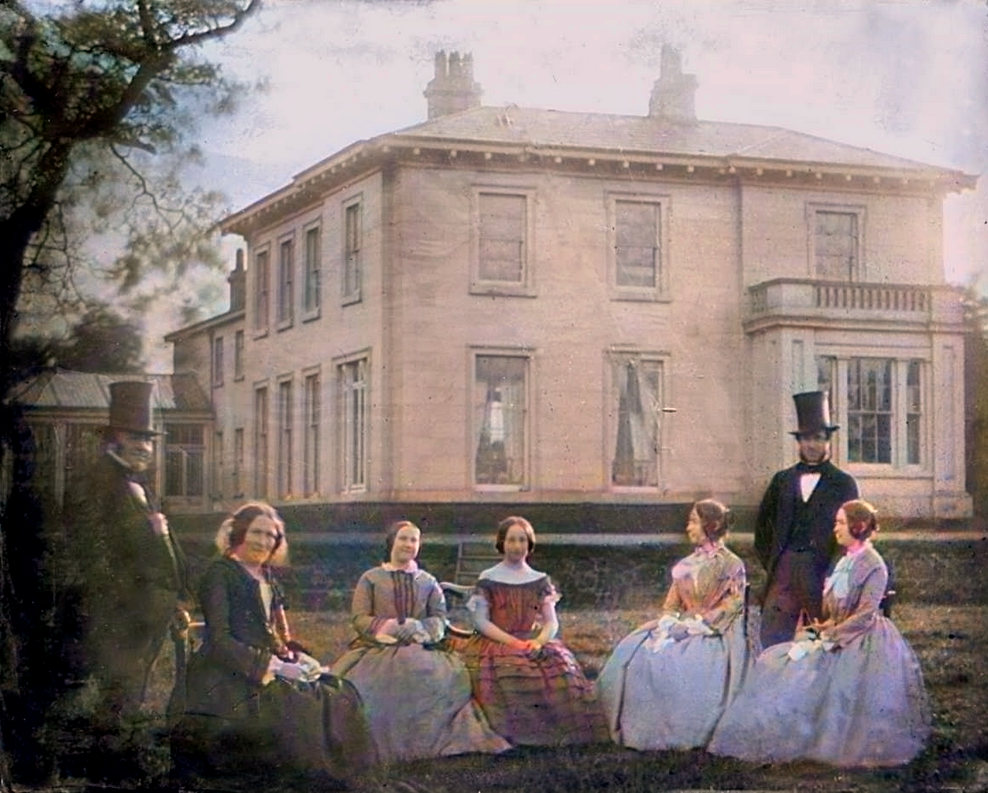 Richard Bevan and family at Leyfield House
He went into partnership with Alexander Fowden Haliburton as coal merchants and copperas (ferrous sulphate produced from coal and iron) manufacturers based in Aspull. The partnership was dissolved in 1847.
Gore's Liverpool Directory of 1853 shows that Richard was now in partnership with John Smith and as Messrs. Bevan and Smith were running B&S wine, spirit, coal, and salt merchants based in Virginia Buildings in Liverpool city centre.
In the mid 1850's Richard moved to 5 Falkner Square, a large town house in Canning, on the outskirts of the city centre, dying there on 20 January 1865, aged 64. He was buried in St. John the Evangelist churchyard in Knotty Ash, Liverpool.
Mainwaring Bevan was born in 1802. He died of Tuberculosis at Springfield Hall in April 1821 aged 19 and was buried in St. Thomas's church in Ashton in Makerfield.
Maria Bevan was born in 1804. Like her siblings Elizabeth and Mainwaring before her, she also died at Springfield Hall in January 1836 of Tuberculosis, aged 32. She was buried in St. Thomas's graveyard in Ashton in Makerfield.
Emma Bevan was born in 1805. She remained a spinster of independent means.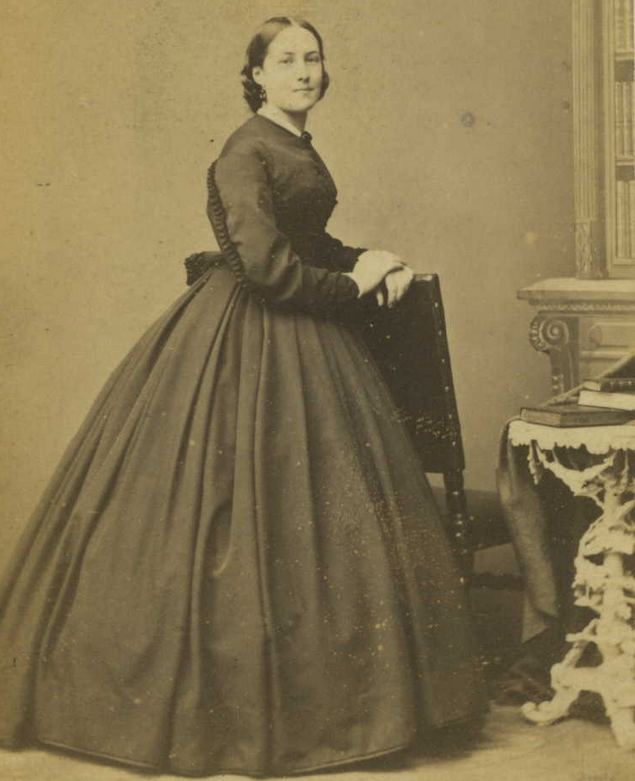 Emma Blanche Bevan
The 1851 census finds her as a visitor at the home of Robert Critoph in Leamington, Warwickshire, along with her two nieces, Mary Jane and Maria Hayes, daughters of her older sister Harriet Ellen. Emma died 31 March 1863 aged 58 at her home in Wimpole Street in Mayfair, London.
EDWARD WOODCOCK
The next owner of the hall was Edward Woodcock, he was born 3 May 1803 in Standishgate and baptised at All Saints Parish church on 3 March 1904. He was the third child and second son of Thomas Woodcock, an attorney at law and banker who, in partnership with his brother-in-law Ralph Thicknesse had established Wigan Old Bank at 4 Standishgate in 1792. Ralph lived at nearby Beech Hill Hall and was MP for Wigan 1831-1834.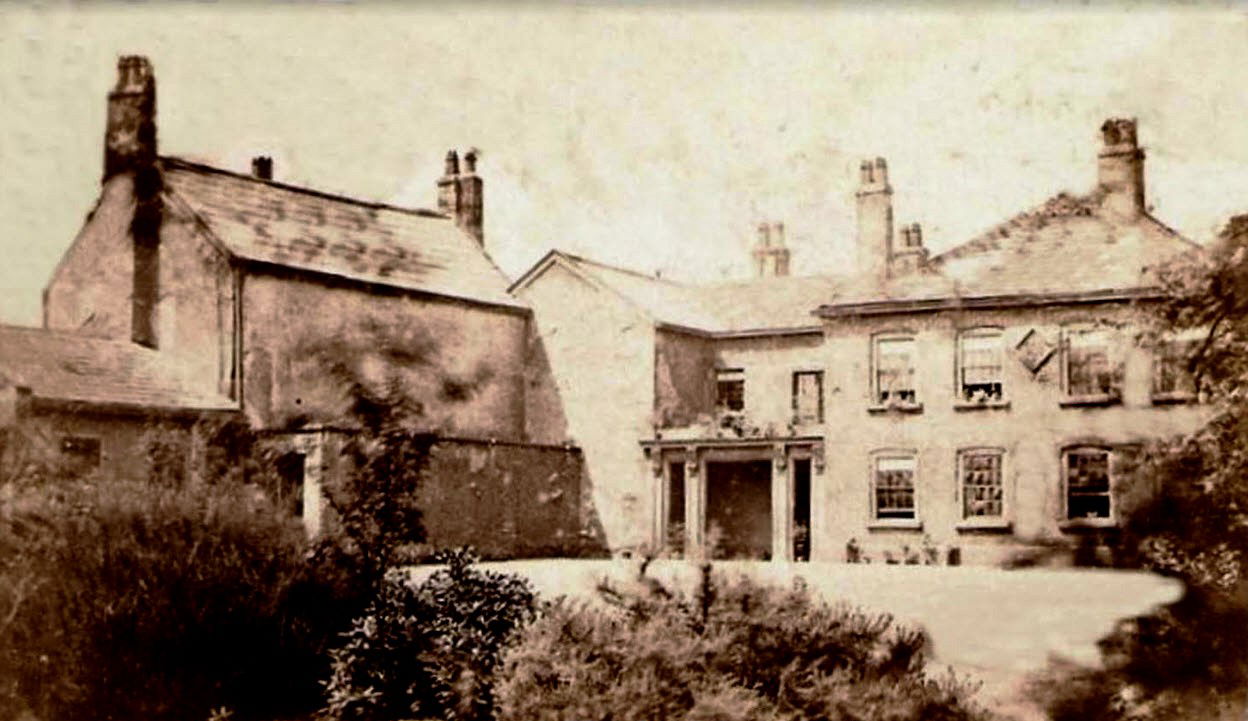 Beech Hill Hall
Edward's older brother John was elected Mayor of Wigan in 1832 and their father Thomas had been elected Mayor of Wigan no less than five times, in 1802, 1804, 1806, 1808 and 1817. Like many in his wider family, Edward trained and qualified as a solicitor. He married Margaret Fraser, a native of Dublin on 2 May 1839 at Wallasey Parish Church. They were to have eight children, four boys and four girls' all born at Springfield Hall.
In April 1844 Edward donated two and half acres of land in Gidlow Lane to be used as allotments by hand loom weavers who worked from their cottages. Each allotment measured 384 square yards and an annual rent of 5 shillings was to be paid punctually on the 10th of October.
As well as strict rules regarding the running and upkeep of the allotment it was also a requirement that no work be done on a Sunday. The tenants had to attend church regularly, send their children to school, and abstain from drunkenness, swearing or any offence against the law of the land.
The 1851 census finds Edward living at Springfield Hall with Margaret and four of their children, Ann 11, Emma 8, Edward 5, and one-year old Clara. Also, resident was a governess and six servants. Edward's occupation is shown as an attorney and clerk to the County Court of Lancashire, held at Wigan and Chorley.
Two years later Edward's cousins, Thomas Woodcock, who lived at the Elms on Wigan Lane, and Ralph Thicknesse from Beech Hill Hall tragically drowned in a boating accident on Lake Windermere, at a location known as White Cross Bay. (See related article, 'Beech Hill and the Thicknesse Family').
The census taken on 7 April 1861 shows Edward at the hall with his wife and four youngest children. At the time the eldest two girls, Ann and Emma were guests of their aunt Charlotte Fraser in Tunbridge Wells, Kent. His eldest son Edward was a pupil at the famous Rugby boarding school in Warwickshire.
Edward was to die just three months later, on 10 July 1861 aged 58 at Cheltenham, Gloucester. He was buried five days later at St. Peter's church in the village of Leckhampton, just outside Cheltenham. His wife Margaret died the following year on 25 April 1862, aged 47, at Southport, where she was buried six days later at Christ Church, North Meols.
The Woodcock Children
All eight of Edward's children were born at Springfield Hall during the twenty three years he was resident.
Ann Elizabeth Woodcock, the eldest child was born 12 March 1840, she did not marry and lived the life of a lady of private means. On the 1871 census she is shown as a guest of her cousin Frances Dealtry at 18 Bryanston Square in Marylebone, London. She then lived at 1 Melbury Terrace in Harewood, North London before returning to Wigan. The 1881 census finds her living with her brother Robert, a doctor, at 12 Upper Dicconson St. She moved with Robert to his new address at 65 Standishgate where she died on 12 January 1883, aged 42. She was buried four days later at St. Wilfrid's church, Standish.
Emma Frances Woodcock was born 4 September 1842, she married Henry Samuel Tabor who hailed from Bocking in Essex, at St. Wilfrid's church, Standish on 9 May 1865. In the church register he is described as a gentleman and landowner. The 1871 and 1881 census show Emma and Henry living at Kensington in London. By 1891 they had moved to Fennes Farm at Bocking, near Braintree, where they raised five children, three boys and two girls. They lived out their lives at the farm. Henry died 2 December 1923 aged 86, Emma died six months later, on 16 June 1924, aged 81. She was buried alongside her husband three days later at St. Mary the Virgin church in Bocking.
Edward Holme Woodcock was born 30 April 1845, he was a pupil at the Rugby School in Warwickshire at the time of his father's death. While he was in Warwickshire he met his future wife, Emily Mary Pears who came from Allesley on the outskirts of Coventry. They were married at Allesley Parish church on 29 December 1869 and were to have five children, three girls and two boys. Edward followed his father into the legal profession and qualified as a solicitor, becoming County Registrar with offices at 36 King Street, Wigan.
Edward's wife Emily died at their home, Worthington Lodge in 1879 aged 35. Edward married for a second time to Georgina Maria Fanny Hayley on 11 September 1883 in Sussex. His failing health prompted him to spend two years in Switzerland and on the continent but a week after returning to England he died of a heart attack at the home of his mother in law at Catsfield, Sussex. He was buried in St. Laurence's churchyard in Catsfield, his second wife's birthplace. Edward's son John Burrell Holme Woodcock served with distinction in the Great War. As a major in the Pembrokeshire Yeomanry, he was mentioned in despatches and was also awarded the DSO.
Margaret Fraser Woodcock was born in 1847 and baptised at St. Catharine's church 25 April 1848. She was to die in infancy the following year aged eighteen months and buried at St. Catharine's church on 26 June 1849.
Clara Louisa Woodcock was born 17 May 1849. She married Gerald Gwyn Esq. on 4 June 1874 at All Saints Parish church. They were married by Gerald's father who was Rector of St. James Church, Southrepps, Norfolk. The couple emigrated to Canada in 1878 and settled in West Flamborough, on the outskirts of Hamilton, Ontario where Gerald became a farmer. Two of her younger brothers had already emigrated to Ontario, Thomas who lived quite close to her in Hamilton and Francis who lived only forty miles or so away in Wilmot. Clara and Gerald were to have six children, three boys and three girls. Clara, who was widowed in 1900 died 7 August 1929 aged 80 in Dundas, Hamilton, Ontario.
Francis Dealtry Woodcock was born in 1851. He emigrated to Canada in 1870, aged 18. He married Matilda Louisa O'Connor on 28 September 1873 in Wilmot Township in Ontario where they raised six children, four boys and two girls. He became an Anglican clergyman and later an Archdeacon. The family moved to Brockville, on the banks of the great St. Lawrence River between Montreal and Toronto. Francis died there in 1930, aged 78, six days before his wife Matilda.
Robert Fraser Woodcock was born in 1854. He attended Rossall College in Fleetwood before moving up to university to study medicine. He qualified from the Royal College of surgeons in 1879, returned to his hometown and set up as a General Practitioner at 12 Upper Dicconson Street, later relocating to 65 Standishgate. He married Helen Elizabeth Mary Wanklyn on 8 October at St. Andrews church in Springfield. Helen was the daughter of William Wanklyn, the now owner of Springfield Hall. Robert became a junior house surgeon at Wigan Infirmary and later President of the Wigan Medical Society. On 29 July 1882 he was appointed the surgeon for Wigan Borough Police. Robert died at his old home, Springfield Hall on 17 August 1892, aged 38. He was buried at St. Wilfrid's church, Standish, three days later. At the time of his death Robert's wife was six months pregnant, he never got to see his daughter Joan, who was born 7 November 1892. His widow Helen remarried seven years later to widower Harold Pearce in Gotherington, Gloucestershire. She died in 1937 aged 73, in Hamstead, London.
Thomas Woodcock the youngest child was born in 1855. He is shown on the 1871 census as a boarding pupil at Rossall College in Fleetwood along with his older brother Robert. The following year aged just seventeen years old he emigrated to Canada to join his older sibling Francis who had emigrated two years previously. On 3 May 1877 Thomas married Margaretta Wright in Wentworth, Ontario. She had been born in the village of Caton, near Lancaster and her family emigrated to Canada in 1857 when she was aged just seven. They were to have three daughters, Emma, Mary, and Sarah. The 1881 census shows the family living in New Hamburg Village, near to the town of Kitchener. They eventually settled in Wingham in Ontario, on the banks of Lake Huron where Thomas became a farmer. He died there on 16 July 1912 aged 56.
RALPH DARLINGTON
Ralph Darlington was known to be living at Springfield Hall by 1869. He was one of Wigan's most eminent benefactors and worked on many schemes to improve the town and the neighbourhood. He was born in 1823 in Adlington, the fourth son of Joseph, a farmer and land agent, and Marjery (nee Fisher). Ralph was baptised at St Wilfrid's Church, Standish on 25th April 1823.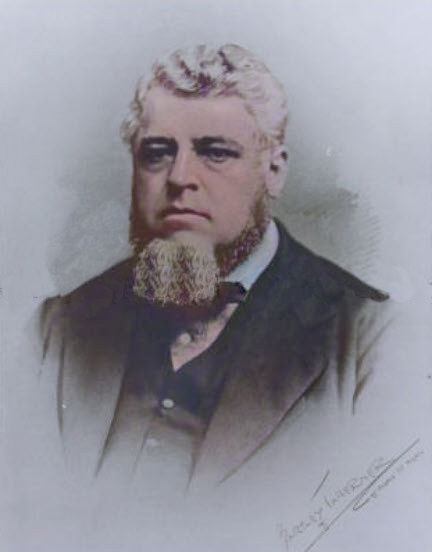 Ralph Darlington
He attended school in Standish before moving up to Manchester Grammar School. In 1840 he was articled to Mr Henry Gaskell, a solicitor with offices in King Street, Wigan. After qualifying as a solicitor in 1845 he started his own business in Wallgate, eventually moving premises to 3 King Street. He married Anne Clayton, who hailed from Chorley, on 27th January 1846 at Manchester Cathedral.
In 1848 Ralph entered Wigan Town Council on being elected member for Queen Street Ward. The following year he became Chief Magistrate of the Borough, which he held for the next two years. He was elected Mayor of Wigan in 1849 and 1850. During his tenure, the bridge over the River Douglas in Darlington Street was erected, giving much improved access within the town. The part played by the mayor in getting the bridge erected was recorded on the bridge and the street, which became a main thoroughfare in the town, was named after him, Darlington Street.
In 1851 when he was Mayor of Wigan, Ralph was living at Southworth House in Wigan Lane, near to the Boars Head and the Wigan/Standish boundary. He had no less than seven servants consisting of two nurses, two housemaids, a cook, a kitchen maid, and a coachman. The next property along was the Wigan Lane Toll Bar cottage, occupied by George Roberts, the toll collector, and his family.
Ralph retired from the Council in 1852. He briefly moved to Walton on the Hill before settling at Laurel House in Slag Lane, Lowton where his three youngest children were born. In 1863 he was elected to the Board of Wigan Guardians, whose job it was to oversee the running of the workhouse in Frog Lane and the provision of relief to the poor and needy of the town, he became Chairman in 1968. He also took an interest in railway matters and through his legal business was connected to the Wigan section of the Liverpool and Bury Railway. He was a founding member of the Wigan Junction Railway and thus had connections to the St Helens Railway.
As well as being law clerk to the Hindley Gas Company and the Wigan Gas Lighting company in Millgate he was clerk to the Ince, Hindley and Westhoughton Turnpike Trusts. He was involved in the forming of several large colliery concerns in the district, and with the erection of the Leyland Free Library at 98 Market Street, Hindley. He was also Vice President of the Mechanics Institute for many years.
On 24 September 1866 he was appointed coroner for the borough, which he continued until 1874 when he gave up through ill health. During this time, he was coroner during the inquiry into the rail accident at Wigan on 3 August 1873. Two engines pulling 23 coaches and two luggage cars from London to Scotland derailed passing through the L & N.W Station. Thirteen people were killed and 30 were injured.
By 1869 Ralph and Anne had moved into Springfield Hall, where the 1871 census records them living there with their seven children, five boys and two girls. They were being attended to by five servants. The 1870's was a time of momentous change for Wigan and Ralph was greatly involved with the expansion of the town. He also found time to fill the office of Church Warden at Wigan Parish church from 1870 to 1876.
He was part of the movement for the establishment of an infirmary for Wigan and District. The idea was first mooted at a meeting on 22 October 1866 at the Wigan Dispensary in King Street and a formal meeting was held on 19 December. He worked tirelessly and actively on the proposal and the foundation stone was laid by Lord Crawford on Boxing Day 1870. As the project neared completion Queen Victoria was invited to open the building but had to decline because of other engagements.
Lord Crawford of Haigh Hall persuaded the heir to the throne HRH Prince of Wales and his wife Princess Alexandra to do the honours. Wigan Infirmary was officially opened by the Prince and Princess on 4 June 1873, the Princess named it the Royal Albert Edward Infirmary, after her husband. Ralph was appointed a member of the first board of management, later he was elected as Vice President and a Trustee.
However, it took several more months to complete the internal works and furnish the wards and operating theatre. At a ceremony on 10 April 1874 Lord Crawford finally declared the hospital ready for use and it received its first patients four days later on Tuesday 14th April 1871.
Ralph returned to the council in 1877 when he was elected Alderman and appointed Chairman of the Streets Committee, He held this position until he retired from the council. This gave him the opportunity to plan and promote many improvement schemes. He was involved with every public improvement in the town, including taking a prominent and successful part in the opening of the Market Hall in 1877.
In 1871 the Mayor of Wigan, Nathaniel Eckersley, the owner of Standish Hall and a local mill owner had purchased 30 acres of land , under the Wigan Rectory Glebe Act of 1871 for £2,000 at the Mesnes adjacent to Gidlow Mill. He gifted this to Wigan Corporation and was to be used a public park with provision for croquet, archery, cricket, bowling, lawn tennis and sailing. This was rubber stamped by the House of Lords on 20 June 1871. Ralph Darlington was appointed to the committee that would oversee the project which would include the building of a Grammar School in the South West corner. The project took seven years to complete at a cost of £12,000 and Mesnes Park was opened 6 August 1878 by Nathaniel Eckersley who was now High Sheriff of Lancashire. The Grammar school was opened the following year in November 1879.
By 1885 Ralph was now living at Whitley Hall in Wigan Lane. That year he resigned his position as Alderman when he successfully applied for the position of Town Clerk, a position he held until his death. It was hardly possible to mention an office of distinction which he had not filled.
Ralph Darlington died very suddenly on 3 February 1890, aged 66 at 5 Leicester Street, his second home in Southport. He was buried in Wigan Cemetery at Lower Ince on 7 February 1890, grave No. C2 CE.
After her husband's death Anne left Springfield Hall and moved to Monument House on Wigan Lane with her son John and daughters, Anne, and Ellen. She died there on 9 April 1901 aged 78 and was buried alongside her husband three days later at Wigan Cemetery.
The Darlington Children
John Shaw Darlington, Ralph's eldest son was born at Southworth House on Wigan Lane in 1847 and baptised at St. Wilfrid's church, Standish on 1 May of that year. He attended Rugby Boarding School in Warwickshire, and after qualifying as a solicitor, he came back to live at Springfield Hall. He joined his father's law firm in King Street, later becoming law clerk to Wigan Grammar School and Chairman of the Trustees. The Electoral Roll of 1875 showed that he owned four streets in Burnley for which he tenanted out for rent. John remained a bachelor and when his father died in 1890, he moved to Monument House in Wigan Lane with his mother and sister Anne. He died there on 16 October 1898 aged 51 and was buried two days later at Wigan Cemetery alongside his father.
Anne Clayton Darlington, the eldest daughter was born 23 March 1849 at Southworth House and baptised a month later at St. Wilfrid's, Standish on 26 April. Anne remained a spinster and after the death of her father lived with her mother and sister Ellen at Monument House on Wigan Lane. When their mother died in 1901, the sisters went to live with their younger brother James, a mining engineer, at Chirk in Denbighshire. Anne died on 10 February 1906 aged 56, at 7 Princess Avenue in Liverpool. Her body was brought back to Wigan to be buried alongside her parents and brother John in Wigan Cemetery two days later.
Joseph Darlington was born 5 November 1850 at Southworth House and baptised like his older siblings at St. Wilfrid's on 23 January 1851. He matriculated at Brasenose College, Oxford on 2 December 1869 and graduated BA (1874) and MA (1876). After which he took orders in the Church of England becoming the Rector of All Saints church in Thorndon, Suffolk. At Oxford he had been profoundly influenced by the leaders of the Anglo-Catholic movement, and because of his advocacy of certain Catholic doctrines, had to resign his parish. After a summer spent wrestling his conscience in the Rhineland, he was received into the Catholic church in 1878, and came to Ireland as tutor to a catholic family in Tralee, Co. Kerry, where he met and was influenced by the Jesuit Isaac Moore. In 1880 he entered the Irish Jesuit noviciate and in 1885 was on the staff of University College Dublin, teaching Latin and Greek and acting as assistant prefect of studies. On the establishment of the National University of Ireland in 1909 Darlington stepped down as dean and professor but was put in charge of Winton House and later University Hall, students' halls of residence, where he continued to work until a few years before his death in Dublin on 18 July 1939, aged 88.
Henry Darlington was born in 1852 at Broughton Beck, near Ulverston in Westmoreland. He went on to become a solicitor and worked for his father's law practice in Wigan along with his brother John.
He married Edith Blanche Smith in All Saints church, Hoole in Chester in 1876. The ceremony was conducted jointly by his older brother Joseph and the Vicar of St. Andrews church, Wigan, Rev A. Legge. Edith's father Thomas was the first Chief Constable of Cheshire. After his marriage Henry left Springfield Hall and lived in Elmfield Road, off Wigan Lane. He then settled in Parbold, living at Delph House in Lancaster Lane. Henry and Edith raised six children, three boys and three girls. Henry died 22 August 1904 aged 49 at Birkacre House in Chorley. Whilst out shooting rabbits he tripped and accidentally shot himself.

Henry's eldest son, Sir Henry Clayton Darlington KCB, CMG, CB, TD had a distinguished military career.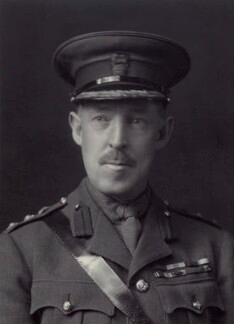 Lt. Colonel Henry Clayton Darlington
He commanded the 1/5th Battalion Manchester Regt (TF), whose headquarters was in Wigan, throughout the First World War. The Territorial unit fought with great distinction in Gallipoli, Egypt and on the Western Front.
James Darlington was born in 1854 at Laurel House in Slag Lane, Lowton. He was baptised at nearby St. Luke's church in Slag Lane on 2 July 1854. While at Springfield Hall he became a mining surveyor's apprentice and gained his managers certificate in Manchester in 1875. Two years later he was elected to the North of England Institute of Mining & Mechanical Engineers. At the age of 26 the 1881 census finds him as a guest at his uncle James's residence, Meriden Hall situated between Birmingham and Coventry. James relocated to Wales, first becoming secretary, then general manager, then a director of Black Park Colliery near Chirk in Denbighshire, Wales. He lived at nearby Black Park Lodge where he also farmed as well. He also became a Justice of the Peace for the County of Denbighshire. James died 6 May 1933 at his home in Wales aged 79. There is an inscribed stone on the moors above Glyn Ceiriog, Nantyr, in a stone built pulpit with his name on it, the inscription reads James Darlington 1854-1933, 'Go and do thou likewise'. He had used this spot for 50 years when shooting
Ellen Jane Darlington was born at Laurel House in Lowton in 1856 and baptised at St. Luke's on 2 April. After the death of her father, she lived at Monument House in Wigan Lane with her mother and older sister Anne. Following their mother's death, they moved to Wales to live with younger brother James at Chirk in Denbighshire. After James's death in 1933 she moved to a smaller property in Chirk where she died on 11 July 1936, aged 80.
William Robert Darlington, the youngest child was born at Laurel House in Lowton in 1858 and baptised at St. Luke's church in Lowton on 2 July 1858. He qualified as a solicitor like his father and older brothers John and Henry. He emigrated to Perth, Western Australia. William died in Sydney, New South Wales on 12 March 1908, aged fifty.
WILLIAM WANKLYN
William Trevor Wanklyn moved into Springfield Hall in 1884. He was born in Salford in 1837, the son of William Wanklyn Snr, a prominent silk manufacturer in Manchester. As well as running the mill in Fountain St, Manchester the family owned silk mills in Ashton under Lyne, Huddersfield and Bury. At the age of 18, William Jnr went to live at Green Bank in Bury and worked at the Albion Mill at Elton, near Bury.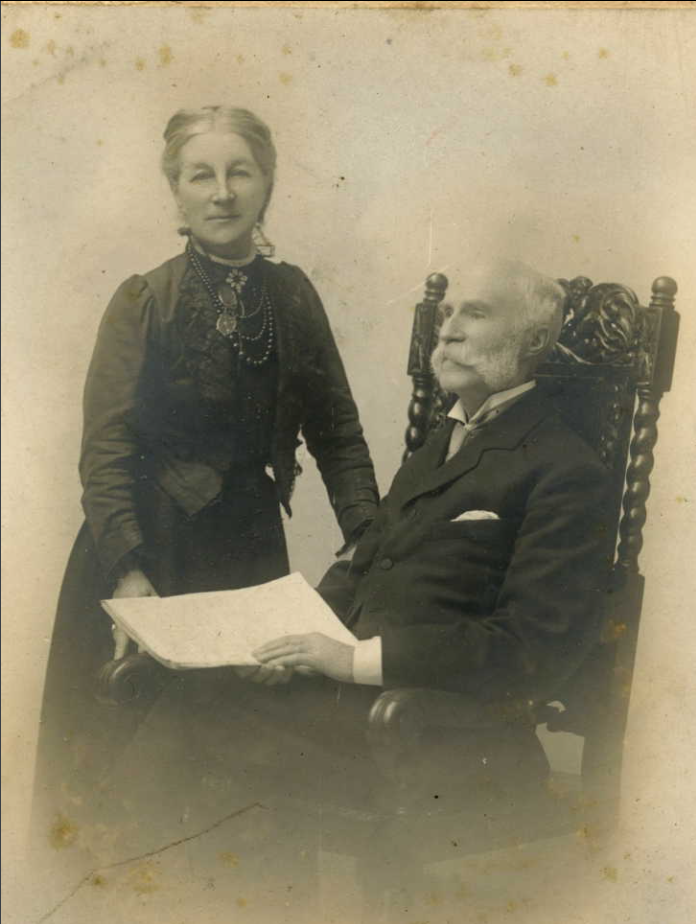 William Wanklyn and his wife, Mary Ann, nee Ffarrington
His father died in 1858 and the 1861 census shows William living at 4 Strawberry Hill, Pendleton, near Salford. His occupation is shown as silk manufacturer with 280 employees. The following year, on 16 July 1862 he married Mary Anne Ffarrington at All Saints church in Wigan. Her father Henry was a banker and her grandfather, also Henry Ffarrington was the occupant of Worden Hall in Leyland. William and Mary had three children, all born in Salford. Helen in 1863, Henry in 1874 and Elizabeth in 1876.
In Nov 1882 William put his name to a 6,000 strong petition signed by MP's, prominent people and businessmen requesting the Mayor of Manchester to convene a public hearing in order to express support of the construction of the Manchester Ship Canal. The scheme would enable ocean going ships to navigate the Rivers Mersey and Irwell and enter docks to be constructed in Salford. The MPs would then seek a bill to be passed in the next session of Parliament.
The 1883 trade directory shows William as an accountant with Seward, Wanklyn & Co. with offices in Aytoun St, Manchester. On 21 August 1884 he was appointed Wigan Borough Treasurer following the arrest of the Borough auditor John Caldwell, his clerk John Reynolds, and the treasurer William Holt for fraud. Shortly after his appointment he became the new tenant of Springfield Hall.
William's wife Mary died at Springfield Hall on 12 July 1887 aged 47, she was buried in St. Wilfrid's graveyard in Standish. William did not remarry, he died 28 August 1904 aged 67 in Part Street, Southport.
The Wanklyn Children
Helen Elizabeth Mary Wanklyn was born in Salford in 1863. She married physician Dr. Robert Fraser Woodcock, who had been born at Springfield Hall in 1854, at St. Andrews church, Springfield on 8 October 1890.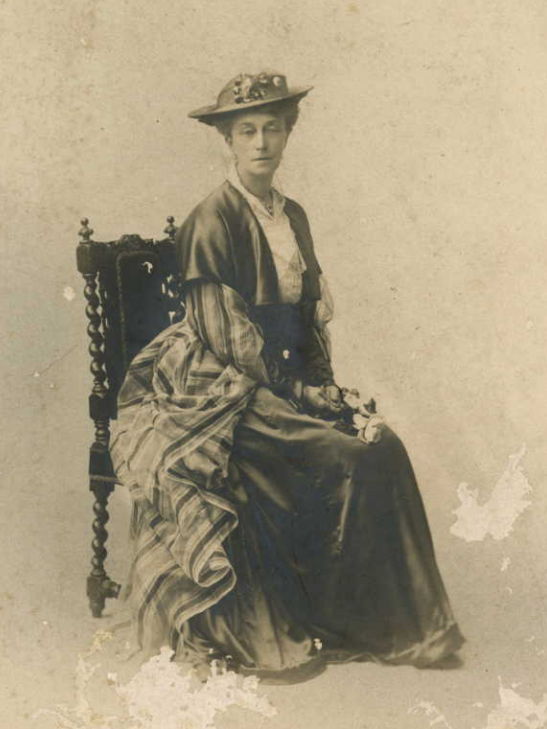 Helen Elizabeth Mary Pearce, formerly Woodcock, nee Wanklyn
They were to be married less than two years; Robert died 17 Aug 1892 whilst his wife was pregnant with their first child. His daughter Joan Fraser Woodcock was born a month later and never got to meet her father. The 1901 census finds Helen and her daughter as visitors to Burgess Hill in Sussex where her occupation is shown as cat and dog fancier. She married for a second time to her widowed cousin Harold Pearce in 1909 at the Holy Apostles church in the village of Charlton Kings near Cheltenham, Gloucestershire.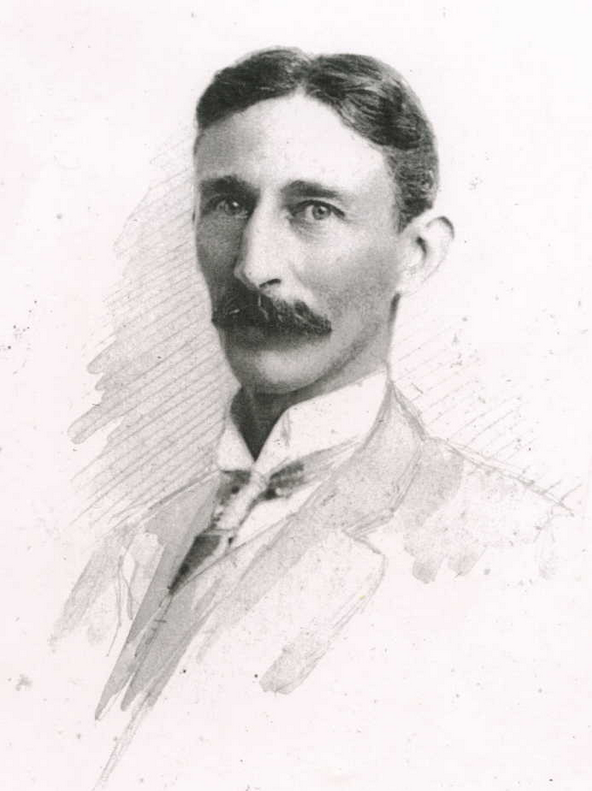 Harold Pearce (1835-1934)
The ceremony was witnessed by her brother Henry and her daughter Joan. Helen died three years after her husband in Hampstead, London in 1937, aged 73.
Henry Trevor Wanklyn was born 16 August 1874 in Salford. After attending Rossall private school in Fleetwood 22 year old Henry became a medical student at Owen's College in Manchester (now Manchester University). The 1901 census shows that he must have had career change as he was now living and working in Sheffield as a silver and electric plate manufacturer. White's Trade Directory for the same year clarifies that he was Secretary and Director of James Pinder & Co, a well-known firm that produced silver plated products and pewter-ware. Henry married Lily Jackson the childhood Governess of his sister Elizabeth on 24 April 1916 at St. Andrew's parish church in Leyland. Lily is listed as living with the Wanklyn family at Springfield Hall on the 1901 census. The couple settled in Leyland living at various addresses. The 1939 Register taken at the start of the Second World War shows they had moved into Worden Hall with Henry's uncle Henry Nowell Ffarrington. Henry Wanklyn died 30 December 1943 at Worden Hall, aged 69.
Elizabeth Ffarrington Wanklyn was born 9 April 1876 in Salford. She remained a spinster living off private means. The 1911 census finds her and her brother Henry living with her childhood Governess Lily Jackson in Sheffield where she was secretary of the Sheffield Women's Christian Temperance Association. After Henry and Lily married Elizabeth re-located to Cheltenham, Gloucester where she died 3 November 1955 aged 79. Probate records show she left her estate to her niece Joan Fraser Trevor-Roper (nee Woodcock), daughter of her elder sister Helen.
WILLIAM HOWARD
After the death of William Wanklyn in 1904 the next known resident of Springfield Hall was William Howard, a master builder. His firm constructed parts of the Springfield area including First, Second and Third Avenues, Cecil Ave, and the old Sacred Heart Junior School in Throstlenest Ave.
William, whose parents were both from Liverpool was born 1860 in Lower Morris Street, Scholes. He married Jane Ann Worsley, who came from Samlesbury, near Preston, in 1884 in Chorley.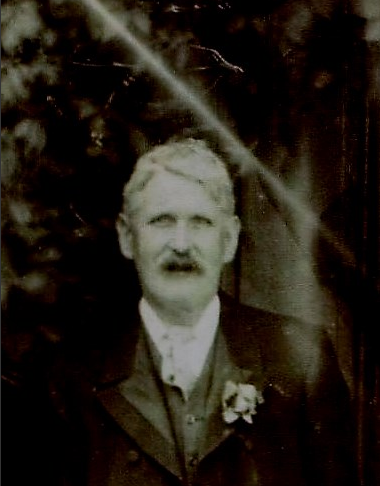 William Howard
They were to have ten children, six boys and four girls, before her death in 1899. William remarried to Margaret Edwardson who gave him four more children, two boys and two girls.
William died in Anson Road, Victoria Park, Manchester on 26 December 1924. He was buried in St. Joseph's graveyard, Wrightington. Margaret died in Wigan 17 July 1950, her address at the time was 23 Walkden Avenue East.
The Howard Children
Ann Jane Howard was born in 1884. She married Joseph Castelli in 1914 in Wigan. In 1921 the couple were living at 9 Heardman Avenue in Springfield, Joseph was a grocers assistant working for O.G. Rushton at 91 Market Street, Chorley.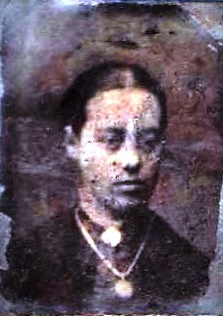 Ann Jane Howard
By 1928 the couple had emigrated to New Zealand, settling in Stratford in the Taranaki region of the North Island, a few miles from her younger brother John who had emigrated prior to the Great War. The Electoral Rolls show Joseph was working as a grocer but by 1943 his occupation was shown as painter. Ann died in 1958 and was buried in Kopuatama cemetery in Stratford, the same cemetery that her brother John had been buried in eleven years previously. Joseph Castelli died in 1960.
Joseph Sebastian Howard was born 20 January 1886. He followed his father William into the building trade becoming a master carpenter. He married Johanna Catherine Healy, a native of Co. Kerry in Ireland, in 1912. She was a school teacher and living on lodgings at 83 Delph St. The 1939 Register at the start of WW2 finds them living at 'The Bungalow' in Springfield Road. They later moved to Preston, living at 29 Beech Grove, Ashton on Ribble, where Joseph died on 15 October 1956, aged 70. His wife died 7 July 1980, aged 95.
Monica Mary Howard was born in 1887, she died in 1889 just short of her second birthday.
Angela Howard was born 7 April 1889. She married Sylvester Lawrence Higham, a dental surgeon at Sacred Heart Chapel, Stratford Street, Springfield on 24 April 1912. They had four daughters. In 1939 they were living at 58 Hilton Street in Ashton in Makerfield, before moving to nearby Bolton Road. They later moved to Billinge where Angela died on 22 November 1958 aged 69. Sylvester died 30 August 1973 aged 83.
John Ignatius Howard was born 27 June 1890. He emigrated to New Zealand and settled in Eltham on the North Island where he married Mary Ann Turkington in 1915. He enlisted into the New Zealand army on 1 October 1917 but it was six months later on 6 April 1918 that he was sent to Trentham Camp at Upper Hutt, near Wellington. His attestation papers describe him as being five feet six inches in height, weighing nine stones one pound with dark brown hair, brown eyes and a sallow complexion. His occupation is shown as cheese curer for the Eltham Dairy Company. John did not leave New Zealand, after training with different units he became a Corporal in 'B' Company, 47th Reinforcement Regiment. He was demobilised on 22 November 1918. John died 25 October 1947 aged 57 and was buried in Kopuatama cemetery in Stratford. His wife Mary Ann died 13 May 1962 aged 76.
Robert Aloysius Howard was born in 1892, he died the next year aged one.
Robert Aloysius Howard was born in 1894 and named after his younger brother who had died in infancy the year previously. Robert was to die tragically in Parbold on 4 August 1903 aged nine. He went rafting with a friend on a pond owned by the Ainscough family, near to his home at Tan House Farm. His pole got stuck in the mud causing him to overbalance and fall into the water. Despite attempts by a nearby fisherman he was unable to be rescued from the fourteen feet deep pond. The pond was later dragged and his body recovered with grappling hooks .
Monica Mary Howard was born 1 April 1895. The 1921 census finds her living at 9 Heardman Avenue with her older sister Ann and brother in law Joseph Castelli. She was an elementary school teacher working at St. Joseph's school in Parr, St. Helens. In 1939 she was living at A4 Monument Mansions, Wigan Lane. She married Thomas Spelman in 1941 and died in 1944 aged 48.
Sylvester Edmund Howard was born 16 November 1896 in Wigan. He served in the Great War in the Manchester Regiment.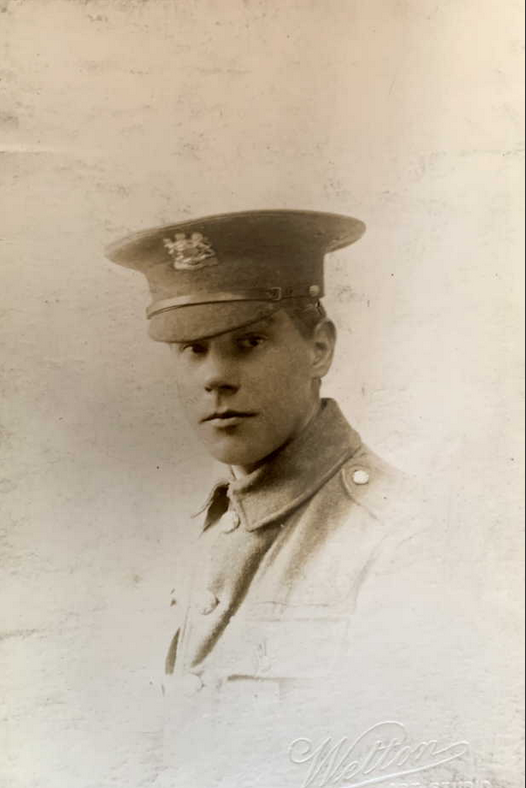 Sylvester Edmund Howard
The 1921 census finds him living at Springfield Hall and his trade is shown as house painter and decorator working for James Howarth & Sons of Mount Street. He married Doris Emma Vernon in 1924 and had three daughters. They were to stay in the Springfield area for the rest of their lives. By the start of WW2 the couple were living at 4 Whiteside Ave, Springfield. Later Sylvester ran a grocers shop on the junction of Springfield Road and Newman Avenue. He died 19 November 1966 aged 70 at 63 Springfield Road and was buried in Wigan Cemetery, Lower Ince alongside his wife Doris who died in 1958 and daughter Sheila who had died in 1936, aged six
Alphonsus William Anthony Howard was born in 1898. He enlisted into the Royal Field Artillery on 29 January 1915 at the age of seventeen, entering the theatre of war in France five months later on 13 May 1915. He was discharged unfit for further military service on 11 September 1919. The 1921 census shows him living at Springfield Hall, his occupation is domestic plumber working for George Roocroft & Co. Alphonsus married Ethel Ashurst, who lived at nearby Rylands Street, at Sacred Heart RC church in Stratford Street on 18 April 1923. They had six children. The 1939 Register shows them living at Molyneux Street in Scholes, he was now a master plumber. By 1945 Alphonsus had moved his family to Speckled Holly cottage in Standish Wood Lane. He died 4 January 1976 aged 78, his home address at the time being 16 Plantation Gates, Whelley, which was a large pig farm.
Cecil Howard was born 25 June 1902. He married Doris Alstead in 1925.They had two children. In 1921 he was living at Springfield Hall; his occupation was plumber working for Gaskell's of Millgate. In 1939 they were living at Beech Cottage in Lynton Avenue and Cecil's occupation was shown as a fitter at an Aerodrome. He died in 1970 aged 68.
William Clement Howard was born 10 February 1904 at Tan House Farm in Parbold. In 1921 he was living at Springfield Hall and was an apprentice motor mechanic with Dunwell motors. He married Olive Prescott in 1934. In 1939 they were living at 27 Pepper Lane, Standish where William was now the proprietor of his own garage.
Margaret Ena Howard was born at Springfield Hall on 7 March 1906. The 1921 census shows she was a milliners apprentice at Matthews Milliners of Wigan. In 1939 she was living with her widowed mother and sister Marie at 23 Walkden Avenue East. She married Matthew McBride in 1941 and had three children. Margaret died in August 1999 at Westwood Lodge Nursing Home, Poolstock, aged 93. She was buried in Gidlow Cemetery along side her husband and grandson who had died in infancy in 1973.
Marie Sylvia Howard was born 6 December 1911 at Springfield Hall. The 1939 Register shows her occupation as sales assistant selling gowns. In 1941 she married William Seabrook who lived in Frog Lane, he was manager of a butchers shop. The couple settled in Orrell and had a daughter. Marie died in 1994 aged 83.
OWEN FAMILY
Information on the Wigan World website points to members of the Owen Owen family the well-known fruiterers of Wigan living at the hall and were possibly the last owners. But as yet there is no further information to confirm the fact.
SPRINGFIELD PARK
It is thought that Springfield Park was built on land or some of the land that once belonged to Springfield Hall. Springfield Park was designed by architect Richardson Thomas Johnson and built in 1897 at a cost of £16,000. It was owned by The Wigan Trotting and Athletic Grounds Company Ltd.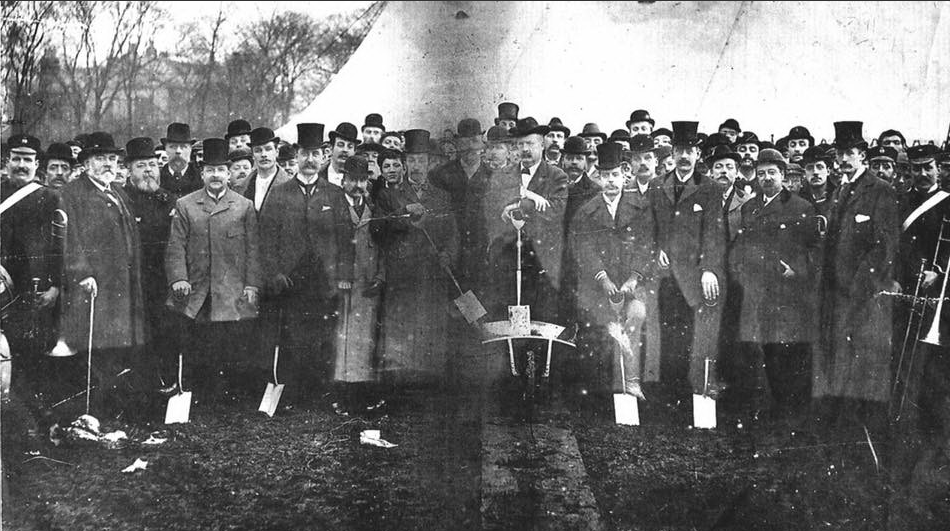 Springfield Park - "Cutting the first sod"
Springfield Hall can clearly be seen in the background in a photograph of the Directors of the proposed new venture cutting the first sods at Springfield Park and also a pony trotting race.
It wasn't built to be used solely as a football ground as some would believe but as a multi-purpose stadium with football, rugby league, athletics, wrestling, cycling and pony trotting sports all participating there. William Wanklyn who was resident at Springfield Hall was himself a member of the Pony Totting Club.
Wigan Cricket Ground Co. Ltd sold their ground in Prescott Street in 1898 to the Lancashire & Yorkshire Railway and the Wigan Rugby Club then moved to Springfield Park for the 1901/02 and 1902/3 seasons, alternating Saturdays with Wigan United football team. In 1902 WRFC moved to Central Park where they played their first ever game on 6 September 1902 against Batley.
A succession of football clubs played at Springfield Park: Wigan County, Wigan United, Wigan Town and Wigan Borough. Following the winding up of Wigan Borough the previous year, Wigan Athletic was formed in 1932 and purchased the ground for £2,850. It was to be their home for the next 67 years, before the move to their new home at the JJB Stadium in 1999.
WIGAN BOARD OF GUARDIANS
In February 1904 an article in the Wigan Observer & District Advertiser reported on a meeting held by the Wigan Board of Guardians. It stated that rental had been agreed on several properties which had been acquired and would be used in the scattered homes system for boarding out pauper children from the Workhouse. Rent was agreed on 13, 29 and 39 Upper Dicconson Street, and 214 Ormskirk Road, Pemberton, the fifth property was to be Springfield Hall but rental had yet to be agreed. At present there is no documentary confirmation if this arrangement actually happened and if it did, for how long.
Graham Taylor June 2022
Acknowledgements
Thanks to Phil Howard for providing photographs and information.
Abbreviations
CB Companion of the Order of the Bath
CMG Companion of the Order of St. Michael & St. George.
DSO Distinguished Service Order
KCB Knight Commander of the Order of the Bath
TD Territorial Decoration
TF Territorial Force
WRFC Wigan Rugby Football Club
Sources
1869 Wigan Directory
1939 Register
Ancestry BMD
Ancestry Census 1841-1921
David Roughley -http://springfieldparkmemorial.weebly.com/the-men-who-built-springfield-park.html
Dictionary of Irish Biography
Durham Mining Museum
England & Wales National Probate Calendar 1858-1995
Electoral Registers 1832-1935
Lancashire Online Parish Clerks
Wigan & Leigh Archives
WIgan Local History & Heritage Society
Wigan World
UK City & County Directories 1766-1946
UK Find a Grave Index 1300's-current