A group with 1200 members actively campaigning for the restoration
Link to Save Winstanley Hall facebook page
---
2022 - 10 year anniversary when a national campaign was launched to Save the Hall.
---
When was Winstanley Hall built?
There is some dispute over the date when Winstanley Hall was built. England Heritage rejects Joyce Bankes' record [J.H.M. Bankes, 1973, Winstanley Hall (Part 1), Historical Notes on the Winstanley Family, Wigan Public Library] that Winstanley hall was built in 1555-1561 by Thomas Winstanley and his wife, Elizabeth, and claims that James Bankes probably built the hall after he purchased the manor from Thomas' son Edmund in 1595. [It can be noted that the purchase was in January 1595/96, which means that the purchase was in January 1596].
Further evidence that the Hall was built before 1596 is provided in the 1591 Will of Edmund Winstanley of Winstanley, Gentleman [J.P. Earwaker, 1884, Wills and Inventories at Chester, Chetham Society]. His will refers to all his goods at the Hall at Winstanley. Edmund was brother of Thomas who built the hall and uncle to Thomas' son Edmund, who owned the hall and estate after Thomas' death in 1561. Uncle Ed was Steward to the Rector and Lord of the Manor in Wigan, who was his brother in law. After Thomas' death, Elizabeth and her son Edmund moved to Wales and Uncle Ed and Robert Atherton, bailiff, managed Winstanley estate. Joyce Bankes also reports that James Bankes wanted to buy the manor in the 1560s and he and William Bankes apparently lived in the hall before James finally bought the manor in 1596.
In 1596 James Bankes purchased the manor of Winstanley. Manor has at least 3 meanings.
One = manor land. The second = the manor house. The third = the manor estate, i.e. land and buildings. So because the sale was for the manor, it cannot be reasonably assumed that it did not include a manor house or hall.
Derek Winstanley 2021
---
Archaeological Building Appraisal
Undertaken during Sept 1998, prior to a decision to purchase the property with a view to renovation and redevelopment,
---
Kitchen Walled Garden
Historic Building recording of the walled garden for Mr. & Mrs. Tim Banks in advance of a proposed private development in June/July 2001.
---
The History of the Winstanley Family "The Welsh Winstanleys"
Very interesting article by ex-local Derek Winstanley, now living in Illinois, USA
---
2008 - Conservation Management Plan
A (120 page) comprehensive Conservation plan was commissioned and produced in 2008 at a time when significant progress was being made. The document details the history, architectural context , social history and conservation issues in great detail.
---
Options Appraisal Study by Heritage Works Buildings Preservation Trust Ltd
Produced in 2010
---
Previous Campaigns
Between 2007 and 2015, "Save Wigan", now Wigan Building Preservation Trust (WBPT), actively campaigned along with Save Britain to save the Hall and surrounding buildings.
Save Wigan were the "feet on the street" for Save Britain creating a local presence for a national campaign. Led by Andy Lomax the group were successful in gaining £50,000 for some remedial work.
A fund raising brochure was produced in 2011, the brochure contains some historical and architectural details and well worth a read.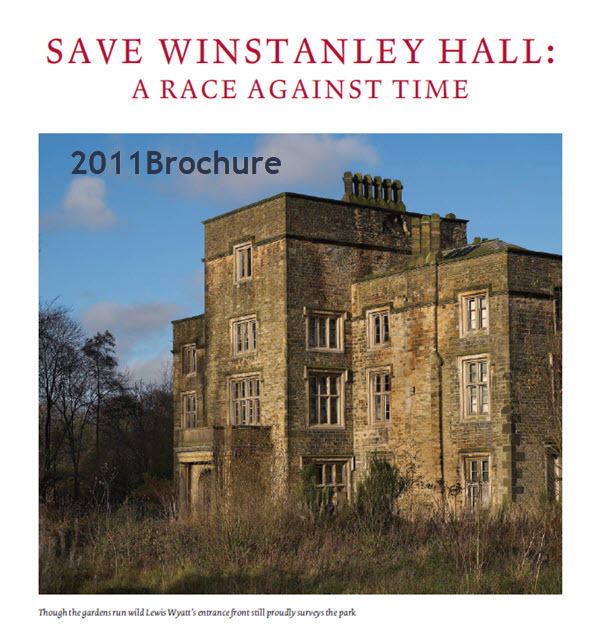 View 2011 Fund Raising Brochure
Wigan BPT can make all our previous work, photos, reports, options analysis, etc available to the facebook group if required.
Our BPT group wish "Save Winstanley Hall" future success
---
Historical articles by Joyce H. M. Bankes
The Funeral of Meyrick Banks - 1827
James Bankes and the Manor of Wistanley (1595-1617)
A 19th Century Railway
---
The Lancashire Colliery Girl
Originally published in the Gentlemens Magazine in 1797.
The article was reproduced and discussed in 1842 by Hannah Moore
The Lancashire Collier Girl - 1785
Who was the Lancashire Collier Girl?
Article by PEH Hair MA DPhil, identifying the girl in question.
---
Deterioration - 2019
Extensive damage to the roof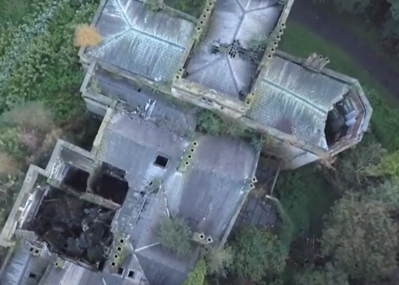 ---
Severe Deterioration - September 2020
---
History of Winstanly Hall & the Bankes Family
Very complete and comprehensive piece of work from the Landed faimilies of Britain.
---
Enabling Development
This Historic England document provides advice on enabling development, which has been a crucial initiatives in the restoration and preservation of Winstanley Hall over the last 20 years.

Enabling development is development that would not be in compliance with local and/or national planning policies, and not normally be given planning permission, except for the fact that it would secure the future conservation of a heritage asset. Whilst only applicable in certain circumstances, enabling development can be a useful tool.
---