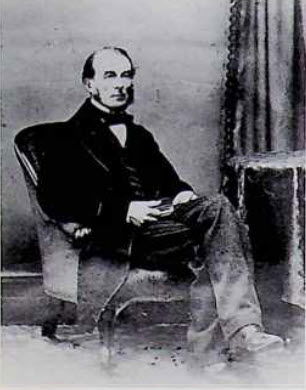 Auhor - John Leyland (1832–1883), mill owner and benefactor, was born in Mill Lane (Market Street) in 1832 to a family of cloth makers. He was a governor of Hindley and Abram Grammar School and published a history, "Memorials of Hindley" in 1873. He left his estate to Nathaniel Eckersley and instructed that it should benefit Hindley. It paid for extensions to the Grammar School and built the Leyland Public Library, (see image) and Leyland Park, on Park Road, Hindley.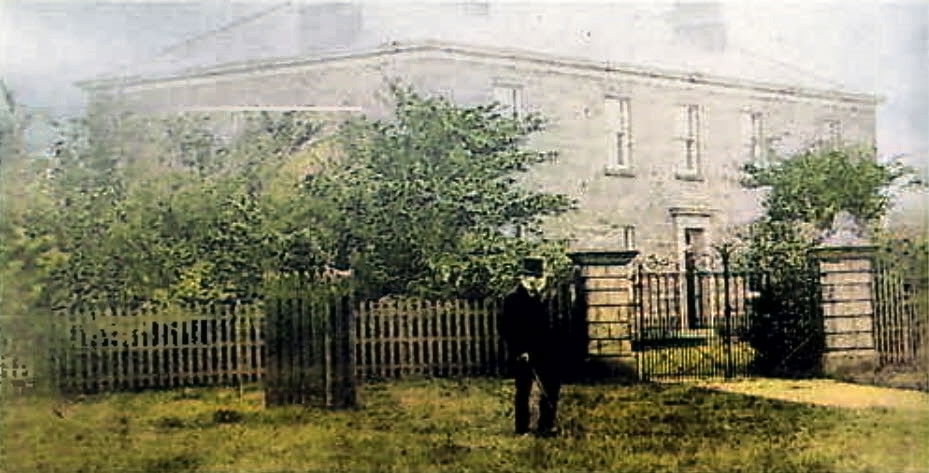 John Leyland outside his home, The Grange, in 1872, previously named, Cheetham House.
---
Memorials of Hindley
Part 1
This book contains a history of Hindley along with history of Churches in the area
All Saints' Church, Presbyterian Chapel, St. Benedict's Roman Catholic Church, St. Paul's Independent Chapel, Bridge Croft Independent Chapel, Wesleyan Methodist Chapel, Frederick Street, Primitive Methodist Chapel, Platt Bridge, Particular Baptist Chapel, Market Street, Brunswick Chapel, Hindley Green, United Methodist Free Church, Primitive Methodist Chapel, Woodford Street, Castle Hill, St. Peter's Church, United Methodist Free Church, Hindley , Independent Methodist Chapel, Lowe Green, Wesleyan Methodist Chapel, Walthew Lane.
These Memorials are not put forth as a History of Hindley. The Compiler, having for many years taken a great interest in the events of his native village, collected, as opportunity served, facts and dates bearing upon its history; and, unwilling for them to be lost, he has taken this means of ensuring their preservation.
THE GRANGE, December 31st, 1873.
---
Part 2
This book contains hundreds of letters written by John between 1830 and 1870. The letters evoke the life and times of the author, such as informing a friend casually that he was recovering from cholera. A very pleasany and relaxed read.
The letters cover over 360 pages.
Book Preface.
THE writer of the letters contained in the following pages commenced at a very early period of his life to preserve copies of his correspondence. What motive induced him to do this is, at this distance of time, difficult to say; but assuredly it was not with the most remote intention of ever putting any of them in print. A release from official duties in the year 1870 gave him the opportunity he had long desired to examine and arrange his papers, and, while pursuing this task, he met with a large number of copies of his letters more or less perfect. Some of them were found to have, been addressed to old residents of Hindley, and some to have contained references to what may be designated the history of the village. These he determined to print, and others were added in order to make up a volume of moderate size. Al] have been revised, and some materially curtailed.
THE GRANGE, November 17th, 1873.
---
Memorials of Abram
The book covers all aspects of the History of Abram. It consists of a history, including various Halls, old Families, St John's Church, Charities, Township Accounts, Doctors Bills, etc. Very comprehensive.
Book Preface
ABRAM having been formerly and for several generations the home of the family of the compiler of these Memorials, its history naturally excited his interest, and such waifs and strays as reached him from time to time he carefully preserved. Three or four years ago he asked permission of the then governing body of the Township to examine the papers in the Town's Chest, andmthese gentlemen not only at once cordially assented to his wishes, but permitted him to take the papers to his own house, whereby he was enabled to give to them a more careful perusal, and to make larger extracts.
To Henry Jackson Whitley, Esq., of Biggleswade, Hants, he is indebted for permission to inspect the deeds of the Abram Hall estate ; to Humphrey J. Walmesley, Esq., of Westwood, for the same privilege of those relating to Bamfurlong Hall ; and to the Trustees of the late Abraham Ackers, Esq., for a similar liberality as regards Bickershaw Hall. To W. A. Abram, Esq., the historian of Blackburn, he desires also to express his obligations for aid in transcribing some of the ancient deeds it was necessary for him to investigate.
Researches will no doubt as time goes on supply missing links, correct errors, and bring to light additional facts, so as to render any similar attempt in the future easier and more complete.
Hindley, December, 1881.
---
LANCASHIRE DIARY, 1663 - 1678)
The diary was in the possession of John Leyland and he transcibed the diary in 1876. Nothing is known of Roger Lowe, the author .
A very interesting diary kept by a Lancashire man at Ashton in Makerfield, in the middle of the 17th century. Diaries of this period are very uncommon, and those that have previously been printed have generally been kept by persons in a good position in life and moving in the higher ranks of society. In this case, however, the Diarist was a young man, a mercer at Ashton, and at the commencement of the diary he was not out of his apprenticeship, but was acting for his master as manager of a small shop in Ashton village. We have therefore here a contemporary account of the ordinary daily life and thoughts of a man in the middle ranks of life, a small shopkeeper in a small country town, at the commencement of the reign of Charles IL, and as such this diary may be considered to be unique and to possess considerable value.
---