A list of buildings selected to reflect the architecture , significance and overall contribution made to the history of the area.
Each individual buildings will be updated as the project continues and research has been completed.
Work so far ......
Faggy Lane
Entrance & Bridge
Ancient lane in place before King Street was constructed. Read about the Battle of Faggy Lane.
---
King Street
22-24, Grimes Arcade
An iconic structure containing two buildings and an arcade....who were The Grimes?
36-44, Victoria Building
A large building housing lots of businesses over its lifetime, from shops, offices and restaurants, also the location of Wigan's first telephone exchange.
27, County Playhouse
Some history and memories of the building
21-25, King Street
The history and recollections of a Georgian Grade 2 listed building in King Street.
54-58 King Street
Read about the many uses of these buildings.
---
Library Street
The Museum of Wigan Life
Three munificent men of Wigan and a renowned architect that built an everlasting monument to learning and knowledge.
---
Library Street
Wallpaper Supplies - formerly Timberlakes Car Showrooms & Garages.
33-35 Library Street & 2 Arcade Street
---
Rodney Street
4, Christian Meeting House
Read about a nonconformist religion which was founded in 1841 by Timothy Coop, with links to more information about Timothy.
---
Wallgate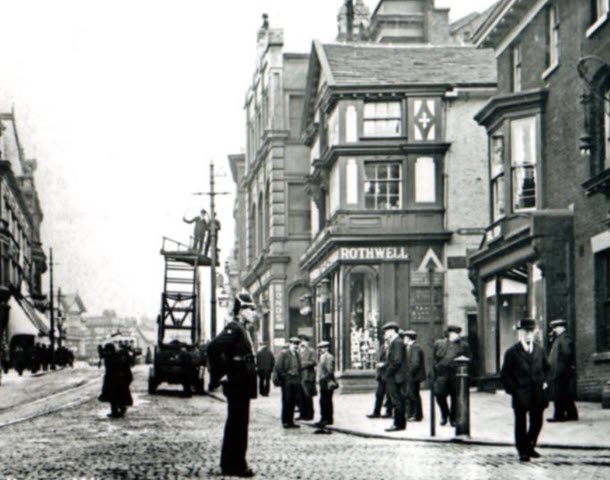 From right to left - Minorca, Rothwell's and Meek's
17-19, Meeks Building
Read about the three generations of the Meek Family from 1831 - 1884, and a business run on strong Christian principles.
25, Rothwells
Find the history of John Rothwell, from Goose Green, and his family, who built a large coffee and cocoa business, between 1850 and 1935.
27-29, Minorca Inn - now the Berkeley
Trace the history of the site from the late 1700's and the transformation and development of the building.
---