Many churches are adorned with stained glass windows to commemorate important religious events and people. Highfield St. Matthew's Church has these too, but it also has unique stained glass windows and a carved oak screen and cornice to commemorate the local coal mining industry and coal miners.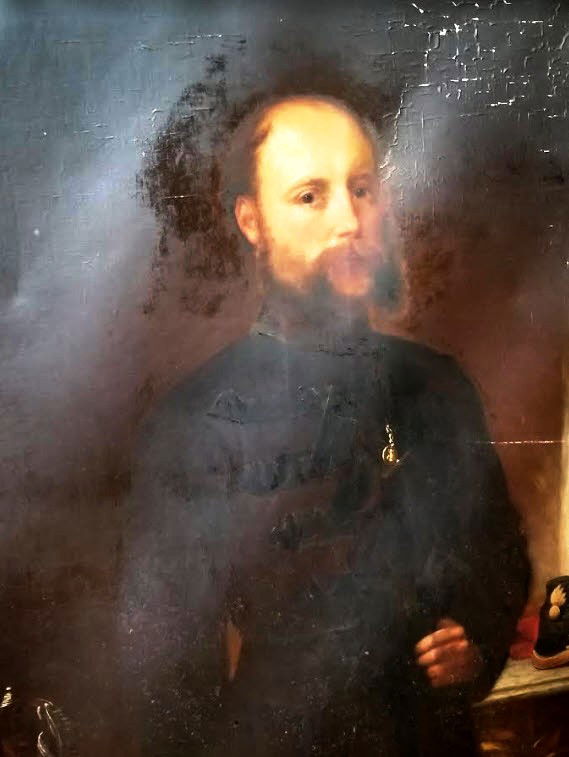 Colonel Henry Blundell-Hollinshead-Blundell
The church was built by Colonel Henry Blundell-Hollinshead-Blundell
in 1892-1894 to commemorate his wife.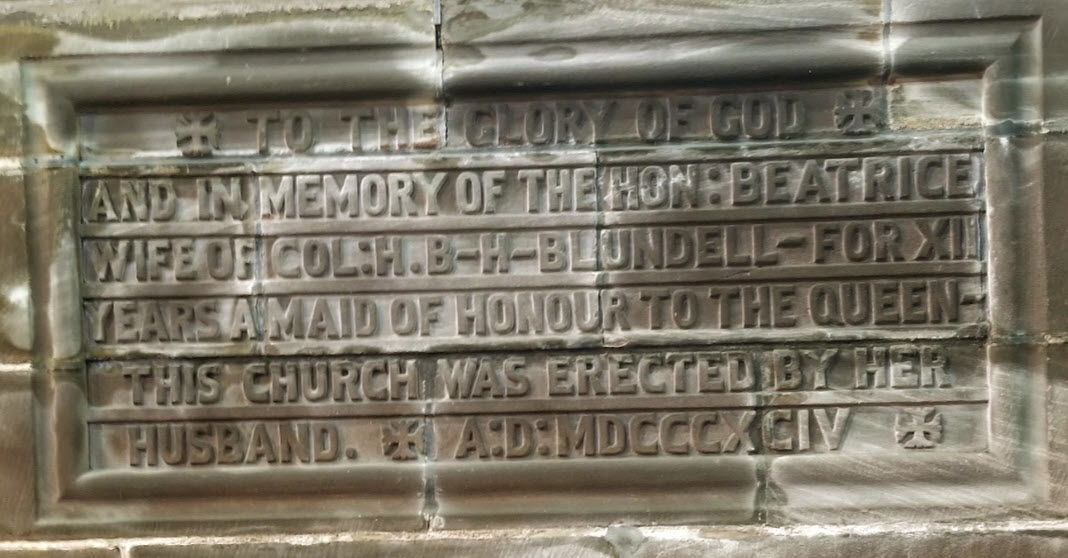 Commemoration Stone
One of the stained glass windows on the north side of the church was commissioned by Donald Anderson in memory of his parents. James Anderson (1882-1971) was in charge of the joinery, carpentry, rope and wagon shops at Blundell's Pemberton Colliery.

Anderson Stained Glass Window
His mother's family -- Winstanleys-- kept the Hare and Hounds on Billinge Road. Donald Anderson, himself born in Highfield, wrote a number of landmark books and papers to document coal mining in the Wigan area, without which much of the history of coal mining and coal miners would have been lost.
The window depicts the Old Iron Church (1865), the King Pit headframe, the King and Queen Pit engine house (1870), a box wagon for transporting coal to Liverpool Docks and the Engine Pit and its great 84 inch beam engine. A brass plaque underneath the window contains the names of the mines in the area. The Revd. Canon W.H. Bullough dedicated the window on 2 March 1980.
A few years earlier in 1976 a stained glass window had been presented to the church by the family of William Atherton, Verger of the church for 53 years. As well as depicting Psalm 84, the window depicts Mr. Atherton's work as a sawyer at Pemberton Colliery. The Revd. Canon W.H. Bullough dedicated the window on 15 February 1976.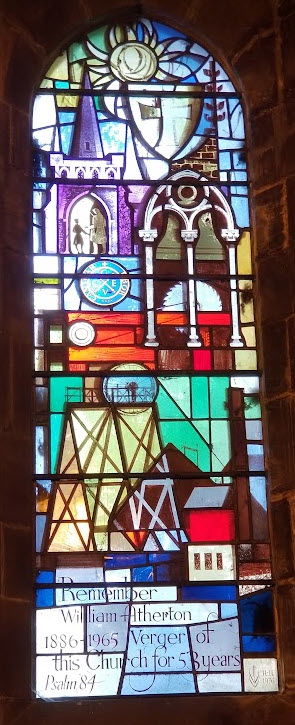 Atherton Stained Glass Window
On 16 November 1947 the Pemberton Colliery Memorial, a carved oak screen erected in the South Transept, was dedicated by the Bishop of Liverpool, Dr. Clifford A. Martin. It is the carved oak cornice that is remarkable and unique.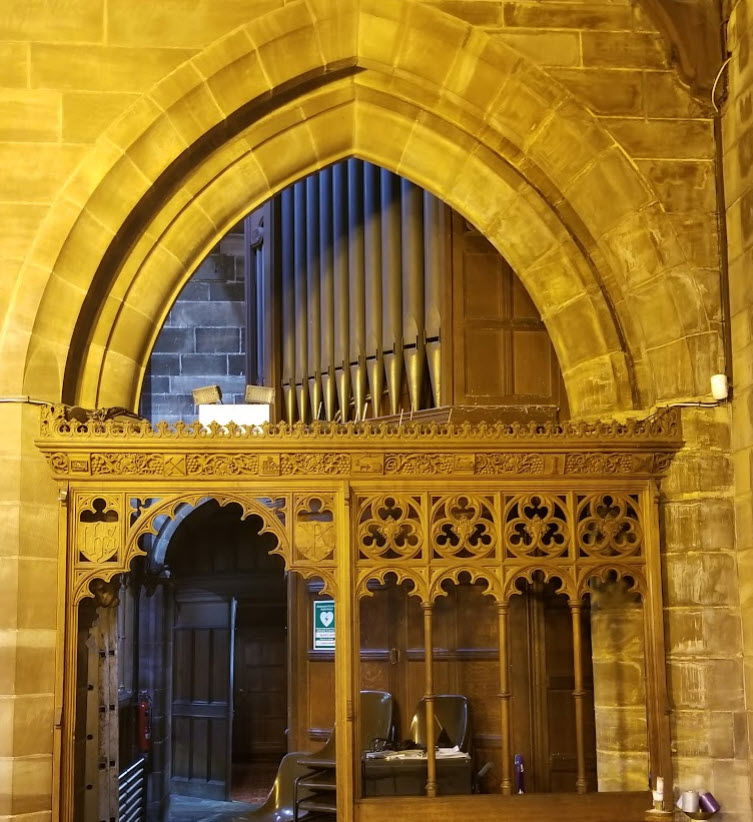 Pemberton Colliery Memorial Screen
It contains seven emblems illustrating the local mining industry, a pit pony and loaded tub down the mine, a steam engine, a pit headgear, a miner's lamp, a canary and cage, a pick and shovel and two fossils. The architect was Mr. J. Tierney who was the architect for the church 80 years earlier.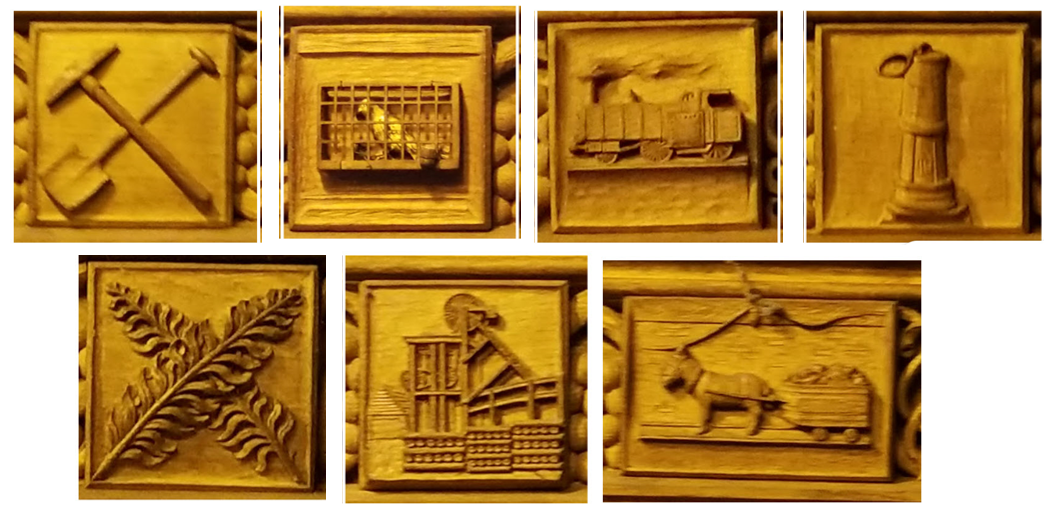 The Seven Emblems
Today there is little visible evidence of coal mining, but these memorials in the church capture the essence of dedication, enterprise, hard work and community spirit that have characterized and continue to characterize Highfield for more than 200 years.
Derek Winstanley 2023
Reference: Gordon A. Cooke, "A History of St. Matthew's Highfield 1867-1993", St. Matthew's Fellowship, Highfield, 1993