Introduction
This is the tale of two boyhood friends, Thomas Fahey and Irish born John O'Loughlin who lived close to each other in the Wallgate area of Wigan. After leaving St. Joseph's Roman Catholic school they both became miners, they then went their separate ways but were to meet up again on active service during the latter stages of the First World war. One was to survive, the other died but was to leave behind a family that was destined to become a famous sporting dynasty.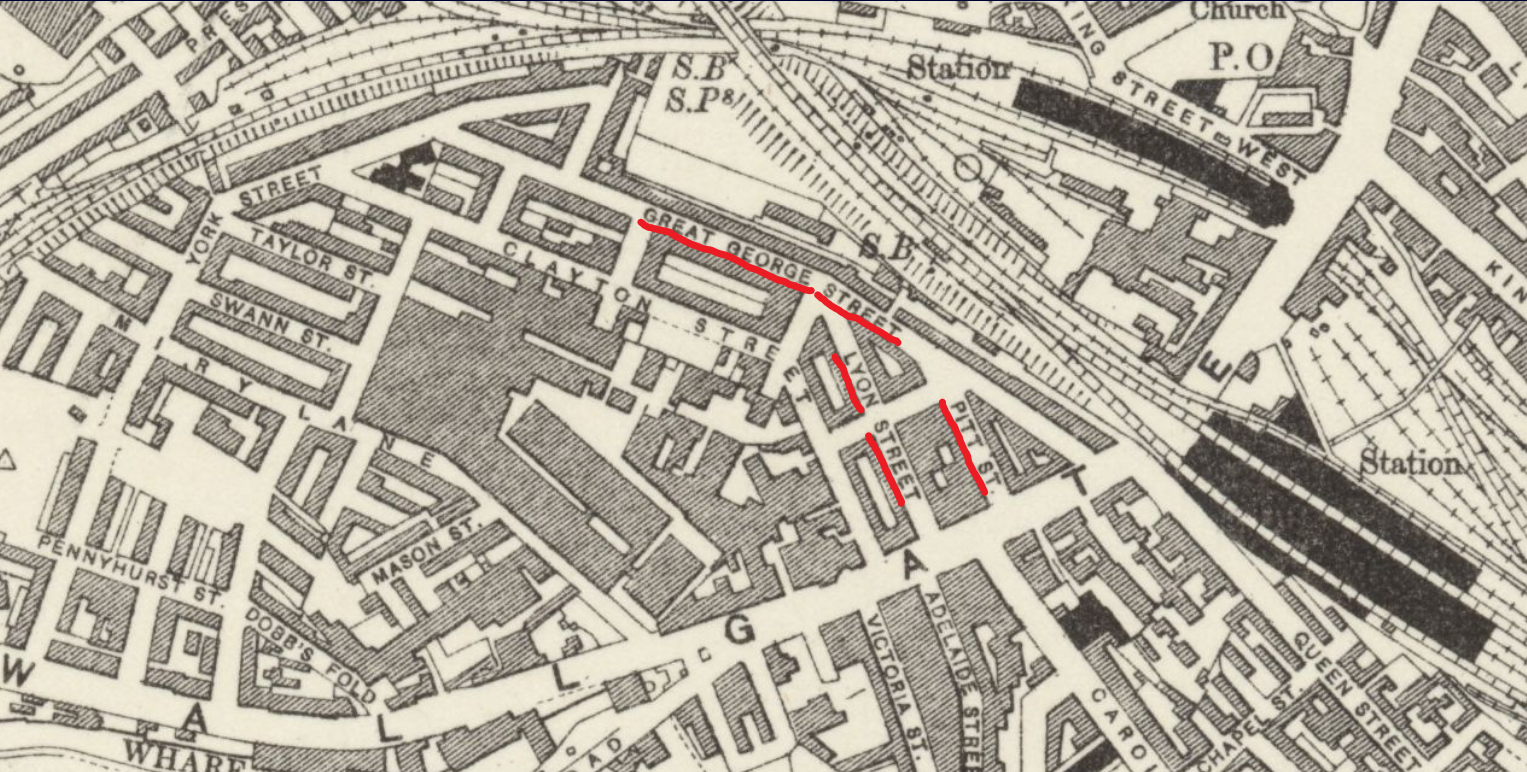 Map of Wallgate area
THOMAS FAHEY
Thomas was born 16 August 1879 at 3 Jordan's Yard, off Lyon St, in Wallgate, Wigan. The second child and eldest son of Michael Fahey and Winifred Mulqueeney.
His father Michael had been a regular time served soldier, enlisting at Orford Barracks, Warrington on 25 May 1880 into the 4th Royal Lancashire Militia (Duke of Lancaster's Own Light Infantry) (4 RLM), with the service number of 2451.
Michael was posted to India, arriving in Bombay on 15 January 1881. Following the Childers Reforms of that year the 4 RLM was re-designated as 3rd Battalion Prince of Wales Volunteers (South Lancashire Regiment). In November 1984 the regiment was posted to Aden to support the Egyptian Forces in Sudan after an Islamic insurrection.
On 26 August 1885 he was promoted to the rank of Corporal but was to lose it nine months later when, for reasons unknown he was placed under arrest, reduced to the ranks and forfeited his good conduct badge.
He arrived back at Portsmouth in March 1886 after serving abroad for over five years. On discharge he was transferred to the Reserve Forces for a total of six years. His personal details describe him as five feet six and a half inch tall with a fresh complexion, brown hair, hazel eyes and a scar on his right leg, the result of a burn injury. His intended place of residence was 14 Rigby Buildings, Nicholas Nook in Scholes, Wigan (opposite the modern day Scholes Precinct).
On 14 April 1900, at the age of forty Michael re-enlisted at Warrington, on a short term engagement of one year with the 2nd Battalion Royal Lancashire Reserve Regiment. At the time the British Army was suffering reverses in the Boer War and reservists were recalled to the colours to cover for the regular soldiers who were being sent to South Africa as reinforcements. He was given the new service number of 1705 and posted to Aldershot; he was discharged exactly a year later on 13 April 1901.
The census taken on 2 April 1911 shows his 18 year old son Thomas still living at Jordan's Yard with four sisters, a younger brother and two cousins. His occupation is shown as a collier and his job as a trammer was to load and deliver the coal to the bottom of the mine shaft on tram cars.
His mother Winifred had died three months previously, aged just forty four. His father wasn't listed at Jordans Yard on the night of the census and his whereabouts are unknown, he died in November the following year in Wigan Union Infirmary in Billinge, aged 52. Michael and Winifred were both buried in separate unmarked public graves in Wigan Cemetery, Lower Ince.
Britain entered the First World War on 4 August 1914, Thomas must have already been a regular soldier like his father by then, for six days later on the 10th of August he disembarked at Le Havre to enter the Theatre of War in France as a member of the Army Service Corps (ASC).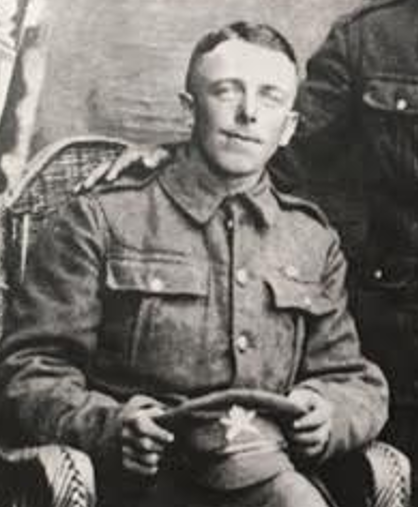 Thomas Fahey
Unfortunately the service records of Thomas didn't survive. The records of soldiers who fought in the Great War of 1914-18 were stored in the War Office repository in Arnside St, London. On 8 September 1940, during the Blitz, the building was gutted by fire caused by incendiary bombs, approximately two thirds of the 6.5 million records were lost in the flames. Some 2.8 million records were saved, known as the 'Burnt Collection', many are fire and water damaged. (Today, researchers have about a 40% chance of successfully finding a service record).
Without his records the account of a soldiers service has to be pieced together from other sources such as his medal index card, medal rolls, war diaries, unit histories, newspaper articles, and any information that can be gained from his family .
Thomas served for four years in the Army Remount Service of the ASC, the body responsible for the purchase and training of horses and mules as remounts for the British Army. A Base Remount Depot (with capacity for 2,600 animals) and two Advanced Remount Depots (300 animals each) went to France with the original British Expeditionary Force.
The unit landed at Le Havre on 21 August 1914, on 3 September they moved to Saint–Nazaire, then to 'The Hippodrome', a race track to the north of the city of Nantes. During the period 2nd to 10th October the depot moved by sections to Rouen, where it became established at Chateau Madrillet, remaining there for the rest of the war. As the campaign continued, further Base Remount Depots opened at the base ports. At their peak in December 1917, these facilities were training a total of 93,847 horses and 36,613 mules.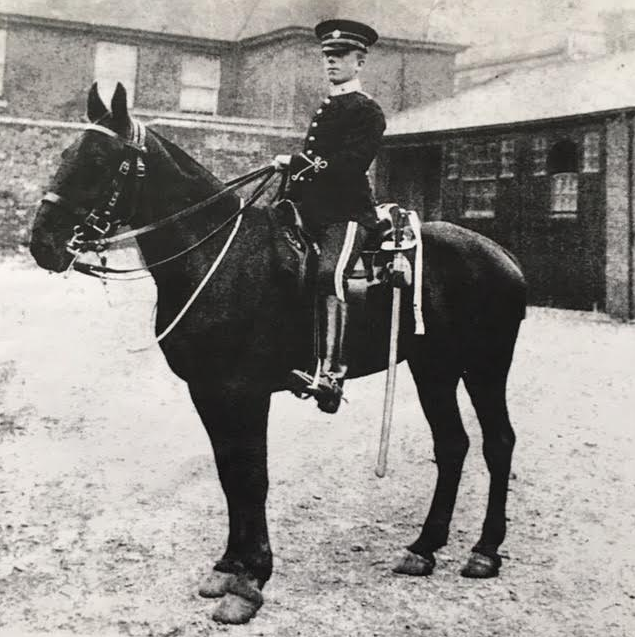 Thomas Fahey Army Remount Service
Whilst on leave from his regiment Thomas married Martha Haselden on 6 October 1917 at St. Joseph's RC church in Caroline Street, Wallgate. They were to go on and have six children, five girls, Elizabeth, Winifred, Mary Theresa, Ellen and Eileen, and a boy, Joseph.
On 16 May 1918, after being re-trained as an infantryman Thomas was transferred to the Rifle Brigade, then at some point was transferred to the Machine Gun Corps until the end of hostilities.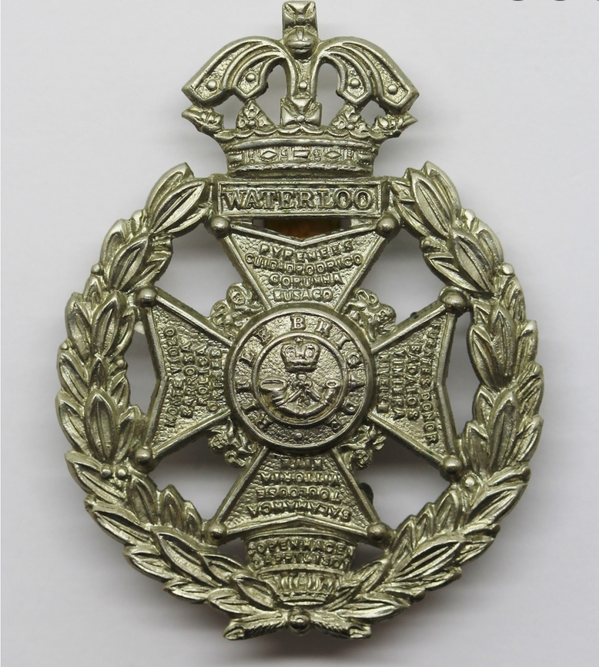 Rifle Brigade cap badge
Thomas was one of the original 'Old Contemptibles', a reference to a remark Kaiser Wilhelm II of Germany made when he described the small but professional British Army as that 'Contemptible little Army'.
The Germans and French, who had standing armies ten times larger, were more prepared for a European War than the British Army, whose priority was maintaining a worldwide Empire. The British Expeditionary Force (BEF) of 1914 used this criticism as a badge of honour and were proud to be called the 'Old Contemptibles'. Thomas was awarded the 1914 (Mons) Star, British War Medal and Victory Medal for his service during the Great War.
By the time of the 1921 census Thomas, Martha and their nine months old daughter Winifred had moved to 112 Great George Street, Wallgate close to their old home in Jordan's Yard. Thomas was working as a coal hewer at Blundell's Colliery in Pemberton.
The National Register taken on 29 September 1939 at the start of the Second World War shows Thomas still living with Martha and four of their children at 112 Great George Street. His occupation is shown as a general cable layer.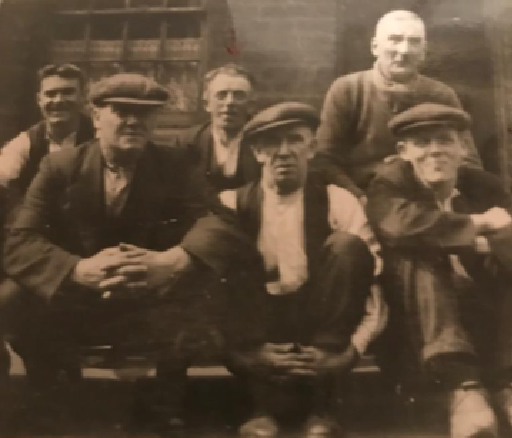 Thomas Fahey (back row centre) at 112 Great George Street
In the early 1960's the terraced houses in Wallgate were demolished and the area developed as a light industrial estate. The family was re-housed in Severn Drive in Norley Hall where Thomas died on 17 December 1967, aged 75. He was buried four days later in Gidlow Cemetery, Grave No. 10/40 RC. Martha died three years later on 29 October 1970 at their home in Norley Hall and was buried alongside her husband in Gidlow Cemetery.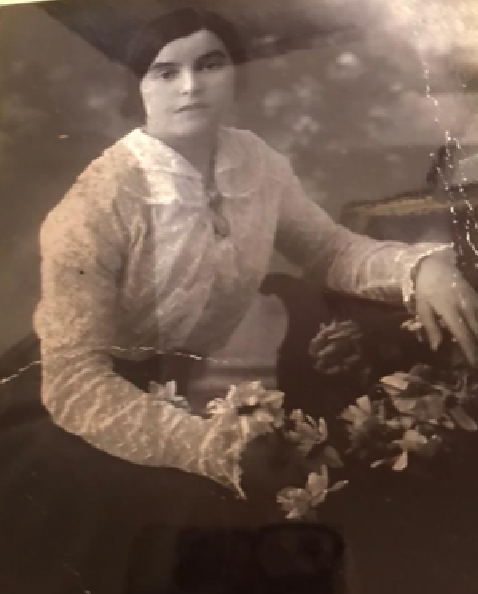 Martha Fahey (nee Haselden)
JOHN O'LOUGHLIN
John's father Patrick was born in 1855 in Portarlington, a border town straddling the River Barrow between County Laois and County Offaly, some 50 miles or so south west of Dublin. By 1880 he had emigrated to England and was working as a collier in Wigan.
The 1881 census finds him living on lodgings at 10 Harrison's Square, off Orchard Lane in Scholes. Also lodging at the same address was a young Irish girl by the name of Ellen Vaughan who was working as a drawer in a cotton factory. She hailed from the village of Miltown Molbay in County Clare.
Patrick and Ellen married two years later in 1883 and the following year their eldest child Mary was born. Sometime later the couple and their young daughter moved back to Ireland to live in Patrick's home town in Portarlington. In 1889 their second daughter Ellen was born, followed two years later by John who was born 20 February 1891.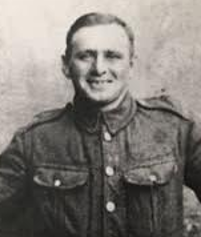 John O'Loughlin
Shortly after John's birth the family moved back to Wigan and Patrick returned to his old job as a miner. The family lived at 25 Elbow Lane, off Millgate, here Ellen gave birth to another daughter, also named Ellen, who was sadly to die in infancy aged just four months.
The 1901 census shows the family living at 23 Lyon Street in Wallgate, it was here that ten year old John would have met Thomas Fahey who lived off Lyon Street and being Catholics they would have attended St. Joseph's school in Hodson Street together. Also living six doors away from John at number nine Lyon Street was a young girl by the name of Annie Malone, she had been born in Wigan but both her parents were from County Clare in Ireland.
By 1911 the O'Loughlin family were living at 8 Pitt Street, close to Lyon Street and twenty year old John had followed his father down the mines. Annie Malone was working in a cotton mill as a doffer in a spinning room. John and Annie were to have a romantic relationship and the following year she gave birth out of wedlock to a son, who was given the forename of Andrew. On 11 June 1913 John and Annie eventually got married at St. Joseph's RC church in Wallgate.
A Checkered Military Career
On 27 August 1914, three weeks after the start of World War One, John enlisted into the Royal Field Artillery (RFA) in Glasgow. Luckily, his pension records survived and were used as substitute service records after a substantial proportion of service records were destroyed by enemy action in WW2, (as described in the previous Thomas Fahey story.)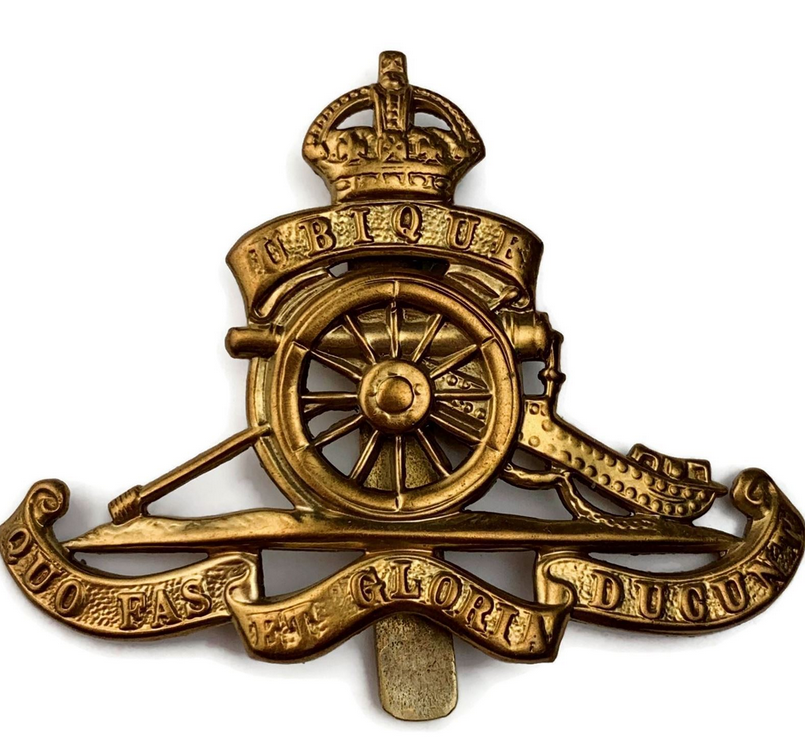 Royal Artillery cap badgeThe records show that John signed his attestation papers at Larkhall Camp, about fourteen miles southeast of Glasgow in South Lanarkshire. His medical records state that he was a short but stocky individual, only five feet two and three quarter inches in height but weighing 11 stones and of very good physical development. Surprisingly, his personal records show that he was employed as a circus attendant looking after the horses, and he was of no fixed residence.
John and Annie had a second son John, born 20 October 1914 in Wigan. Nine days after John's birth he completed his basic military training at No.6 Depot and was posted to the 80th Brigade Ammunition Column which was part of the 17th Northern Division
His military career was destined to last just 185 days however, as on Christmas Eve 1914 he went absent without leave (AWOL) from his unit for seven days. On 11 January 1915 he went AWOL again for seven days. On 27 February 1915, 93494 Gunner John O'Loughlin was sentenced by District Courts Martial to six months imprisonment and discharged from the army in disgrace. It seems at first glance a very harsh punishment for going absent but the full details of his misdemeanors are not known.
King's Own (Royal Lancaster) Regiment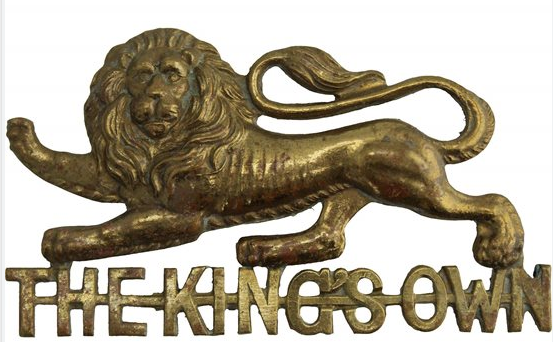 King's Own (Royal Lancaster) cap badgeSomehow, after serving his sentence, John re-enlisted into the army. On 11 August 1915 John attested at Lancaster, was given the number 20377 and was posted to the Kings Own (Royal Lancaster) Regiment, initially to its depot at Lancaster before being posted to the newly formed 11th (Service) Battalion on 10 November which came under the command of 120th Brigade, 40th Division, which was a Bantam Division.
A bantam in British Army usage was a soldier of below the army's minimum regulation height of 5 ft 3 in. During the First World War the British Army raised battalions in which the normal minimum height requirement for recruits was reduced from 5 ft 3 in to 5 ft. This enabled shorter but healthy young men to enlist. Bantam units enlisted from industrial and coal-mining areas where short stature was no sign of weakness. John despite being 24 years old was only 5'2¾" tall. Thousands of men who had originally been rejected because of their height flocked to recruiting centres to enlist.
The 40th Division was formed between September and December 1915 and was composed of some bantam units and others which had a mixture of regulation-height and shorter men. The 11th Battalion took up residence at Stanhope Lines, Aldershot, Hampshire, in early September 1915 and by December had moved into billets at nearby Blackdown Camp.
Weeding out of very under-sized or unfit men delayed the training programme and it was not until late Spring 1916 that the division was ready to proceed on active service. During this period Pte O'Loughlin was appointed Acting Lance Corporal in November 1915 and promoted to the rank of Corporal on 27 May 1916, even though he forfeited some pay in January and again in March 1916 for going absent without leave.
Cpl O'Loughlin and his battalion moved to France on 3 June 1916, sailing from Southampton, disembarking at Le Havre the following day, and by 9 June had concentrated near Lillers. He was posted briefly to the 3rd Battalion on 16 September 1916 but after going absent again (for which he was deducted 6 days' pay) he was returned to the 11th Battalion on the 16th.
The 40th Division served between June and late October 1916 on the Front near Loos. However, Cpl O'Loughlin was 'wounded in action' on 22 June and, after passing through 45th Field Ambulance and 7th General Hospital at St Omer, he was returned to the UK on HM Hospital Ship Cambria.
Following recovery from his wounds Cpl O'Loughlin embarked at Folkestone on 1 December 1916 on the SS Princess Henrietta for Boulogne. After a short spell at the regiment's depot at Etaples, he was posted back to the 11th Battalion 'In the Field' on 19 December. However, on 1 January 1917 he was admitted to hospital with a bout of bronchitis, returning to his battalion just two days later. On 2 February Cpl O'Loughlin reverted to the rank of Private at his own request. On 9 June 1917 a third son, Joseph was born.
During 1917 the 11th Battalion took part in the German retreat to the Hindenburg Line (March); the capture of Fifteen Ravine, Villers Plouich, Beaucamp and La Vacquerie (April and early May); the Cambrai Operations, in which the 40th Division participated in the capture of Bourlon Wood (November). During this time exactly where Pte O'Loughlin served is unknown but he was probably with his battalion throughout this time but he did have two short spells in hospital before he returned to the UK on 9 January 1918 for two weeks' furlough. On 5 February 1918 John was transferred to the 8th Battalion but due to losses throughout the Army the 40th Division was disbanded.
Machine Gun Corps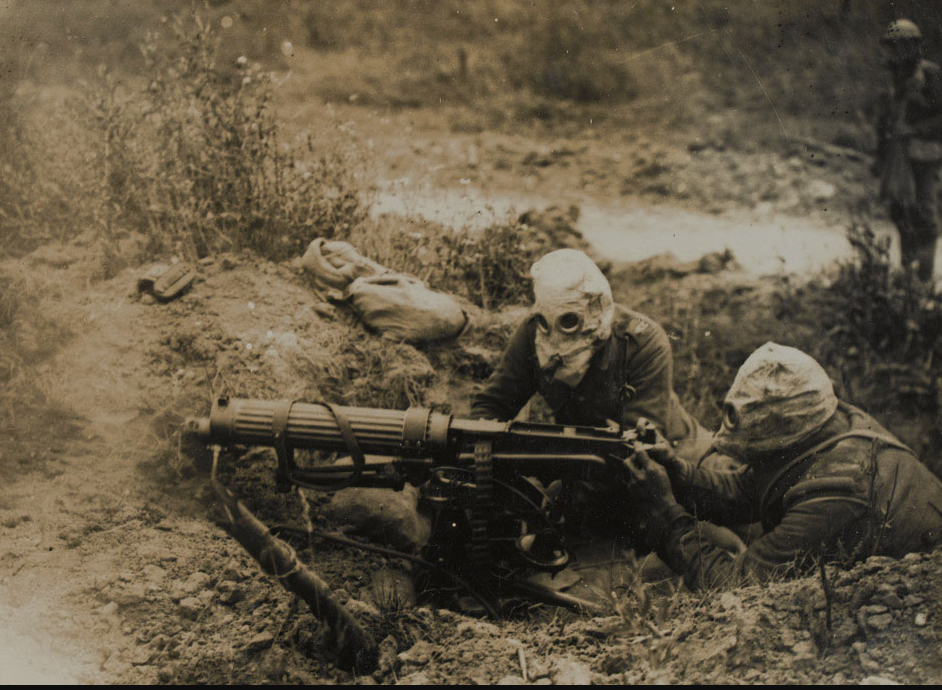 Two Vickers machine gunners wearing gas masks in action 1916
However, on 14 February 1918 he was transferred to 233 Company, Machine Gun Corps (MGC) before moving to 3rd Battalion MGC on 14 March. It was in the Machine Gun Corps that he renewed his acquaintance with his old friend and fellow Wallgater Thomas Fahey. A posed photograph of them taken together shows them with muddy boots and in battlefield dress as though they had recently just come out of the trenches.
John was hospitalised for three weeks with tuberculosis on 21 April. He remained in France until the end of the war proceeding to the UK on 23 December 1918 for demobilisation at the Corps' depot at Oswestry. He was transferred to Class Z of the Reserves on 19 January 1919 before being finally discharged on 22 July 1919.
Manchester Regiment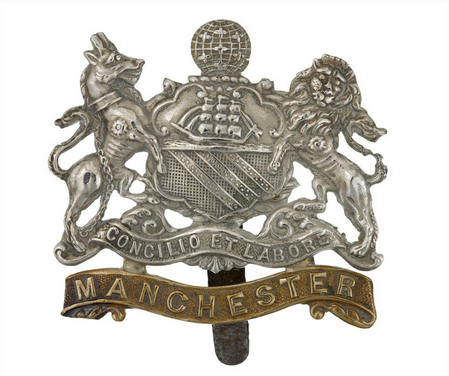 Manchester Regiment cap badge
The following day he enlisted into the Manchester Regiment at Ashton-Under-Lyne for two years under Army Order 155 of 1919. He was posted to 'C' Company of the 2nd Battalion (later transferring to 'B' Company). He was issued the number 77806 but later, under the Army's new numbering system of 1920, he was given the number 3513219.
After the Armistice in November 1918 the 2nd Battalion had moved to Assesse in Belgium. On 5 February the battalion entrained at nearby Namur and was transferred 125 miles to Bonn in Germany where it had formed part of the British Army of Occupation.
During the early part of 1919, demobilisation was rapidly carried out and in April the battalion cadre had returned to Bordon Camp in Hampshire, being quartered in Martinique Barracks. (By coincidence the same barracks that the author underwent his military trade training in the Royal Electrical Mechanical Engineers). This is where John joined the battalion.
The next few months was spent training and gradually reforming the battalion for overseas service. In November, however, the security situation in Ireland became serious and the battalion was moved to Tipperary where it performed various duties as patrols, escorts and guards.
A fourth son, James Stanley was born to John and Annie in December 1919. However Pte O'Loughlin's bad habits of going AWOL followed him to his new regiment and over the next twelve months he forfeited his pay on six occasions. His periods of absence seemed to coincide with the birth of his children. He always returned to his regiment so technically wasn't deserting, which in the field was punishable with execution by firing squad.
Mesopotamia
When the Great War ended the former German and Turkish empires were controlled by the victorious allies as decided by the League of Nations. The League awarded Britain the mandate to control Mesopotamia (now modern day Iraq) until such time as the country was capable of becoming an independent state.
British rule was unpopular with the inhabitants of Mesopotamia, and Sunni and Shia clerics joined together to encourage resistance to the British occupation. An insurrection, known as the Arab Rebellion, broke out in the summer of 1920 and was to last four years. The aim of the insurgents was to remove British control and replace it with an Arab government. Britain had to send large numbers of troops from India to deal with the insurrection.
In February, 1920, the 2nd Battalion Manchester Regiment was placed under orders for Mesopotamia and sailed from Tilbury to Bombay on H.M.T. Macedonia with the 1st Battalion Royal Irish Regiment. Having trans-shipped at Bombay for Basra and after a journey up the River Tigris on the SS Coconada, past Kut-el-Amara, they reached Baghdad in April.
The Battalion formed part of 55th Brigade and until July was chiefly employed in Garrison duties at Tekrit protecting refugees, looking after the safety of 900 British women and children and guarding Turkish prisoners of war.
The conditions in Tekrit were tough - no wash houses, dining tents or recreation tents, just a few tents to sleep in and to make matters worse John suffered from ulcers on his buttocks for which he was transferred to the O.C. Hospital in Baghdad on 24 July 1920.
He was discharged back to duty in Baghdad on 30 July but was re-admitted to hospital again shortly afterwards on 7 August. John died in the 23rd British Stationary Hospital on 11 August 1920. His papers state that he died 'from cardiac arrest following sand fly fever.
The Commonwealth War Graves Commission records show that he was buried in Baghdad War Cemetery (North Gate), Iraq in Plot VIII. Row F. Grave No.2. For his war service John was awarded the British War Medal, Victory Medal, and General Service Medal with Iraq clasp.
RUGBY DYNASTY
John died at the early age of 29 but he was to leave behind a legacy that became famous in the sporting world. His grandson's Keiron and Kevin, sons of Joseph, played for Wigan Rugby League Football Club together in the early seventies. His grandson Sean (son of Keiron) became a Wigan legend and retired from playing in 2021. John's granddaughter Colleen married Wigan Rugby League legend Andy Farrell in 1995, their son is England rugby union player Owen Farrell.
Kevin O'Loughlin
Kevin was born in 1947 in Wigan. He was a utility player who would play in any position asked of him. During his career he played for Wigan between 1963 and 1975 after signing from Warrington Colts, making 284 appearances for a total of 171 points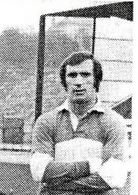 Kevin O'Loughlin
In the early 1970's he played alongside his younger brother Keiron at Wigan. He also played for Swinton and Blackpool Borough and represented England at Under 24's level. Kevin died in 2016 and is buried alongside his wife Rita in Gidlow Cemetery.
Keiron O'Loughlin
Keiron was born 13 March 1953 in Wigan. His position was at left centre and in his twenty year career played for Wigan, Widnes, Salford, Leigh, and twice for Workington Town, making 539 club appearances, scoring 130 tries for a total of 411 points.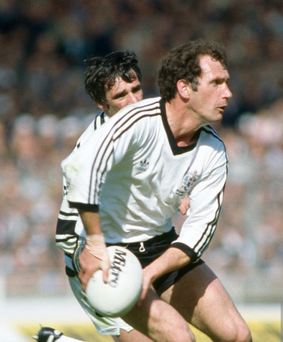 Keiron O'Loughlin
He played for Widnes in the 14-14 draw with Hull FC in the 1982 Challenge Cup Final at Wembley but was on the losing side when they lost the replay 19-8 at Elland Road in Leeds. Playing at Stand Off he won a Challenge Cup winners medal with Widnes in 1984 when they beat Wigan 19-6 at Wembley. He also represented Lancashire five times between 1971 and 1985.
Sean O'Loughlin OBE
Keiron's son Sean O'Loughlin was born 24 November 1982. He was a product of St. Patrick's amateur Rugby League team and made his first appearance for his hometown club in 2002. He was a one club man and spent 19 illustrious seasons at Wigan. He became club captain at an early age playing at Loose Forward, making 458 appearances, and scoring 88 tries, three goals and two drop goals for a total of 360 points.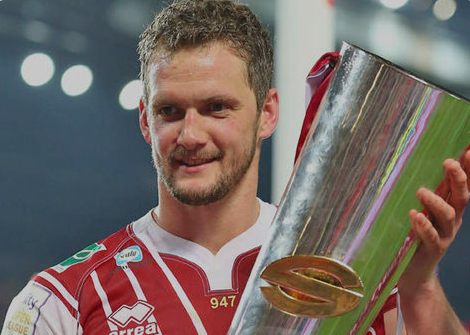 Sean O'Loughlin
He won four Super League titles, three League Leaders Shields, two Challenge Cups and one World Club Challenge and was captain of England & Great Britain. He was appointed Officer of the Order of the British Empire (OBE) in the 2022 Birthday Honours List for services to Rugby League Football. Sean is currently assistant coach at Wigan Warriors.
Andrew David Farrell OBE
Andy Farrell was born 30 May 1975. A product of Orrell St. James amateur Rugby League team. He was a goal kicking loose forward and second rower who played for Wigan for thirteen years between 1991 and 2004, making 370 appearances. He scored 111 tries, kicking 1,336 goals and 19 drop goals for a total of 3135 points, only the second player to score over 3,000 points for Wigan.
Farrell became the youngest player to win a Challenge Cup Final in 1993 when at 17 years and 11 months he came on as a substitute against Widnes. He then became a full international by the age of 18, making his début against New Zealand. In July 1996 Farrell was appointed Wigan Warriors' captain and later that year, aged 21 years and four months, became the youngest-ever captain of the Great Britain team, leading the 1996 Lions Tour of New Zealand, Papua New Guinea and Fiji.
He won six Championships, four Challenge Cups, four Premiership Trophies and one World Club Challenge as well as numerous individual awards. He was Man of Steel twice in 1996 and 2004 and voted RFL forward of the year.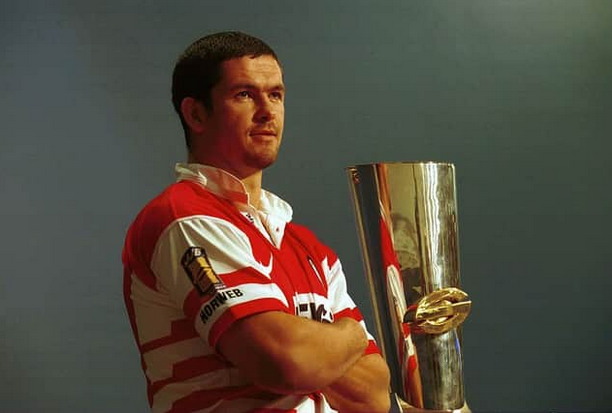 Andrew Farrell OBEIn the New Year's Honours List of 2004 he was awarded the OBE for services to the game. The same year he won the Golden Boot as best player in the world and was voted Players Player of the Year. He made 46 international appearances, 35 for Great Britain and eleven for England.
Andy made the switch to Rugby Union and played for Saracens from 2005 to 2009, and won eight international caps for England, including playing in the 2007 World Cup. After retiring as a player, Farrell continued in rugby union as a coach, working as an assistant coach with Saracens and Munster, as well as England, Ireland and the British and Irish Lions. He is the current head coach for Ireland and in 2022 took the Irish Rugby Union team to a 2-1 series victory against New Zealand. On 27 October 2022 he will join eight other former Wigan players when he will be inducted into the Rugby League Hall of Fame.
His distant cousins are Liam Farrell who currently plays for Wigan Warriors and his younger brother Connor who also played for Wigan as well as Workington, Widnes, Featherstone and Bradford.
Owen Andrew Farrell
Owen was born 24 September 1991 in Billinge, Wigan. He played for Wigan St. Patrick's as a schoolboy and attended St. John Fisher school which has produced many professional rugby players. When his father Andy signed for Saracens in 2005, his family moved to Harpenden in Hertfordshire where Owen at the age of 13 or 14 was introduced to rugby union for the first time.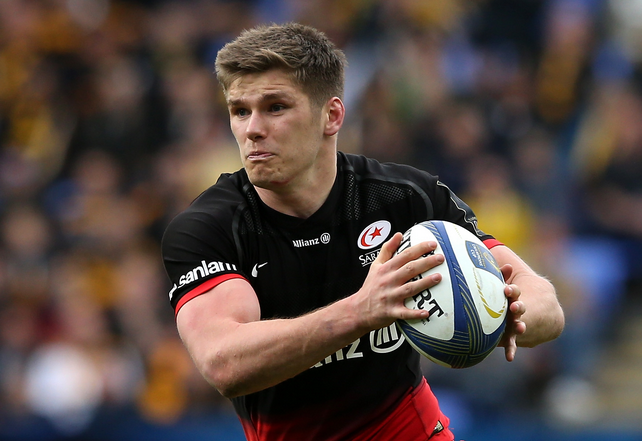 Owen FarrellOwen held the record of youngest player ever to appear in English professional rugby union after playing for Saracens eleven days after his 17th birthday, in a 26–17 home defeat against Llanelli Scarlets in the EDF Energy Cup on 5 October 2008.
In 2017 he became Saracens leading all time points scorer and was named European Player of the Year. He has won three European Champion Cups and four Premiership titles. He became captain of Saracens and England and represented the British and Irish Lions.
Post script
Mick Mullaney who submitted the photograph of Thomas and John for research attended school with Kevin O'Loughlin, the pair became good friends and played rugby together. Later they found out about the connection between their grandfathers. Later Mick was involved with coaching Andy Farrell and Sean O'Loughlin at school boy level. The close connection between Thomas Fahey and John O'Loughlin had been renewed.
Graham Taylor 2022
Sources
Ancestry co.uk
Commonwealth War Graves Commission
Find My Past
The Insurrection in Mesopotamia 1920 by Lt. Gen. Sir Aylmer L. Haldane
The Long Long Trail
The Manchester Regiment Forum (moderator Bob)

The National Archives
U.K RHC Pension Soldier Service Records 1760-1920.
Wigan Warriors Hall of Fame
Wigan Today
Wigan World Website