The Tragedy at Winstanley:
The Shortrede Family
Thomas McGrath
In the 1880s there were a series of mysterious deaths on the Winstanley Estate. In the 140 years which have passed, numerous stories have arisen about the tragic deaths of Mr and Mrs Shortrede, along with the death of Mrs Atherton. The narrative is one of drama and passion: an extra-marital affair between Mr Shortrede and Mrs Atherton supposedly led to a string of suicides. This article will re-examine the lives of the Shortredes.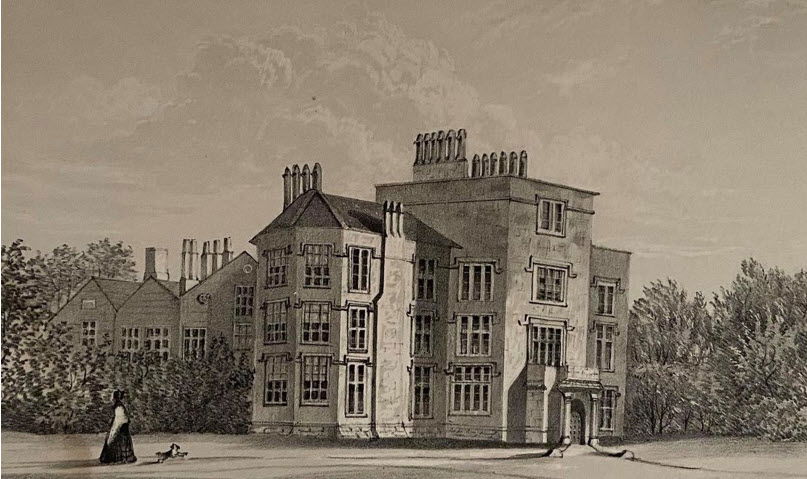 Winstanly Hall c1840's
Who were the Shortredes?
Thomas Shortrede (1833-1885) was born in Jedburgh, Scotland. He was the third child of John Elliot Shortrede and Elizabeth Thomson. His parents had a substantial farm which was almost 3000 acres in size.
By 1861 Thomas and his mother had moved to Durham, where he worked as a mining engineer. In April that year he married Susannah Macintosh at Marylebone, London. Susannah (1833-1880) was born in Chesterton, Cambridge to William Macintosh and Mary Rose. Susannah had worked as a governess in Islington, London but she had returned to her parents after the birth of a child, William Henry Macintosh in 1857. Upon her marriage to Thomas Shortrede, Susannah left her parents and child in Cambridge and moved to Durham. The couple had three daughters; Mary (1862), Elizabeth (1864) and Annie (1866).
Around 1865 Thomas became the estate agent for the Bankes family at Winstanley Hall and his family lived on the edge of the parkland at Park House. The Shortredes were firmly established in local society and they fulfilled many civic and philanthropic roles. Thomas was involved with: the Wigan Board of Guardians, the Wigan Union School Attendance Committee and the Pemberton, Winstanley and Upholland Board. Susannah was involved with the British Women's Temperance Association and she took part in the Industrial and Fine Arts Exhibition in 1873 to raise funds for the Infirmary and Dispensary at Wigan. In October 1868, the Shortredes hosted and paid for an 'annual treat' day for 350 children from Billinge.
'Sad death of a lady'
On 10th August 1880, Susannah sent her daughters into Wigan. Around 3pm she gave some instructions to her maid, Mary Hitchen and told her she would continue the conversation after her walk. At 5pm, Susannah's body was found floating in a well, 285 yards from her home. Her body was recovered by Francis Atherton, a stone mason who also lived on the estate.
Press reports portrayed Susannah's death as accidental, as she was middle class and suicide was illegal. The well could only be accessed by descending some stone steps, so it was assumed Susannah had slipped when attempting to get some water to drink or to bathe her forehead on the hot afternoon. Reports of the event were printed under the title 'sad death of a lady' in newspapers across the United Kingdom. The unofficial tale is that Susannah took her own life upon the discovery of her husband's affair with Elizabeth Atherton (the wife of Francis Atherton). There is no suggestion of this in the newspapers, nor would there be. However, Susannah's mental state at the time of her death was mentioned. It was revealed she had suffered from melancholia for some months. Yet on the day of her death Mary Hitchen stated Susannah 'was very cheerful, more so than witness had seen her for some years.' An inquest returned an open verdict and Susannah was buried at St. Aidan's Church in Billinge.
Another Tragic Death
The impact of Susannah's death can be seen in the 1881 census. Thomas was living alone at Park House, with the exception of two maids. It is unknown where Elizabeth and Annie were but Mary was living with her maternal uncle in Cambridge.
The following year Elizabeth Atherton died aged 42. In the unofficial story she was overcome with guilt and hanged herself. Yet, there was no mention of her death in the newspapers which would suggest that there was no inquiry and therefore, nothing untoward about her passing.
In April 1884 Thomas Shortrede married Mary Cornish Splatt (1841-1893) at St. Saviour's Church, Liverpool. There was a celebration at Park House, which was attended by Thomas's daughters. Thomas was held in high esteem and received expensive wedding gifts from the servants of the Winstanley Estate, the colliery officials and workmen and the tenants of the estate.
On 4thAugust 1885 Thomas returned to Park House after an extended period of recuperation in North Wales. He had seriously injured his leg in a riding accident. He entered an outbuilding to shoot some rats. After a single shot, a maid discovered Thomas's body lay half-inside a closet. The shotgun was in his right hand and there was a wound to his temple.
An inquest returned an open verdict and again, Thomas's position and status seems to have been taken into account. Dr Molyneaux suggested that Thomas's stiff knee could have caused him to slip going up some steps and the tumbling gun had gone off. Dr Cowan stated that it was 'utterly impossible to reconcile the thing with any idea of suicide.' Thomas was buried at St. Aidan's.
What Happened Next
The Shortrede sisters had suffered double tragedies just five years apart. Mary Shortrede married George B. Murdoch in 1886 and had three children, two of whom she named after her parents. Annie worked as a 'lady's help' in Scotland and died in 1908. Elizabeth trained as a nurse. She died in 1922 and was buried alongside Annie in Edinburgh. Finally, William Henry Macintosh, the little boy Susannah left in Cambridge, was sent to a boarding school. He won a scholarship and studied his BA and MA degrees at Oxford and became a school master.
We may never know the full details about the deaths of Thomas and Susannah Shortrede or how Elizabeth Atherton fit into actual events, if at all. Behind every historical mystery and dramatic scandal were real people and hopefully this article has shed more light on the lives of Thomas, Susannah and their children.
Image: Edward Twycross, The Mansions of England and Wales: The County Palatine of Lancaster, Vol. III, (London: Ackerman and Co., 1847)