To many Wiganer's this building was always referred to as the Gas Showrooms, Civic Buildings and more recently Wigan University Technical College, although prominently displayed on the building there is reference to an "O&G Rushton".
Who were O&G Rushton and what was the significance of the building?
Oates Rushton was born at Great Marsden, Nelson in 1849, the son of a lock keeper on the Leeds and Liverpool Canal.
Along with Mancunian William Tomlinson Janance, Oates set up a grocery business in 1870 at 42, Market Place, Wigan, under the name of "Rushton and Janance". Oates and William were 21 and 22 years old respectively, the partnership was short lived and was dissolved in April 1871. Janance moved back to Manchester and by 1881 had established a successful grocery business in Prestwich employing a staff of six, all living above the shop.
George Rushton engaged in the grocery business for some years in Leeds joined his younger brother and set-up the company G&O Rushton in 1872.
The company traded successfully initially from the Market Place shop and by 1898 the company had added premise in the town centre, with a Warehouse and Office at 1, Commercial Yard, a cash provision shop at 32, Market Place, a Butter Market at Moot Hall, 10 Wallgate and a further shop at 120, Wallgate. In addition, the brothers opened grocery shops in Scholes, Poolstock, Platt Bridge, Ince, Standish and Chorley areas.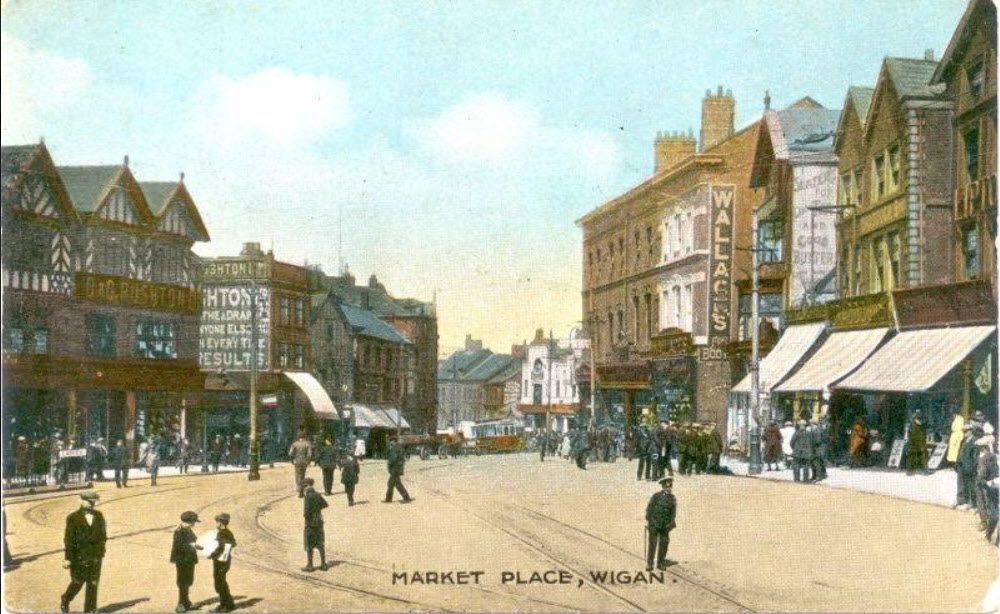 The brothers always anxious to grow the company implemented a quarterly dividend, known as the "Rushtons divi" for registered cash customers and by 1901 over £70,000 had been paid out to recruit and retain customers.
In 1899, the firm was converted into a private limited company providing much need investment to further expand their retail outlets and build the Rushton's Warehouse which we still see today on New Market Street.
The Rushton's building was completed in 1900 and a further extension was added in 1905.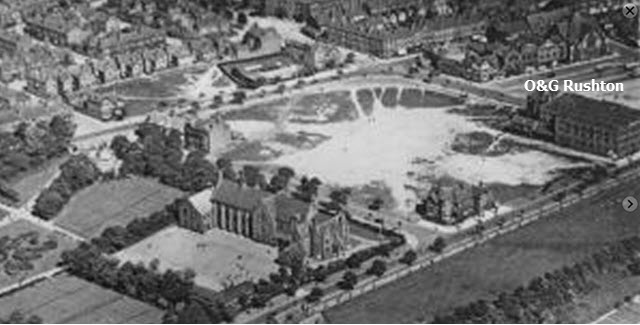 The building was built on land belonging to the Rector of Wigan and referred to as "The Mesnes".
The view of the building in around 1905-1910 shows the building in splendid isolation, overlooking the Market Square and the Market Hall, with Drumcroon and the old Grammar School as immediate neighbours.
In Feb 1911 George and Oates advertised in the local press a prospectus for a new company that was to be formed. It was called the Wigan & District Bill Posting and Advertising Co. Ltd.5,000 shares were to be offered at £1 per share.
It's purpose was acquiring locations to be used as bill posting stations then selling contracts for advertisers to use. George was Chairman, with Oates a Director along with seven other local businessmen.
At the golden wedding celebration of George and his wife in 1915 the company had now over 50 branches with over 400 employees.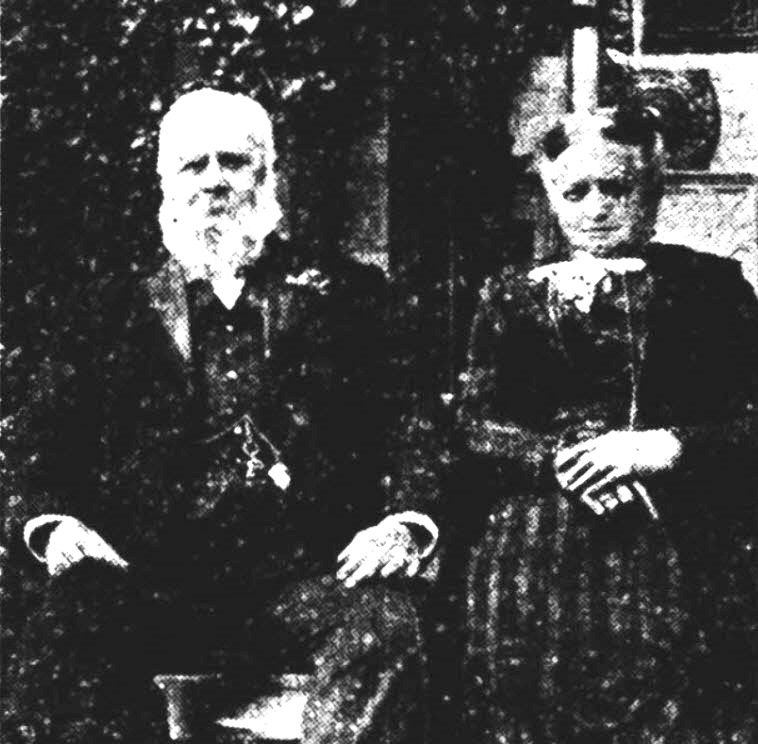 George presented a photograph of himself and his wife, Mary, and a days wage to all the staff, with the instruction "no boy to have less than two shillings, (10p!)
Around 1915 the company developed and built up a thriving drapery and tailoring departments.
The business continued to develop in the 1920,s, opening branches in Chorley and St. Helens to have over 70 shops.
In 1928 Oates handed over the running of the company to his sons and Harry was made Chairman, with a certain amount of reluctance, the other sons wanting to establish themselves in other occupations and business. H.G was living and working in Harrow working as a Superintendent in charge of some of the ancillary businesses of the Lever Brothers, Percy was in business as a fellmonger in Wigan, and Wilfred as a partner in an old established law firm in Liverpool.
The business was eventually wound up in 1956.
Other Occupants:
Pendlebury's relocated to the building while their Standishgate premises were rebuilt after a disastrous fire in 1953.

Gas Showrooms

Wigan Council – Civic Buildings

University Technical College – building sensitively restored by Martin Ainscough.

Now an extension to Wigan Technical College, now appropriately named the Rushton Building.
Life Away from the Rushton Business
Both George and Oates led active social and business lives away from their commercial business:-
Oates Rushton
Oates lived at various houses in the town, 42, Market Place, 27, Upper Dicconson St, 27, Bridgeman Terrace, before eventually settling at Morningside House in Elmfield Road.
He had business interests being a shareholder and held various roles in the Eccleston Mill Company and National Tea Union Ltd. He was also one of the five Directors of a new public limited company formed to take over Trencherfield Mill as a going concern in 1906. The Mill and business was previously owned by Colonel William Woods and Son of Whitley Hall. In 1928 it was revealed by the Liverpool Echo that he was long standing investor in HMV Gramaphone Co, with 3,00 shares valued at £11 per share.
In 1900 he was appointed a Justice of the Peace, along with Levi Booth, the grandfather of the opera singer Margery Booth. He also served on the Board of Management of Wigan Infirmary and became a Life Member in 1917.
Oates was also a keen sportsman, particularly crown green bowling and represented the county on numerous occasions and was a member of the successful Wigan Subscription Club that won the Lancashire and Cheshire Club Championship. He was also an early and possibly a founding member of Wigan Golf Club at Arley Hall.
Throughout his life Oates was involved in religious life of the town with donations to various organisations, particularly the Wesleyan Methodist Movement in Wigan where he undertook several positions mainly financial and fund raising, and was known to give solo musical performances with his accordion at various events. He was also one of the eleven benefactors that laid the stone at the New Central Mission Hall (Queens Hall) in Market Street.
Oates Rushton died in 1929 leaving over £106,000, his will contained a fitting tribute to his wife, Ellen:-
…… she has been my help mate, best friend and wisest counsellor during our long married life, and a lovable mother to our children for nearly sixty years.
George Rushton
George resided at several houses in Wigan, 42, Market Place then 5, Wrightington St, before moving to 11, Chambres Road, Southport.
He was an active member of the Wesleyan Movement of the Wigan Circuit, being an active and eloquent preacher and providing many donations to various intiatives.
Also, a keen crown green bowler he was a member of the Wigan Subscription Club and on his move to Southport became the President of the Scarisbrick Bowling Club.
Like his brother he also became a Justice of the Peace.
George died in 1915 and left over £35,000 with many requests of money to employees of the company.
---
Additional Family Information - provided by Graham Taylor
Willie Rushton (1937-1996)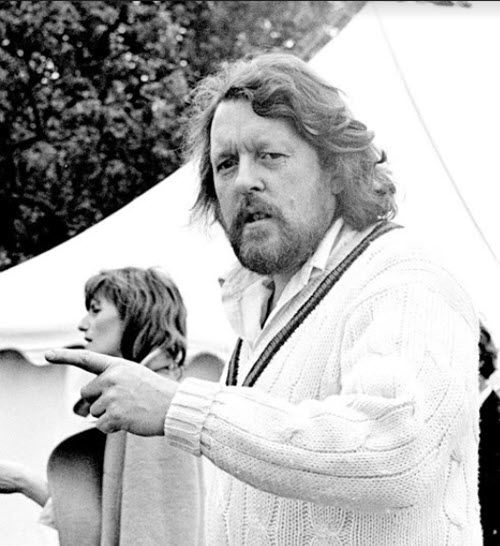 Oates Rushton's great grandson was comedian, satirist, actor and writer William George (Willie) Rushton 1937-1996. A keen cricketer, his ashes were buried on the boundary of The Oval cricket ground.
His father was John Atherton Rushton (1908-1958) publisher.
His grandfather was Herbert George Rushton (1880-1965 ) solicitor, 2nd son of Oates Rushton.
---
Wilfred Oates Rushton
Wilfred Oates Rushton enlisted into the 18th Bn Lancashire Fusiliers which was formed on 13 Jan 1915 in Bury. It was what's known as a Bantam Battalion. When hostilities began in 1914, the minimum height was 5ft 3in. Thousands of fit young men who wanted to fight were turned away because of their stature.
Alfred Bigland, MP for Birkenhead wrote to the Secretary for War, Lord Kitchener pleading their case. Kitchener agreed and Bantam Battalions were set up and reserved for men of 5ft to 5ft 3ins with an expanded chest measurement of 34in.
Wilfred gained a commission to 2nd Lieut on 20 April 1915. His unit sailed from Southampton to Le Havre on 29 Jan 1915 and entered the war on the Western Front on the 30th.
He was awarded the Military Cross in 1918 but at the time he was shown as being on the General List, which acted as a holding unit for specialist officers who were waiting to be assigned to a unit.
His older brother Percy also served in the Great War. He enlisted into the 2nd Bn Honourable Artillery Company (Territorial Force) in London on 18 Nov 1914. Despite the name it was actually an infantry regiment.
He was promoted to Acting Cpl on 17 April 1915 and to Acting Sgt on 18 March 1916. On 1 Oct 1916, the day before his unit went to France he was promoted to Sgt but he turned it down and reverted back to Private soldier at his own request.
On 26 Nov 1917 his unit was posted to Italy and on 18 Dec 1917 was promoted to Acting Sgt again. On 10 Jan 1918 he was promoted to Sgt but again on 21 Sept 1918 he handed his stripes back and reverted to the rank of private at his own request.
The unit saw plenty of action in France, Flanders and the Italian Front. They finished the war at Montechio, Italy on 8 March 1919.
---
George Rushton's Grave
George was buried in Section U of Duke St. Cemetery in Southport in 1915.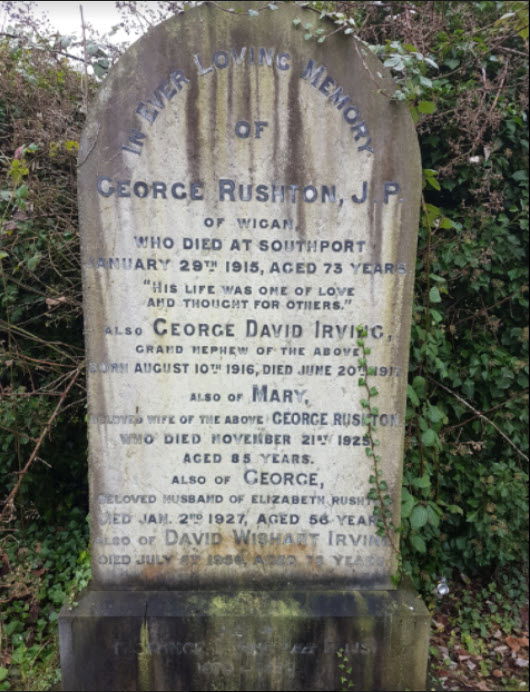 ---
Some additional Rushton's related images, courtesy of Ron Hunt of wiganworld:-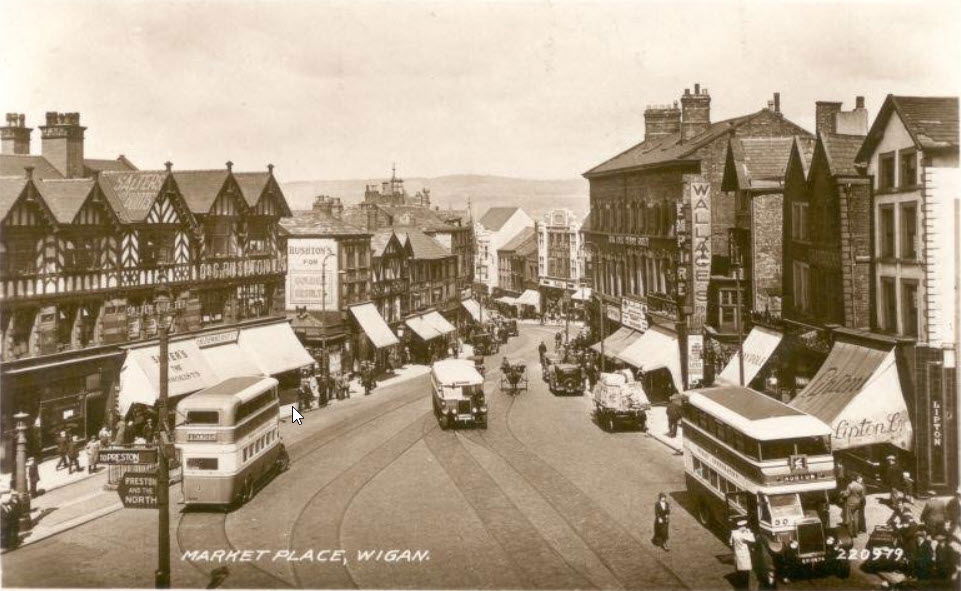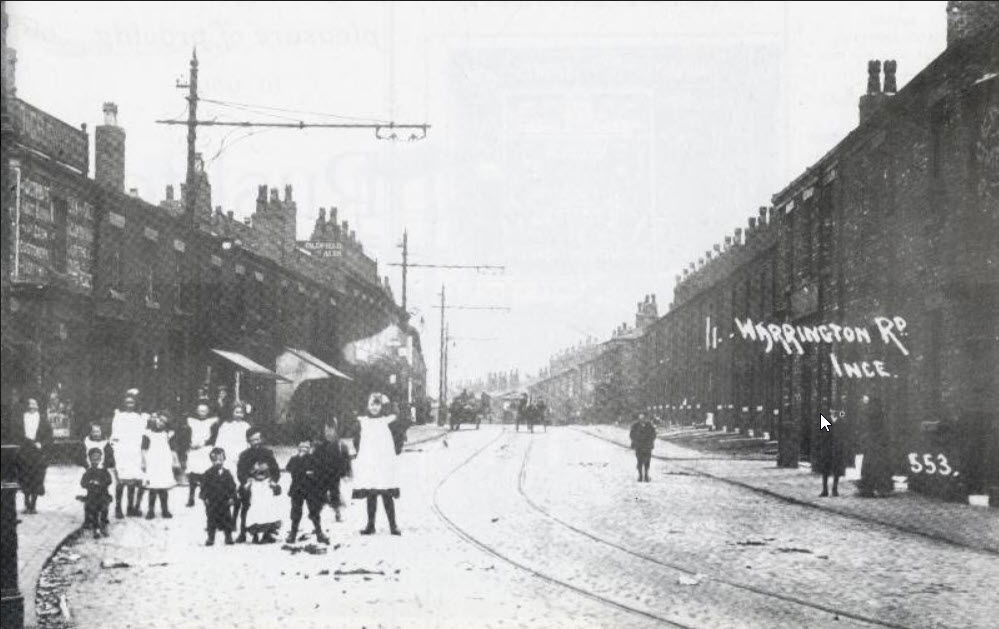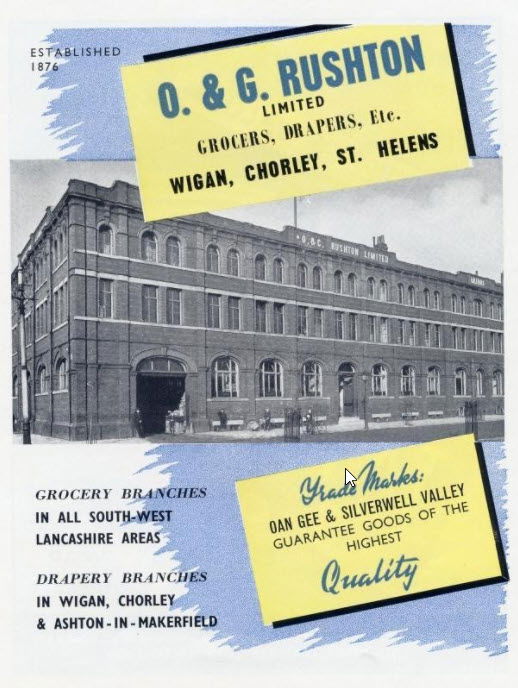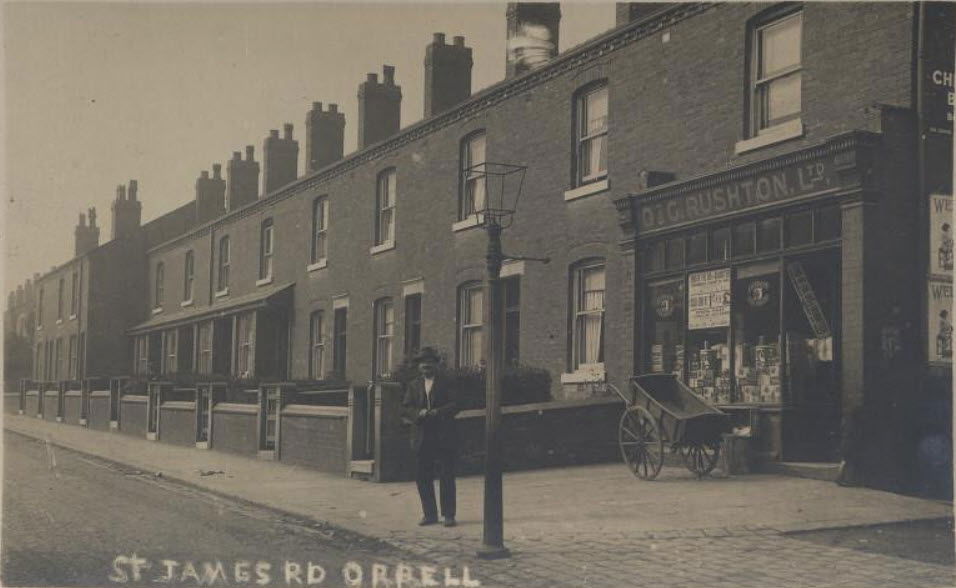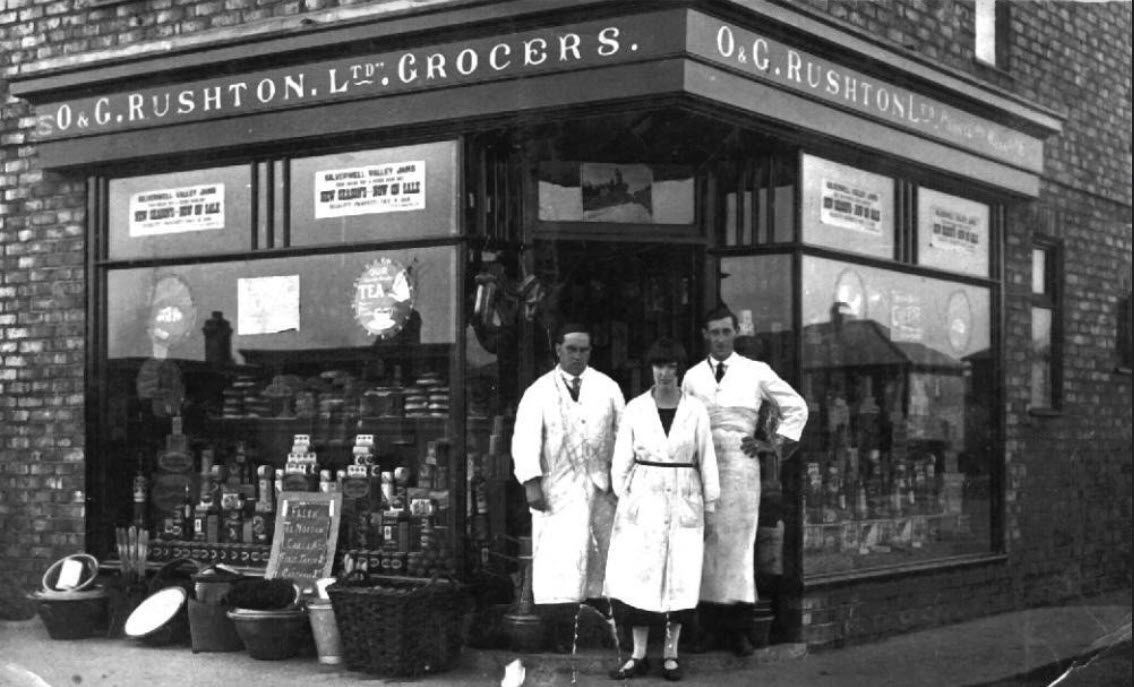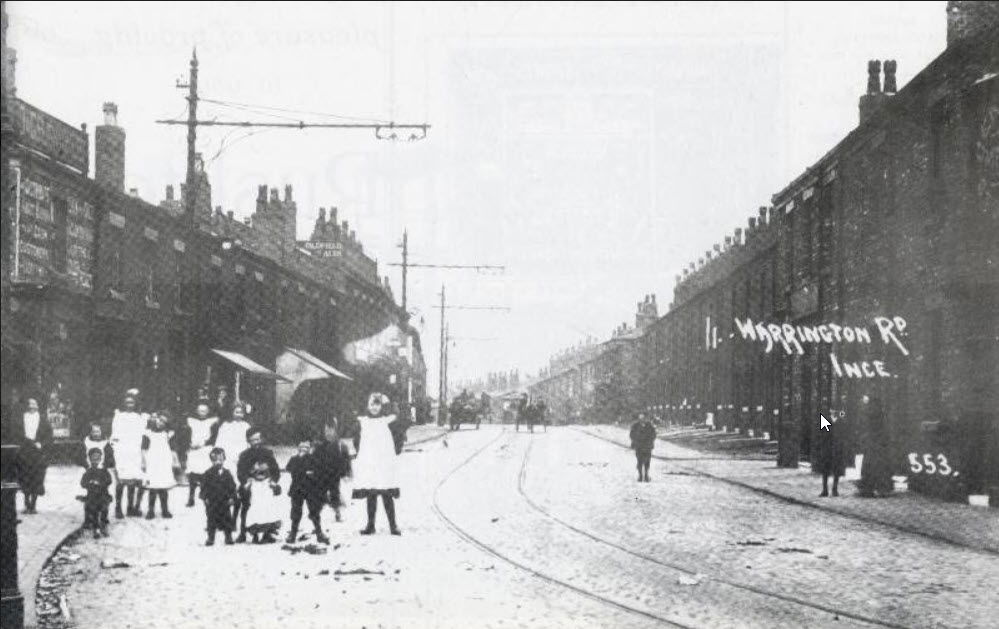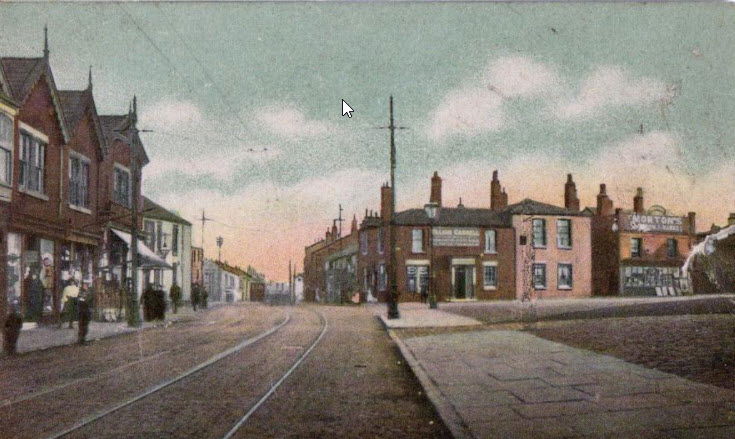 ---
Thanks to Graham Taylor and Ron Hunt of wiganworld
Sources:-
Wigan Observer, Liverpool Echo, findmypast.