Henhurst Bridge Foundry was known for its iron castings bearing the name of James Macfarlane & Sons, Wigan.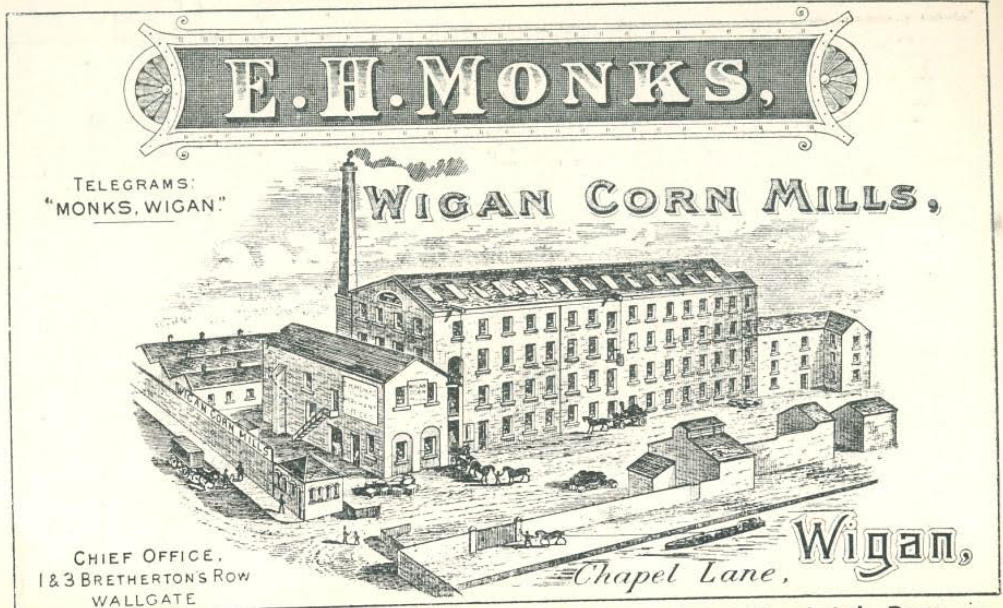 It was started back in 1897 by renting out an adjoining large brick shed from an old corn mill known on OS maps as Bridge Hey Mill, known locally as Henhurst Bridge Mill. This is located off Chapel Lane next to Henhurst Bridge over the Leeds Liverpool Canal.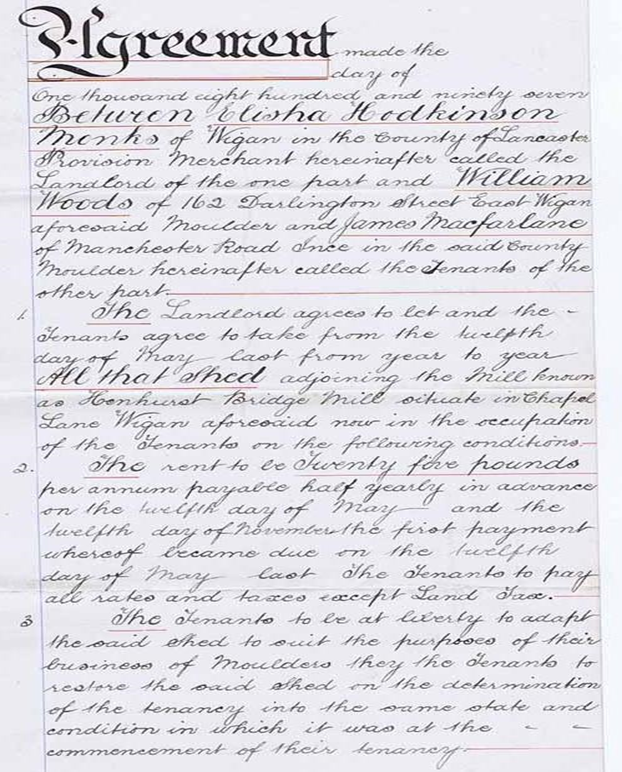 The original 1897 James Macfarlane Wigan tenancy agreement

One of Henhurst Bridge Foundry founding members was James Macfarlane (Son of William Macfarlane of 8 Pitt St, Wallgate b.1822 d.1879). James was Born on 25th Dec 1849 and lived through to 1929 aged 79. He was an iron moulder by trade and raised his family in the now demolished houses on Manchester Rd on the main road through Higher Ince.
In his later years, he commissioned 4 new terraced houses at the bottom of Gidlow Lane, he moved into one and his daughters Sarah and Alice took the house next door. His house was the one with the bespoke bay window. Currently in 2022, these terraced houses are straight opposite the car wash/old petrol station which is next to the Bird I'th Hand Pub "Henhole" public house.
James is buried in the Macfarlane family grave at Lower Ince Cemetery although the name Macfarlane is misspelt 'Macfarline'.
Baptism: 14 Jan 1850 All Saints, Wigan, Lancashire, England
James Macfarline - [Child] of William Macfarline & Elizabeth
Born: 25 Dec
Abode: Wallgate
Occupation: Labourer
Baptised by: P K Simmons Curate
Register: Baptisms 1848 - 1851, Page 222, Entry 1775
Source: Original register at Wigan Archives

1871 Census - Bighams Yard, Pitt Street, Wallgate
James' youngest child, William, eventually took over running the foundry. William Macfarlane was born 11 Nov 1892 and died 17 June 1972 aged 79. He lived at 95 Hodges Street after he married Margaret Wood at St. Andrew's Church, Springfield, and later a new family home on Sittingbourne Road, Whitley, that he had personally commissioned in the late 30's and named 'Henhurst' after the foundry. The ownership of Henhurst on Sittingbourne Road has never been sold to anyone outside of William's family and is currently owned by his Granddaughter. William is buried at the Macfarlane family grave at Gidlow Cemetery.
Marriage: 25 Sep 1920 St Andrew, Wigan, Lancashire, England
William Macfarlane - 27, Engineer, Bachelor, 93 Gidlow Lane
Margaret Wood - 26, Spinster, 37 Ingram St.
Groom's Father: James Macfarlane, Engineer
Bride's Father: Joseph Wood, (deceased)
Witness: John Wood; Sarah Macfarlane
Married by Banns by: J. M. Buckmaster Vicar
Register: Marriages 1918 - 1925, Page 51, Entry 102
Source: Original register at Wigan Archive

1921 Census - William Macfarlane living at 95, Hodges Street, WiganWilliam's eldest son James Macfarlane (19/10/1921-27/12/2013) was next to take over running the foundry until it's end. He was born at 95 Hodges Street and moved to his parents new family home on Sittingbourne Rd when built. After getting married at St Michaels church in Swinley moved to new house on Heeley St behind the Brocket to raise a family. Shortly after, moving to a further two addresses on Whitley Crescent.

1939 Register - James Macfarlane at home with his parents at 26, Sittingbourne Road, Whitley, WiganMarriage: 5 May 1948 St Michael and All Angels, Swinley, Wigan, Lancashire, England
James Macfarlane - 26, Ironmoulder, Bachelor, 26 Sittingbourne Rd.
Marjorie Winifred Norman - 25, Spinster, 5 Walmesley St.
Groom's Father: William Macfarlane, Ironfounder
Bride's Father: John Norman, Cooper
Witness: F. Stubbings; G. Norman
Married by Licence by: A. M. Whitehead, Vicar
Register: Marriages 1938 - 1957, Page 146, Entry 292
Source: Original register at Wigan Archives.
He worked alongside his younger brother Kenneth Macfarlane, an iron moulder born February 1932 and currently 90yrs old and a wealth of knowledge should anyone want to know more about the family, foundry and the men who worked there.
At some point in the 1950's, the Bridge Hey Mill building was derelict, falling into disrepair and was subsequently demolished. James had been quite successful with the foundry making it profitable and was able to buy the land from the Monks' family that had owned the mill. So after the mill went, the remainder of the land consisted of the Henhurst Bridge Foundry building, some old workers cottages and the mill's stables that backed onto the Leeds Liverpool Canal.
By 1978 its traditional Victorian techniques wasn't competitive with modern large foundries and new legislation brought better health and safety requirements, so after nearly a century it ceased production. Some cast iron road grids, mouldings, tools and a wooden crane were donated to the Wigan Pier 'The way we were' museum in the early 80's and on display. These are possibly still held in storage after the museum closed?
After the foundry's closure in 1978 James rented out the buildings and yard for over a decade to an engineering firm, Cowling Street Engineering, owned and ran by Mr Tommy Price. In this period the derelict canal side cottages and stables were converted into additional industrial let units by James' daughter & husband. From the early 90's onwards many local businesses rented parts of the buildings and yard until 2006 when most of the land, converted workers cottages and stables were CPO'd (compulsory purchase order) by Wigan Council. These had to be demolished due to widening Chapel lane, including a new Henhurst Bridge which the Foundry originally takes its namesake from.

After the Chapel Lane widening scheme, only the actual Foundry building remains. Currently in 2022, it is looked after by the original James Macfarlane's Great-Great-Grandson and home to JJ's, a Volkswagen and Audi German car mechanic specialists, you may see the advertising German flags up as you drive over the Leeds Liverpool canal on Henhurst Bridge. It is accessible by turning onto Waterside Drive, WN3 5DQ.
The Macfarlane's were well known for their road and pavement cast iron grids, gratings and manhole covers which were sold to the Water Board and councils around the North West. They are still quite common, especially in Wigan, instantly recognisable saying on them: 'James Macfarlane & Sons Wigan'. If you haven't noticed them before I wouldn't blame you as its quite insignificant but maybe after hearing of their proud Wigan history, you might start spotting them!?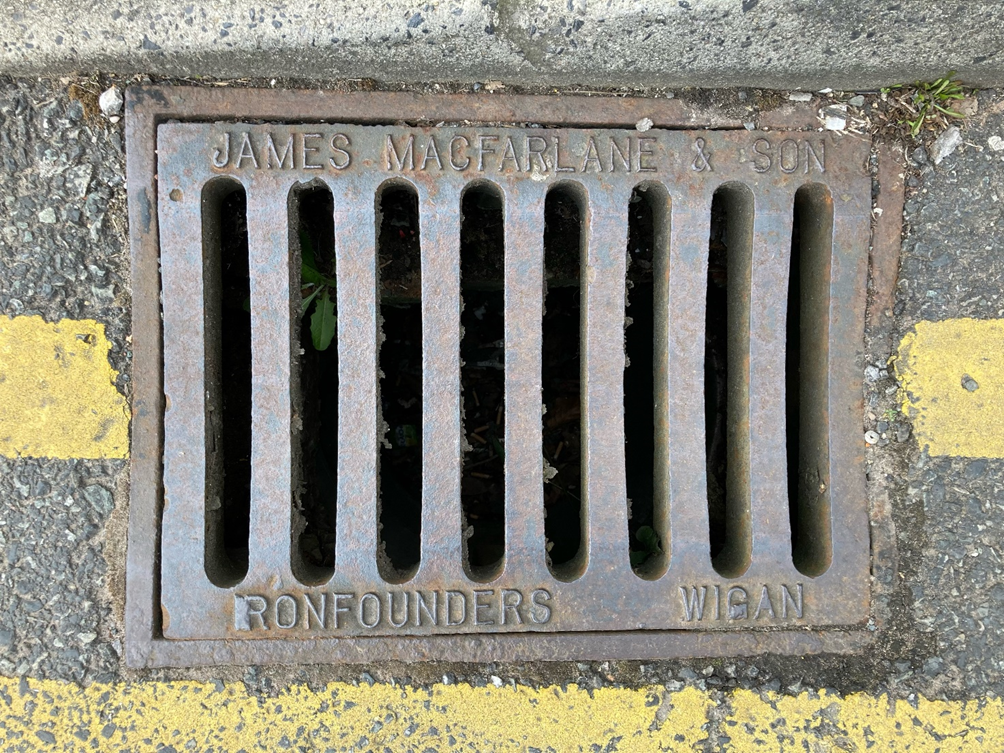 Other Examples
Paul James McCormick
Edited by Andy Lomax
Sources:-
wiganworld (Ron Hunt & Joanne), Google Street View, FindMyPast