The Early Years
Richard Makinson was born in Blackrod in 1835, and baptised at the nearby St. Katharine CE church on 16 August of that year.
Richard came from a humble working background, the 1841 census finds him living in Coal Street (later Whitehall Lane), Blackrod, with his father James Makinson, a coal miner, his mother Lucy (nee Nightingale), and five siblings, three boy and two girls.
Blackrod was once a major coal mining centre and by 1869 had seven mines in the area, by far the biggest employer at the time. By 1851 the family was living at Park Hall Gates and it is perhaps no surprise then that the census finds 15 year old Richard working down the pit with his father and brother John. His other brother Thurston had died six years previously, aged 18.
Richard had an entrepreneurial streak, after being taught at an early age how to blend and make up packets of tea by his friend George Collins he went from house to house selling his wares. In 1862 he advertised in the Bolton Chronicle that he was selling a three year old gelding or filly, for agricultural purposes for 15 shillings.
He also discovered religion and in his youth it was his habit to go into the squares and courts of Blackrod and sing a hymn, then ask for admission to go into the cottage and talk quietly about religious affairs. It was about this time that he was instrumental in setting up a church mission in Blackrod.
By 1861 the family was resident at Station Row in Blackrod. Richard, still a miner, was living with his parents along with his older sister Margaret, who was now a widow, and her two children, William and Elizabeth.
Margaret had married John Simm in 1856 at St. Peter's church in Bolton-le-Moors. They set up home in Aspull where their first child, William was born in 1857. John died in 1858 aged thirty and never got to see his second child Elizabeth who was born the following year. Margaret was to die in 1864, six years after her husband, aged just thirty three.
Richard's mother Lucy died in 1865, leaving him with the responsibility of looking after his elderly father and his sister's two young, orphaned children.
A Fresh Start in Wigan
When his father died in 1869 Richard, along with his nephew and niece moved to Wigan. The capital he had acquired from his various enterprises enabled him to rent property at 48 Millgate. With his knowledge of tea blending he became a tea dealer and named his premises 'The Tea Warehouse'. The 1871 census lists them at the address, Richard's occupation is shown as tea dealer and with another string to his bow, that of travelling draper.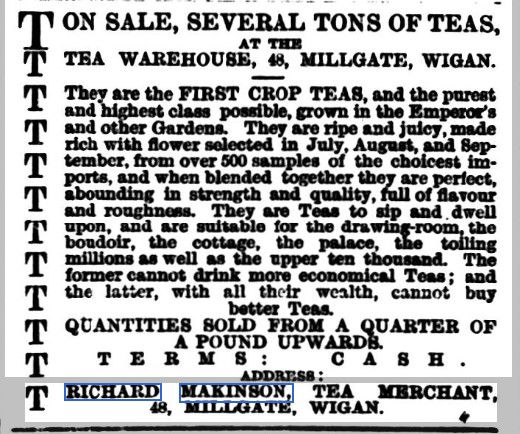 Advertisement in Wigan Observer & District Advertiser 27 October 1876
Later, as well as being a tea merchant he became a commission agent selling equestrian supplies, harnesses and saddlery. He also used the rear of his property as a sales yard for auctions. On Friday 14 September 1877 Richard held an auction at his premises in Millgate selling horses, cobs, and ponies suitable for ladies, gentlemen, youths and children. The following week he held a general auction of horses, cattle and pigs.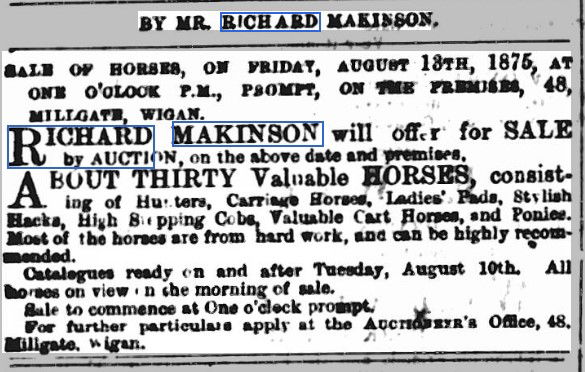 Advertisement in Wigan Observer & District Advertiser 7 August 1875
By 1879 Richard had advertised his Millgate property for let, and moved to new premises at 34 Standishgate, (the site is now occupied by Kings Amusement Arcade). His warehouse to the rear of the property in Cowlings Yard was named Cowlings Warehouse. At the same time he acquired a property on the opposite corner at 1 Mesnes Street. (now occupied by the Subway food outlet).
He was now a well-known and esteemed buyer on the Liverpool tea market. Ably assisted by William and Elizabeth, his retail and wholesale tea business prospered greatly and a further shop was opened in the Moot Hall Building in Wallgate.
Richard's dream was to sweep away decay and slums with handsome arcades and shops with imposing architecture on busy modern streets. He built and owned more shop-property than any other man in the town.
In 1895, Richard purchased buildings adjacent to 1 Mesnes Street in Standishgate and Mesnes Street and demolished them in order to build Cowling Buildings to the architectural plans of the prolific Wigan architect George Heaton (1840-1910).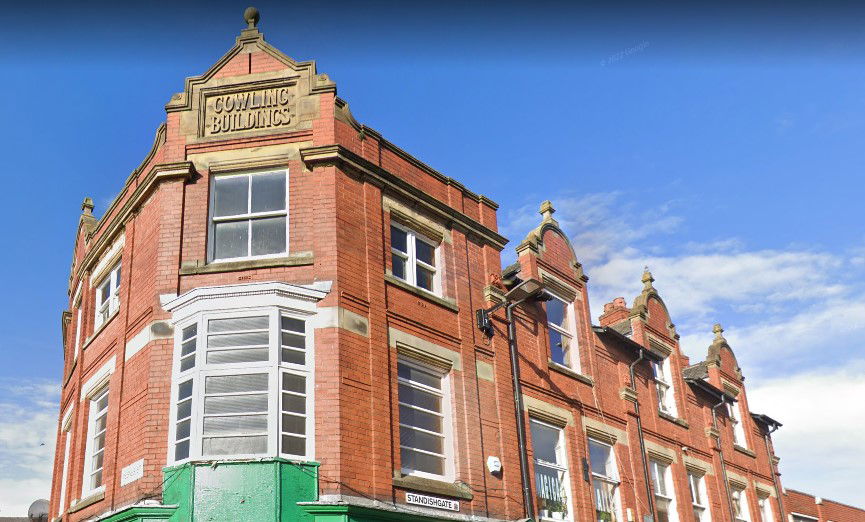 Cowlings Buildings - corner of Standishgate and Mesnes Street.
Along with George Heaton, Richard's next project was the extensive development of Mesnes Street, his impressive row of shops opposite the Market Hall was named appropriately Market Buildings.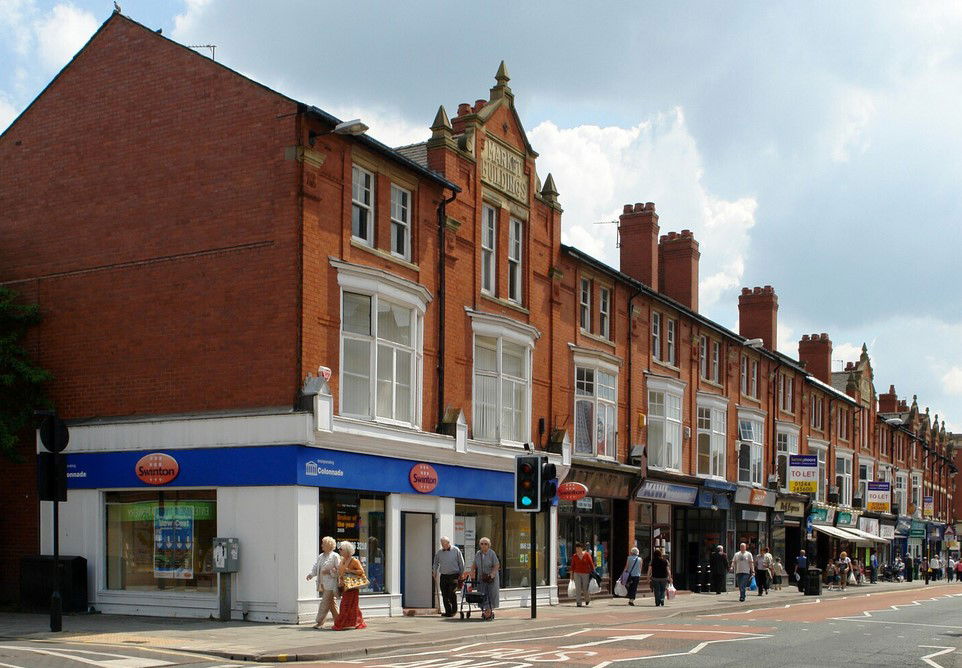 Market Buildings in Mesnes Street.
Again, working with George Heaton, Richard built the iconic Makinson Shopping Arcade in 1897/98. One hundred yards in length it connected market Place to Woodcock Street. Makinson's tea warehouse and shop was established to the right of the Woodcock Street entrance to the arcade, it eventually closed in January 1974.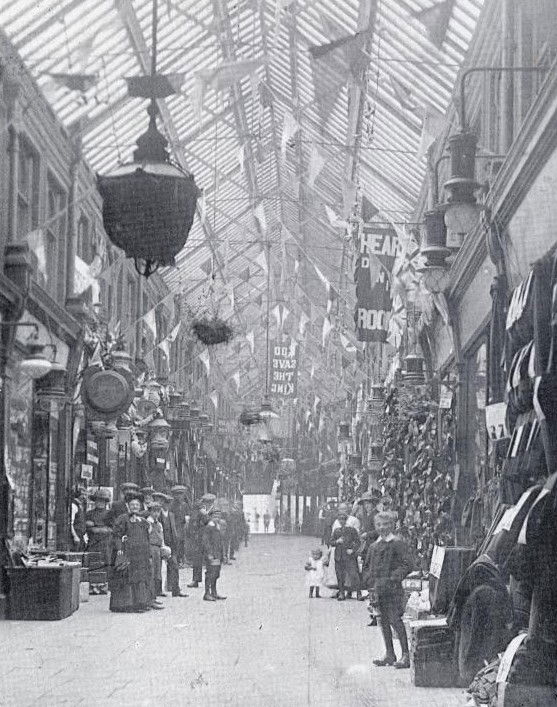 Makinson Arcade decked out with bunting and banners for the visit of King George V and Queen Mary on 10 July 1913.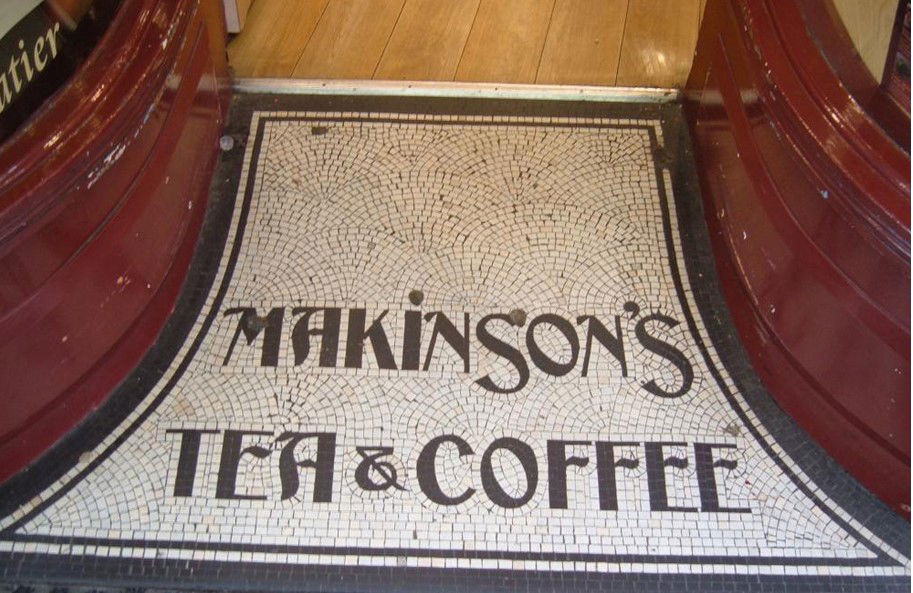 Tiled mosaic floor at the entrance to the Tea Warehouse in Woodcock Street.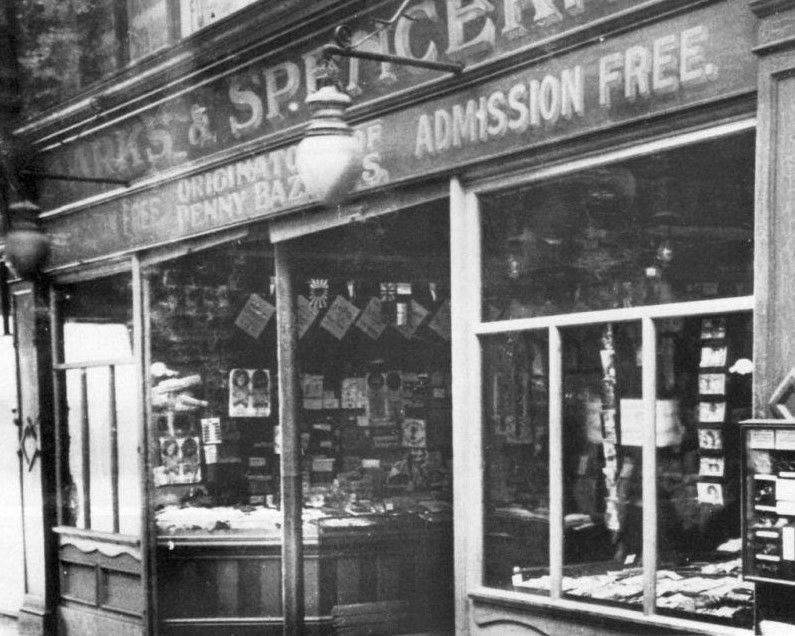 Marks & Spencer Penny Bazaar store, 29 Makinson Arcade.
The famous brand of Marks and Spencer opened their first Wigan 'Penny Bazaar' store at 29 Makinson Arcade in 1899, before moving to Standishgate in 1931.
By 1901 Richard, William and Elizabeth were living at the Old Manor House, 19 Bishopgate, close to All Saint's parish church, where Richard was listed as a tea and general grocery merchant. Also known as Walmesley House, the building had an interesting past. It is said that Bonnie Prince Charlie lodged there on 10 December 1745 during the Jacobite Rebellion. (The building has now been demolished and Dorning Street telephone exchange now stands on the site).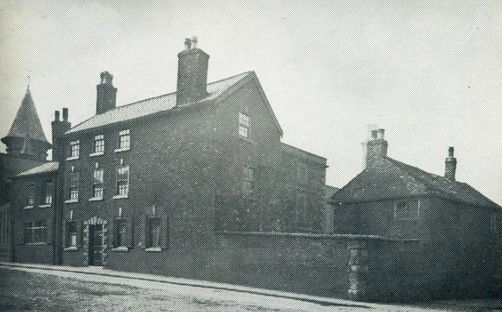 Old Manor House, Bishopgate, Wigan.
In 1905 Richard's nephew William married Ann Ayton who hailed from Horton in Yorkshire, he moved out of the Old Manor House to live with his new wife at Hale Bank, 40 Park View, (now Bridgeman Terrace) Wigan.
William Sharrock
Richard's niece Elizabeth married William Sharrock in 1906, who two years previously had been elected Mayor of Wigan. William had a very similar tale to tell as Richard Makinson, born in Pemberton in 1855, he was aged just eight when he went to work as a lamp boy at Rose Bridge Colliery. Later he worked underground at the same pit.
In 1876 he married Jane Gore, daughter of Richard Gore, a grocer from Lamberhead Green, they were to have two sons and a daughter. At her request William left the colliery and embarked in the grocery and baking trade, of which she was familiar, firstly at 523, then at 801- 803 Ormskirk Road, Pemberton.
The business prospered and in 1895 when the Orrell Coal & Cannel Company went into liquidation, William and a relative Peter Gaskell, took over the collieries, under the name of Orrell Colliery Company. The pair made a success of the venture and subsequently took over the two pits formerly worked by the Norley Hall Company. In 1900 they also purchased the Duxbury Hall collieries.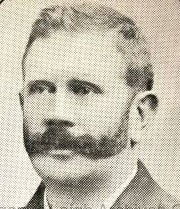 William Sharrock (1855-1917) colliery owner and Mayor of Wigan in 1904.
William entered public life as a member of the old Pemberton District Council, becoming chairman, in this role he was to play a prominent part in the amalgamation of Pemberton and Wigan Councils. Later he became an Alderman and was appointed a Justice of the Peace for both borough and county.
Harvey House
William Sharrock purchased Harvey House in Jackson Road, Gathurst which was being sold by auction held at the Royal Hotel, Standishgate, Wigan on 2 June 1899. (It wasn't until after the Second World War that the street was renamed Gathurst Road). The previous owner James Pickering, colliery agent to Colonel Henry Blundell, the mine owner, had met his death accidentally the previous year.
The 13 acre estate consisted of formal gardens, outbuildings, coach house, stables, and lawned tennis court. The house boasted a dining room, drawing room, morning room, study, eight bedrooms, dressing room and bathroom.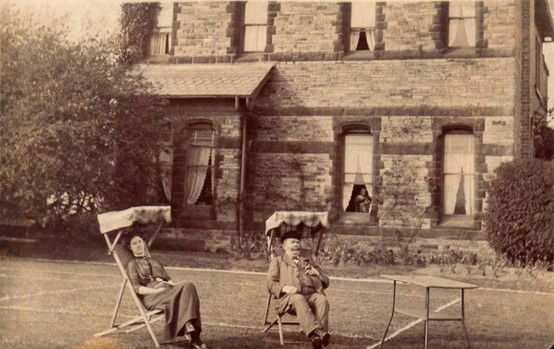 Harvey House in the early 20th century - William Sharrock and his second wife Elizabeth (nee Simm) relaxing on the lawn.
In 1904 William was made the first Mayor of Greater Wigan. During his mayoralty on 1 August 1905, his wife Jane died suddenly on an official visit to Blackpool.
After his second marriage to Elizabeth Simm the following year he invited her uncle Richard to live with them at Harvey House. Whereas William Sharrock was happy to enter public life, Richard Makinson was the opposite and was content to lead a simple life out of the limelight.
Although now retired from the tea trade Richard was still intent on building new shops and improving Wigan town centre. In April 1907 the Streets Committee approved his plans for eight shops and a warehouse in Market Street and Woodcock Street.
Richard was described as a man of fine character, being of plain habit and quiet life, not given to ostentation. He was a member of the Church of Christ in Rodney Street, a non-conformist religion, being a senior deacon at the time of his death. Richard had been suffering ill health of late and died suddenly on 26 April 1910 at Harvey House, aged 75. He was buried four days later in the family grave at St. Katharine's in Blackrod.
William Sharrock died at Harvey House on 9 May 1917, during the First World War. He was buried three days later at St. John the Devine CE church in Pemberton.
Following her husband's death, Elizabeth's brother William and his wife moved in to Harvey House with her. The census of 1921 shows the trio at Harvey House being tended to by a housemaid and a cook, William had now retired from the tea trade.
Elizabeth died 28 March 1927 aged 68, probate records show she left her estate, valued at £31.471 (equivalent to £2.5 million today) to her brother William. He died 7 June 1935, leaving an estate of £98,982 (equivalent to £9 million today) in the hands of his solicitor John Alfred Johnson of 23 King Street, and estate agent William Richardson..
In later years the Harvey House estate came under the auspices of the Christian Brothers who opened the Blessed John Rigby RC Boys Grammar School.
John Rigby was canonised in 1970 and two years later the school became St. John Rigby Sixth Form College for both boys and girls, under the trusteeship of the Roman Catholic Archbishop of Liverpool.
Eventually the house and gate lodge were demolished as the school was expanded, the extensive campus grounds now cover 30 acres.
Before the advent of supermarkets and out of town shopping centres the thoroughfare from the rear entrance to the old Market Hall via the outdoor market stalls in Woodcock Street and up through Makinson's Arcade to Market Place was a very busy place, bustling with shoppers. Readers of a certain age will remember fondly the many shops in the arcade. Names such as Mark Williams, Dewhurst, Timpson's, Lennard's, Slaters, Sarah Lynn and Higham's Flower shop.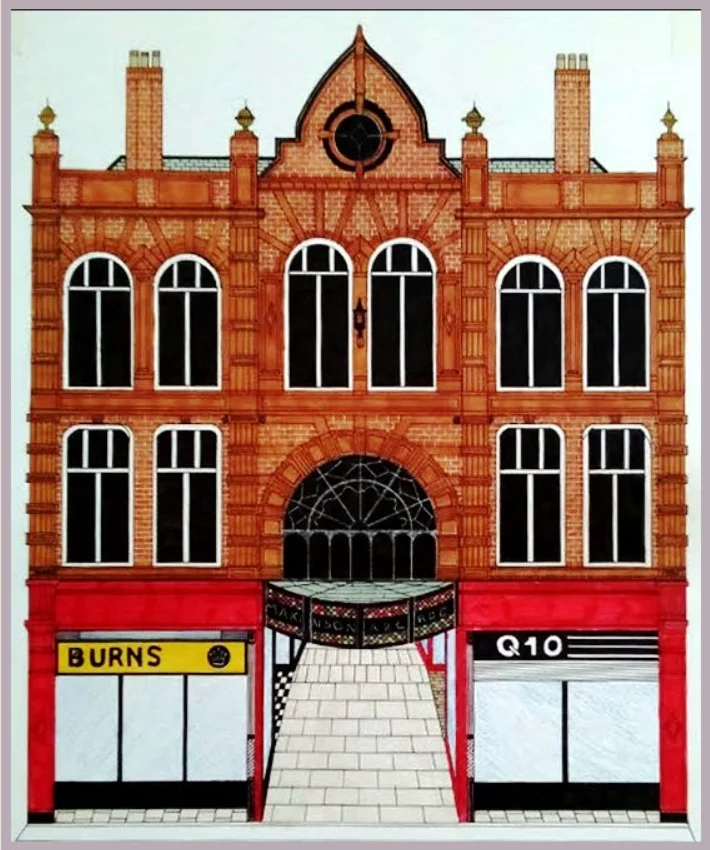 Detailed drawing of Makinson Arcade - kindly supplied by Graham Hollings.
Surviving the latest modernisation plans for the town centre, Makinson Arcade is still in use after 125 years. It's very name is synonymous with the town and it's floors have been traversed by the feet of many generations of Wiganers.
Graham Taylor & Peter Fleetwood
2023
Sources
Ancestry.co.uk
Find My Past
Heritage Buildings of Wigan
Wigan & Leigh Archives
Wigan World
Wikipedia