Humphrey was born June 1846 at 'The Platts', Platt Bridge, Wigan, second son of William Gerard Walmesley & Caroline De Trafford of Westwood House, Lower Ince. Humphrey was given the middle name Jefferys after his grandmother Elizabeth Jeffreys, who married Charles Walmesley.
The name Gerard was passed through the family once the Walmesley's & Gerard's became related in the mid 1700's, marriage record not yet found. It is interesting to note that the first born son (Humphrey's older brother) was named William Gerard Walmesley after his father but passed away in 1877 aged just 36. In the same year, Humphrey married Marie Gertrude Manley on 18 September at Sicklinghall, Wetherby, North Yorkshire and gained the line of succession from his deceased brother in the meantime.
Their father had passed away 10 years in 1867 previously but William Gerard did oversee an extension to the family chapel at Westwood House in 1873. Both father and son can be found buried together at Ince Cemetery.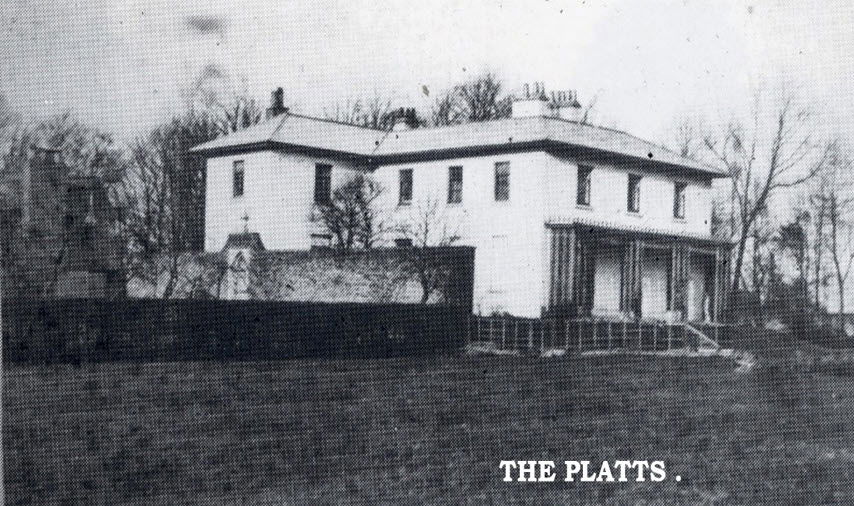 Like many landed families of the time, generations did their part for the Empire and represented the military in various forms. Humphrey and his older brother William both served in the Yeomanry Cavalry, the mounted component of the British Volunteer Corps, representing the Lancashire Hussars. Humphrey was made Captain in May, 1881.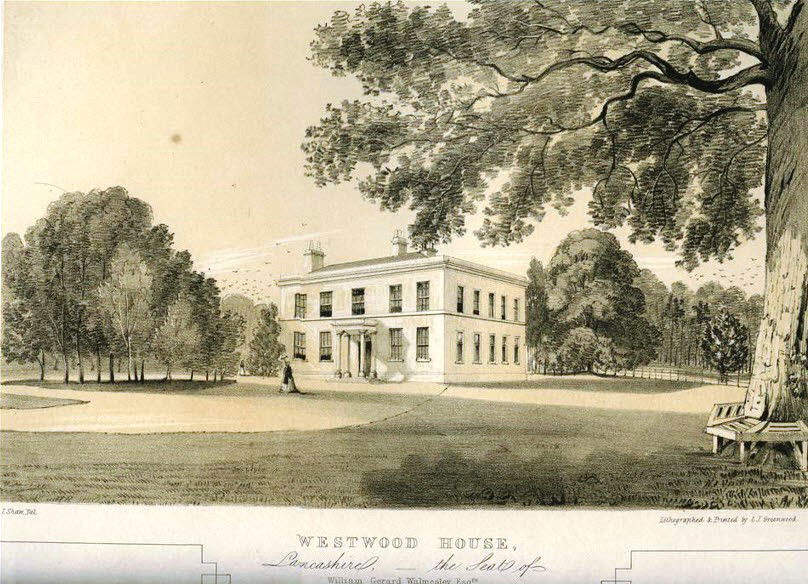 Westwood House c1850
Humphrey decided to exercise the family wealth by leaving Westwood House and Wigan altogether, moving to the small market town of Hungerford, Berkshire, in the year 1893. He purchased Inglewood House & Estate and in 1905 had the family chapel at Westwood dismantled brick by brick and rebuilt at Inglewood. Three old hatchments from the chapel were transferred to their own chapel at Wigan Parish Church before using the canal system to bring the Westwood chapel down to Berkshire. Well known architect Pugin had overseen the chapel initially built between 1856-57 and the extension of 1873. According to the 1901 Census, Humphrey describes his occupation as J.P in the County of Lancaster and living on his own means. Humphrey improved the estate dramatically and was known for placing the family coat of arms in each building possible.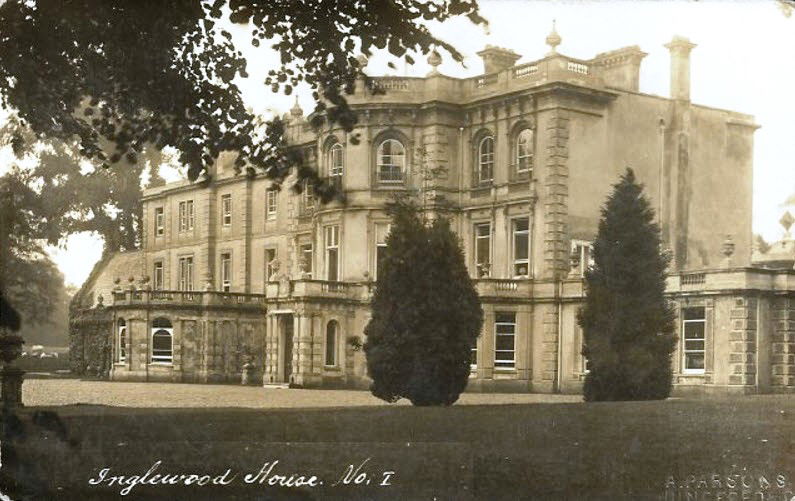 He saw that the Walmesley Chapel at Wigan Parish Church was restored between 1898-1901 and was smart enough keep hold of much land & property back in Wigan as a vital source of income. An estate office was required for these functions and was promptly built in the year 1896 on Rodney Street, Wigan, befitting the town hall next to it. He once tried to claim a vote in Wigan as well as Berkshire by saying he kept a bed at the estate office when visiting, his claim was thrown out. In later years the building became the home of accountants Crossley & Davis, and today Franco's Italian restaurant. In 1907 Humphrey granted the Parish Church permission to use the Chapel but forbidden to have an altar or Holy Communion. In and around this time, Westwood House was demolished, reason unknown.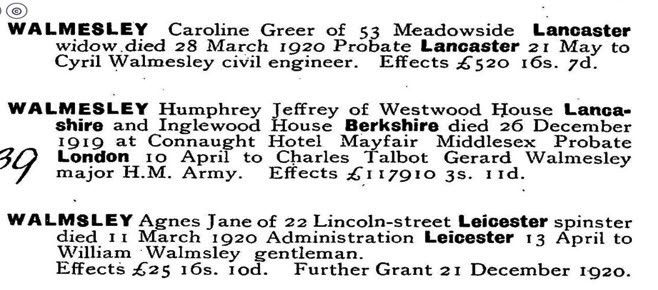 Humphrey's Probate
In 1912 there was a major fire in the basement at Inglewood House as staff rushed to gather valuable works of art to the lawns whilst the fire was extinguished. On Boxing Day 1919, Humphrey J.G Walmesley passes away aged 73 leaving all effects to the next in line, his first son Charles Talbot Gerard Walmesley (1881-1960). Effects around £3,400,000 in today's money. His second son, named after himself, passed away in 1932 aged 49. He was for sometime a rubber planter in Ceylon, today's Sri Lanka.

Charles made the big decision in 1928 to sell Inglewood House to the De La Salle Brothers, a Catholic Order. The further estate was sold to other buyers boasting around 4225 acres. The 1920's in this country became a decade of difficulty for many landed families who had to make financial decisions and downsize considerably. Here in Wigan it was Standish Hall & Beech Hill Hall to name only two that saw demolition during this decade and maybe many more estate properties saw the same demise.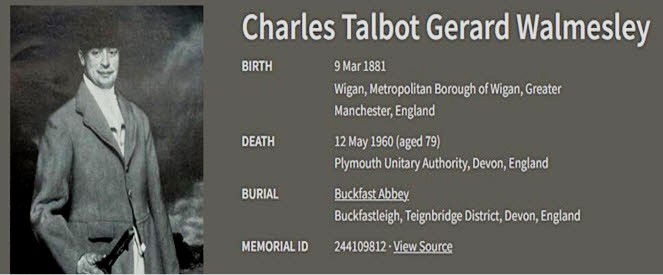 The family are still around today living on the south coast of England.
A Lomax
Sources: - Wikipedia, Hungerford Virtual Museum, Wigan Archives, WiganWorld, FindMyPast & Historic England.
Appreciations: - Jim Meehan & Ron Hunt