THE BRINDLE FAMILY OF ST. MARY'S
Introduction
The graves in the grounds at the front of St. Mary's RC church in Standishgate, Wigan have been flagged over and the headstones are no longer visible. All except one that is, on a visit recently to the church I noticed a headstone in the corner, next to the steps that lead up to the primary school car park.
It bears an interesting inscription and is the last resting place of a young man by the name of John Brindle. Intrigued, I enquired further with Father Johnson the parish priest. He informed me that back in Victorian times the Brindle family were well known, especially in religious circles, and that there was a memorial to the Brindle family in the garden to the rear of the church.
The Brindle Family
Ralph Brindle of Leyland, who was a bleacher by trade and Sarah (nee Fishwick), who hailed from Preston settled in Kirkham near Preston after their marriage in 1816. By 1830 they had moved to Wigan and took over the running of the Unicorn Inn at 3 Standishgate, Wigan.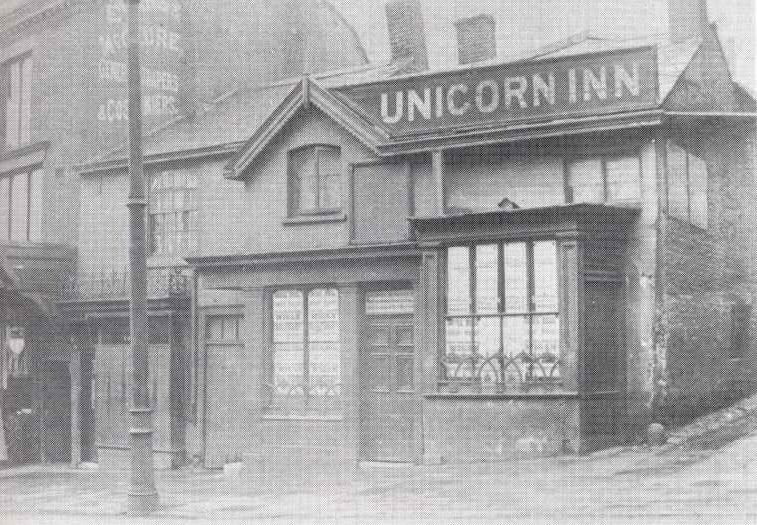 Unicorn Inn, Standishgate, Wigan
Sometime later Ralph became the landlord of the Old Dog Coaching Inn, a short distance away in Market Place. The premises were located on the site where the Santander Bank now stands, the entrance being via the cobble alleyway that still exists today. Another alley, parallel to Market Place, ran through to the Kings Head Inn in Coopers Row, in between was the Alexandra Music Hall, which later became the Empire Picture House.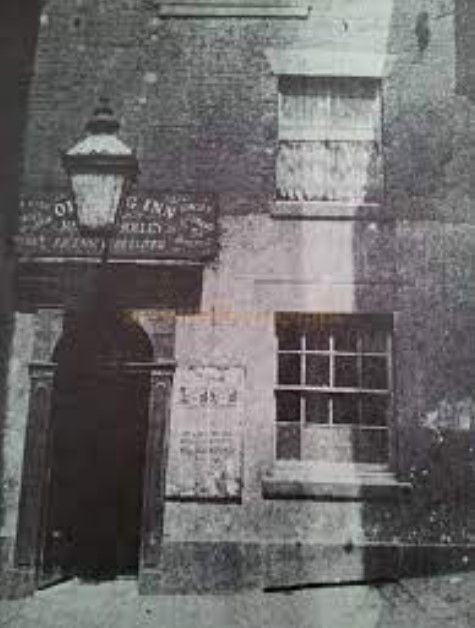 Old Dog Inn, Market Place, Wigan
The Old Dog, an Oldfield Brewery pub later became Jolley's Old Dog Music Hall. About 1910 it became an ordinary public house again, until it's closure in 1970.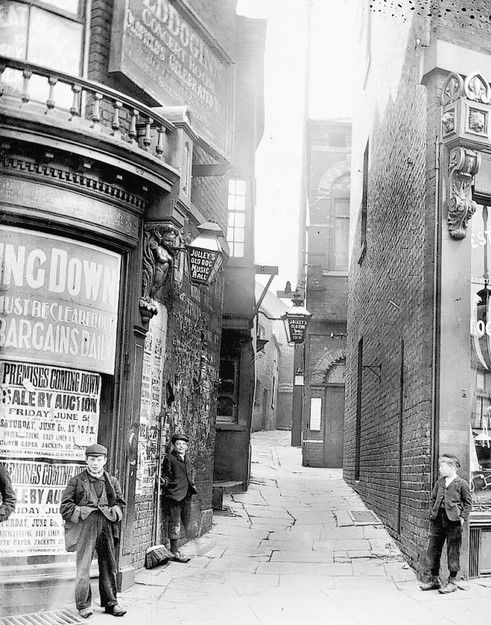 Jolleys Old Dog Music Hall, Market Place, Wigan
Ralph became an established businessman in Wigan. He went in to business with Thomas Fray as cotton manufacturers but the partnership was dissolved in 1840.
In 1843 Ralph found himself in trouble with the law. On 12th February he was charged under summons with having allowed the chimney of the Unicorn Inn in Standishgate to catch fire. His solicitor Mr. Leigh ensured he received the minimum fine of 2s. 6d.
The next month he had to appear before the Magistrates again to answer claims by the Constables, who had received complaints that he had insufficient watering places in front of his premises. This was causing a great nuisance to his neighbours, from the dirty state in which the footpath was left.
Mr. Leigh, his solicitor contended that he had strictly complied with Section 13 of the Bye Law and was willing to erect more conveniences if the Magistrate could point out how he was to do so. The case was adjourned and the matter put in the hands of the highways department.
The 1845 Wigan Electoral Register shows that as well as the Old Dog, Ralph owned adjoining stables, a brewery, two cottages, and two freehold houses and shops.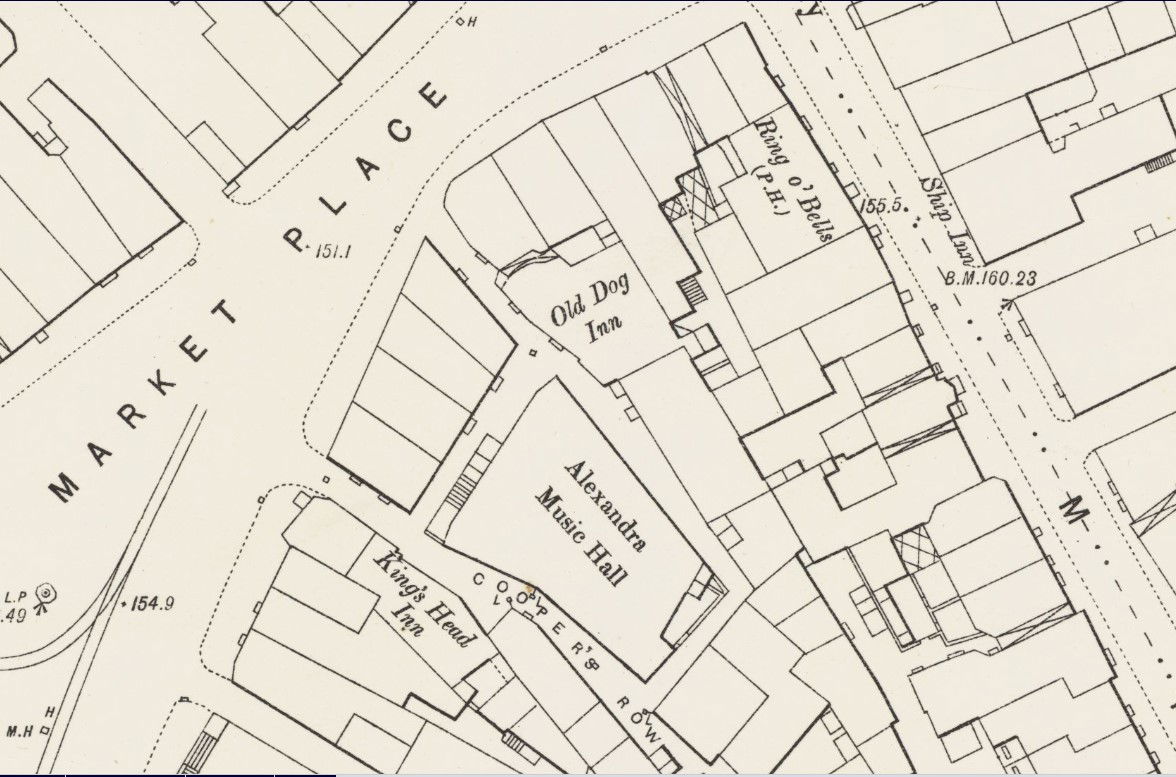 1889 town plan of Wigan
Two years later in 1847 Ralph was appointed to the committee of the Wigan Division of the South West Lancashire Business Association. Its purpose was to secure the return of Hon. Charles Pelham Villiers and William Brown to Parliament, as it was felt that the pair, both Liberals, would represent the commercial and industrial interests of South Lancashire.
Charles Villiers was a leading light in the Free Trade Movement and had campaigned against slavery. He had fought long and hard for the repeal of the corn laws, which had been achieved the year previously, benefiting the working classes and opening the doors to free trade.
The Brindle's were an old Lancashire Catholic family and Ralph was one of the earliest members and benefactors of St. Mary's Parish after the church was built in 1818.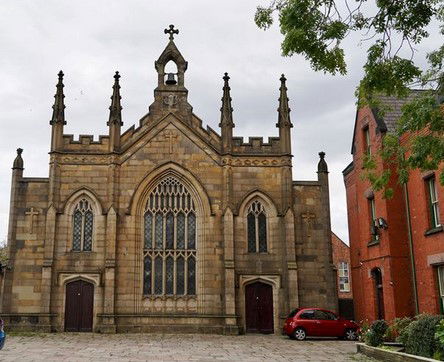 St. Mary's RC Church, Standishgate, Wigan
Ralph and Sarah had eight known children, six boys and two girls, but one of his sons died in infancy. They eventually retired to the Bolton area where Ralph died on 28 August 1862 aged 71, Sarah died 2 June 1866 at the home of her daughter Ellen in Wigan, aged 71.
Ellen Brindle 1816-1884
Ellen the eldest child was born in Kirkham in 1816. She married Charles Wright in Wigan on 25 November 1836. They settled in Wigan Lane where Charles, who ran a cheese business died shortly after his son, also named Charles was born in 1849.
Ellen married again on 18 Dec 1852 at St. John's RC church in Standishgate to James Swift, a brewer who ran the Rope and Anchor Inn.
Ellen was widowed again in 1869 when James died, aged 65. The 1871 census shows her living at 103 Wallgate with her two nieces Sarah and Ellen, daughters of her sister Elizabeth who had died two years previously. Ellen died in 1884, aged 68.
John Brindle 1817-1835
Remarkably all five of Ralph and Sarah's sons had a religious calling to become Roman Catholic priests.
John, the eldest son was born in Kirkham in 1817. At the age of fifteen he became a seminarian at the 16th century Royal English College of St. Alban in Valladolid in north west Spain.
In 1835 he sailed home aboard the SS Cordelia, a two masted Brig, in order to complete his studies at the Catholic Seminary at St. Cuthbert's College, Ushaw, just outside Durham. The ship's destination was Liverpool via Cardiff, but on 25 November the Cordelia was shipwrecked in stormy weather on the rocks near the Hook Tower lighthouse, at the entrance to Waterford Port in Ireland.
John drowned in the wreck along with two others, his body was washed ashore and buried in Ireland. His father Ralph had John exhumed and brought back to Wigan where he was re-buried in the family vault in St. Mary's churchyard on Christmas day 1835. He was eighteen years of age.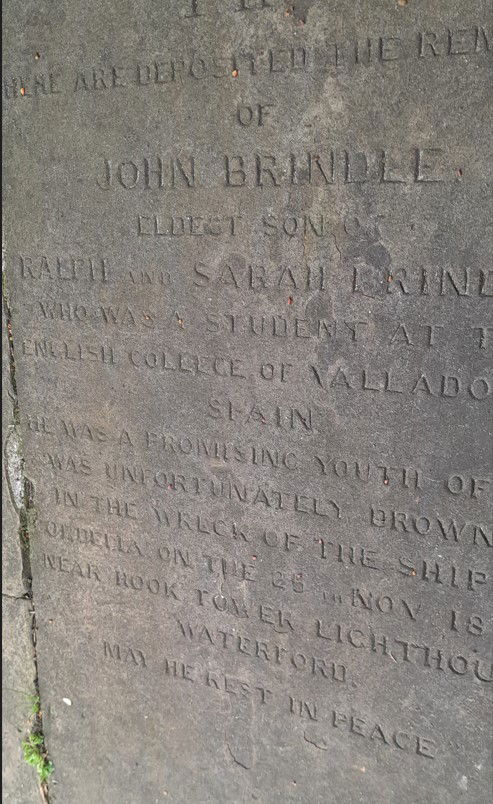 John Brindle headstone, St. Mary's church, Standishgate
The words on his memorial stone read:
HERE ARE DEPOSITED THE REMAINS
OF
JOHN BRINDLE
ELDEST SON OF
RALPH and SARAH BRINDLE
WHO WAS A STUDENT AT THE
ENGLISH COLLEGE of VALLADOLID
SPAIN
HE WAS A PROMISING YOUTH OF 18 WHO
WAS UNFORTUNATELY DROWNED
IN THE WRECK OF THE SHIP
CORDELIA ON THE 25 th NOV 1835
NEAR THE HOOK LIGHTHOUSE
WATERFORD IRELAND
MAY HE REST IN PEACE
William Brindle 1824-1880
William was born in Kirkham and baptised 25 July 1824 at St. John the Evangelist RC church. The
1841 census finds William and his younger brother Thomas as students at Stonyhurst Catholic School at Hurst Green, near Clitheroe in the Ribble Valley. Founded in 1794 the school is the sole remaining Jesuit public school in England. The pair then studied at St. Bueno's Jesuit College at Tremeirchan in Denbighshire, north Wales before being ordained.
William spent eight years as parish priest of Holy Cross RC church in St. Helens before moving on to the staff at St. Beueno's College.
After suffering ill health, William returned to Lancashire to stay with his younger brother Ralph in the presbytery at Our Lady Immaculate & St. Joseph church in West Street, Prescot.
After convalescence following surgery he transferred to St. Xavier RC church in Liverpool. Here his health deteriorated again and he returned to the care of his brother in Prescot.
William died there on 30 May 1880, aged 56. Requiem Mass was said at St. Xaviers by his three brothers before his committal at St. Swithin's RC churchyard at Gillmoss, in Croxteth, Liverpool.
Elizabeth Brindle 1824-1869
Elizabeth was born in 1824 in Kirkham, twin sister to William. She married Wiliam Jeffs in Wigan in 1847. William, a mill worker, was born in Tarvin, Cheshire. The 1851 census shows them living in School Common in Scholes with their one month old daughter Sarah.
The couple had seven children but four died in childhood. William died in 1866 and Elizabeth three years later in 1869 in Wigan.
Thomas Brindle 1826-1891
Thomas was born in 1826 in Kirkham and baptised 26 June 1826 at St. John the Evangelist RC church.
After attending Stonyhurst School with older brother William, Thomas studied at St. Bueno's Catholic College in north Wales. He was ordained on 20 March 1859 along with his younger brother Ralph.
On 2 February 1860 he was appointed as Curate to St. Wilfrid RC church in Chapel Street, Preston. He then moved on to St. Mary's RC church, Brownedge Lane, Walton Le Dale, before being appointed parish priest at Sacred Heart RC church in Accrington.
Later Thomas was given another assignment to be Mission Priest at St. Mary's church in Rhyl, as well he preached at St. Winefride's church at Holywell in Flintshire.
The holy well at St. Winefride's has been a place of pilgrimage since at least 1115. It is said to spring from the spot where 7th-century Welsh abbot St Beuno brought his niece Winifred back to life, though it's likely that this story may actually have much older, pagan origins.
The chapel itself dates from the late 15th century, pilgrims still visit the well to bathe in its waters with their claimed healing properties.
Reputedly the oldest continually visited pilgrim site in Britain, it's on the route of the North Wales Pilgrim's Way that travels along the Llŷn Peninsula to Bardsey Island, the legendary 'Isle of 20,000 Saints'.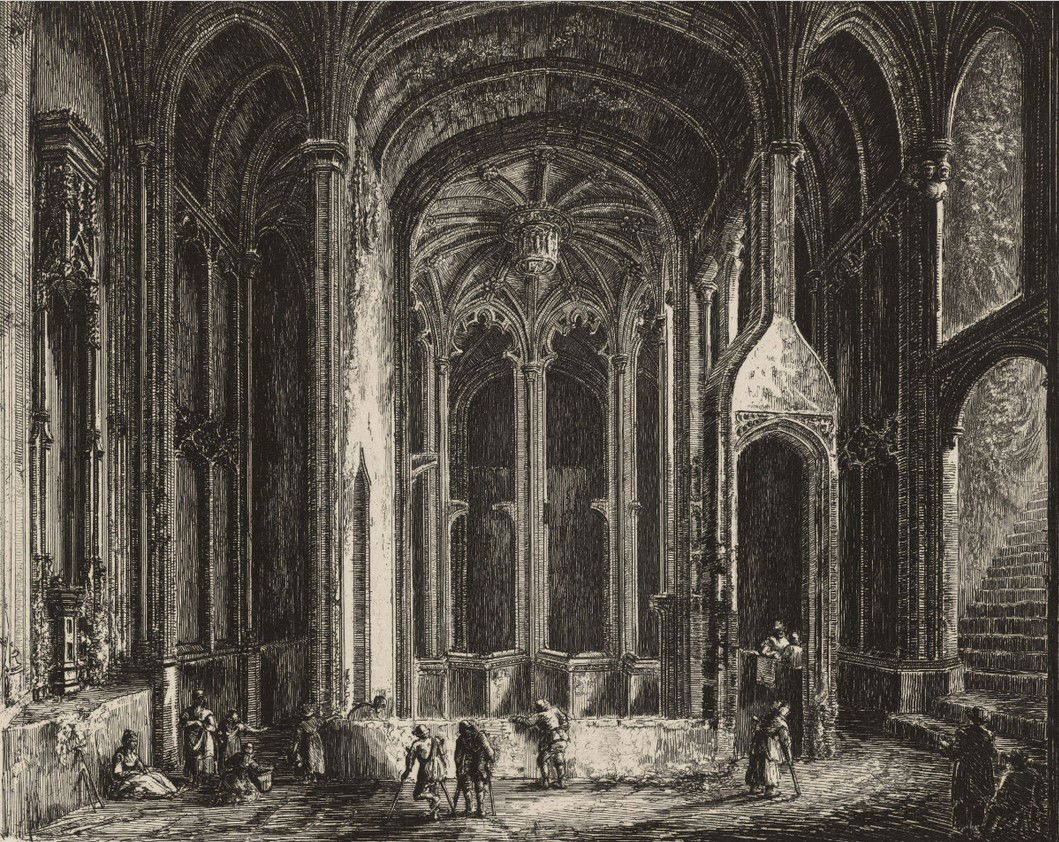 St. Winefride's Well 1813
Thomas Brindle died in 1891 at the age of sixty five. He was buried on 1 November at Pantasaph Monastery at Holywell. His brothers Ralph and Richard conducted the burial service along with twenty other priests from St. Bueno's College and the surrounding districts.
Ralph Brindle 1830-1913
Ralph was born in 1830 in Wigan. At a young age he was sent to Mount St. Mary's College in Chesterfield where he was closely followed by younger brother Richard. The pair then moved back up to Lancashire to continue their studies at Stonyhurst. During the school Academy Day prize giving in August 1849 Ralph read an extract from Paradise Lost, the 'Origin of Sin' in Greek, winning a prize for elocution as well. Richard also won a prize for his final exam placings. The 1851 census finds Ralph to be one of sixteen students at Hodder Place Farm, a 45 acre property on the banks of the River Hodder, three quarters of a mile from Stonyhurst School.
The farm was a prep School, run by an Irish priest, Thomas Tracy Clarke, but the older students had to spend a certain amount of time working on the farm before continuing higher studies. Ralph was to join older brother Thomas at St. Bueno's College in Wales.
In February 1860 he was appointed Curate at St. Ignatius Church, Meadow St, Preston.
For over thirty years Ralph was then parish priest at Our Lady Immaculate & St. Joseph church at Prescot. While there he was appointed Roman Catholic Chaplain to Rainhill Asylum. As well he regularly gave sermons at St. Winifrede's Church at Holywell.
By 1911 he was a member of the chaplaincy at Stonyhurst College, where he died and was buried in 1913, aged 83.
Richard Brindle 1831- 1894
Richard was born in Wigan in 1831. At the age of nine he joined his brother Ralph at Mount St. Mary's College in Chesterfield, where he remained for six years. Like his brothers, he moved to Stonyhurst School, where he was a pupil for four years.
He then studied at Ushaw Seminary in Durham where he excelled and achieved outstanding results. However unlike his brothers who became Jesuit religious priests, Richard opted to become a secular priest. He was ordained into the Salford Diocese at St. John Cathedral by Bishop William Turner, who also installed him as Curate of the Cathedral, a position he held for over ten years.
Richard was instrumental in building the Young Men's Society Rooms and travelled afar to promote the Young Men's Society cause. In 1862 he was presented to Pope Pius IX in Rome by Cardinal Newman. He became chaplain of Salford and Swinton Union Workhouses, as well as chaplain of the New Bailey prison which had opened in 1866 on the banks of the River Orwell in Salford
In 1868 Richard moved to Oldham to take over the small St. Patrick's Bank Top Mission. In his first year he undertook the building of a new church and also the Mount Carmel schools on land provided by a recent convert to Catholicism, John Lees Ainsworth. Richard campaigned hard for the new church and obtained subscriptions from local clergy and other benefactors. The new Mount Carmel and St. Patrick's church opened in 1870.
He remained in post as parish priest for twenty six years. In 1876 he was elected to the Oldham School Board and was made Dean of the Oldham Conference in 1886. He died 6 November 1894 aged 63 in the Presbytery at St. Patrick's, after a short illness.
When he died his loss was felt by all. The church archives state that:
"His whole life had been one of tenderness and charity. He was ever willing to sacrifice himself for his people. Night or day, sick or well himself, in all kinds of weather, he was always ready even to risk life itself to attend to a sick call from any of his parishioners."
Mary Brindle 1833
Mary was born in 1833 in Wigan. In 1859 she married William Powell, a tailor who hailed from Montgomeryshire, Wales.
The couple initially lived at 26 Chapel Lane, where their daughter Sarah was born, before moving to 84 Wigan Lane. William died in 1870, the following years census shows widowed Mary earning a living from being a tailoress.
(Although there are later records available for her daughter Sarah, I have not as yet found records for Mary later than the 1871 census).
The Brindle Memorial
In the garden at the rear of St. Mary's church stands a memorial to the Brindle family. The panel on the monument depicts the shipwreck that claimed John's life and also that of his four brothers celebrating holy mass.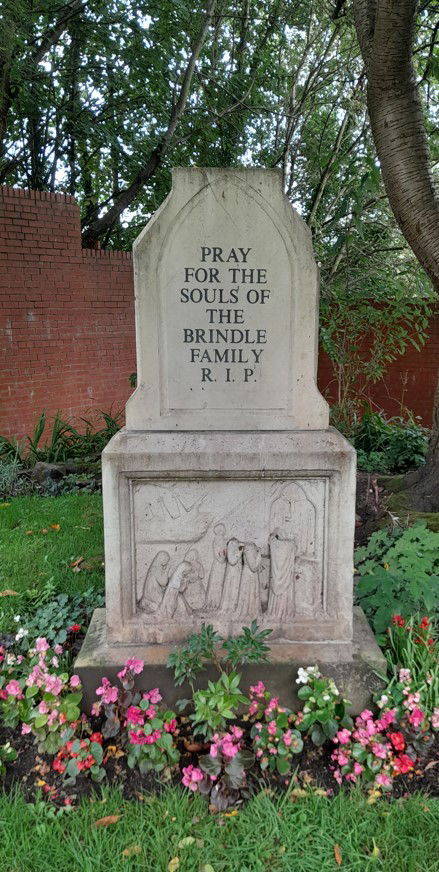 Graham Taylor 2023
Sources
Ancestry
Find My Past
Lancashire Online Parish Clerk
National Library of Scotland maps

Wigan World
Wikipedia