GIANTS HALL FARMHOUSE
Introduction
An in-depth look at Giants Hall Farmhouse, its occupants, and it's once near neighbour Giants Hall Colliery. The property is located in Standish Wood Lane, the medieval footpath that links Wigan to Standish, and is accessed via the junction of Willow Road and Acacia Crescent in Beech Hill. The present owner is Roger Gill, apart from an eight year period berween 1913 and 1921, members of his family have lived at Giants Hall for more than 150 years.
The residence derives its name from the huge glacial boulders near the house, which according to local belief are so large they must have been placed there by giants. One weighing five tons was considered to be in the way of farming operations, so was buried by Roger's grandfather.
Giants Hall Farmhouse was listed Grade 2* by Historic England, as of being of special architectural and historical interest on 9 August 1966. To confirm its importance, statistics show that Grade 2* buildings make up just 5.8% of all listed buildings, there being only 236 in the whole of Greater Manchester, and the majority of these are Victorian or Edwardian.
There is another Grade 2 Listed building named Giants Hall in Culvert Lane, Newburgh, West Lancs, which might confuse the unwary researcher. The two are distinguished by the term 'Farmhouse' used on the Giants Hall in Standish.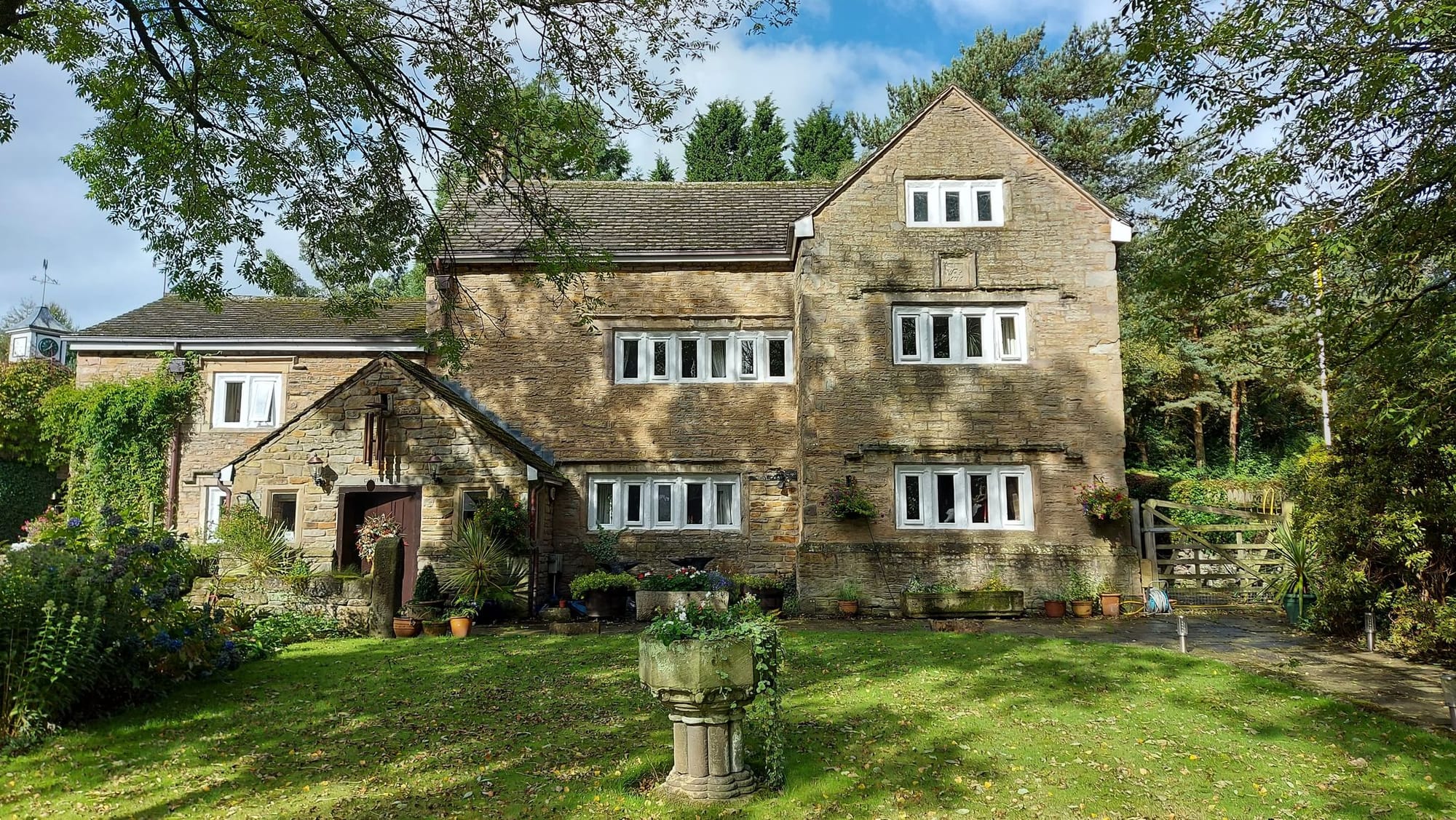 Giants Hall Farmhouse
Early Origins
A datestone on the farmhouse shows the year 1675 and the initials WPL. The initials refer to the earliest known occupants, William Lathom, and his wife Priscilla (nee Yeates), who was related to the Standish family, Lords of the Manor of Standish-with-Langtree for 700 years.
The couple were married in St. Wilfrid's church, Standish on 18 Oct 1670. After their marriage, William leased Giants Hall, which was part of the vast Standish estate, from Edward Standish ll. This was during the Carolean period between 1660 and 1685 when King Charles II was on the throne. It was more commonly known as the Restoration following the Interregnum when there was no monarch.
It is possible that the year 1675 is the date the farmhouse was reconstructed by William and Priscilla and not the original construction date. The interior of the building, and some of the exterior features, suggest parts of the building are older than the datestone and could possibly be Jacobean or even Elizabethan in origin.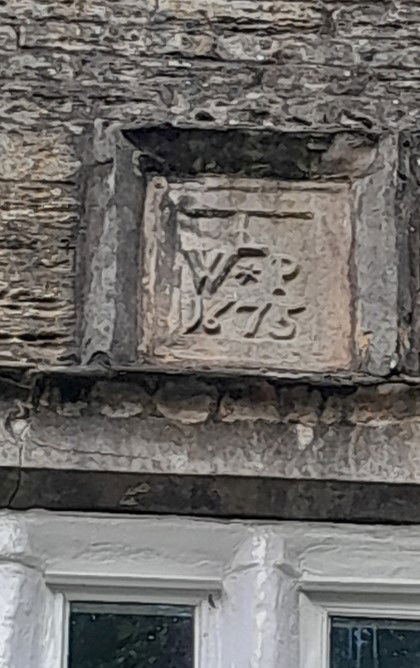 1675 Datestone
Priscilla died the following year and was buried on 14 April 1676 at St. Wilfrid's. William is recorded as being a benefactor of the church, he died in October 1691, aged 69, and was buried in St. Wilfrid's graveyard. There is an epithet to him on a brass plaque, on the floor of the nave which reads:
Mr. William Latham, of Standish Wood, died
The 20th day of September, AD 1691, aged 69.
Providence casts a kind auspicious eye
On prudent Carte, our friend was raised thereby.
He owned the Blessing, could not quit the score,
Yet part returned, to God and to the Poor.
In Plenty, died in Peace, here lies
His mortal part lodged safe in th' great Assize.
The others gone above to Him who made it,
Who for our dear Redeemer's sake will save it.
"The liberal soul shall be made fat." Prov. ii. V. 25
The two story cross wing building consists of six ground floor rooms and four bedrooms and is constructed with dressed stone. It has a reconstituted stone roof with two brick gable-end stacks. There are ovolo-moulded mullioned windows to front and rear with label moulds.
The interior, which has timber framed partition walls contains many original features, including oak paneling, some of which it is thought may have found a new home in America. The exposed timber frames of the walls have matching numbers carved into them by the carpenters to aid construction and on one wall a craftsman has carved his initials into the woodwork.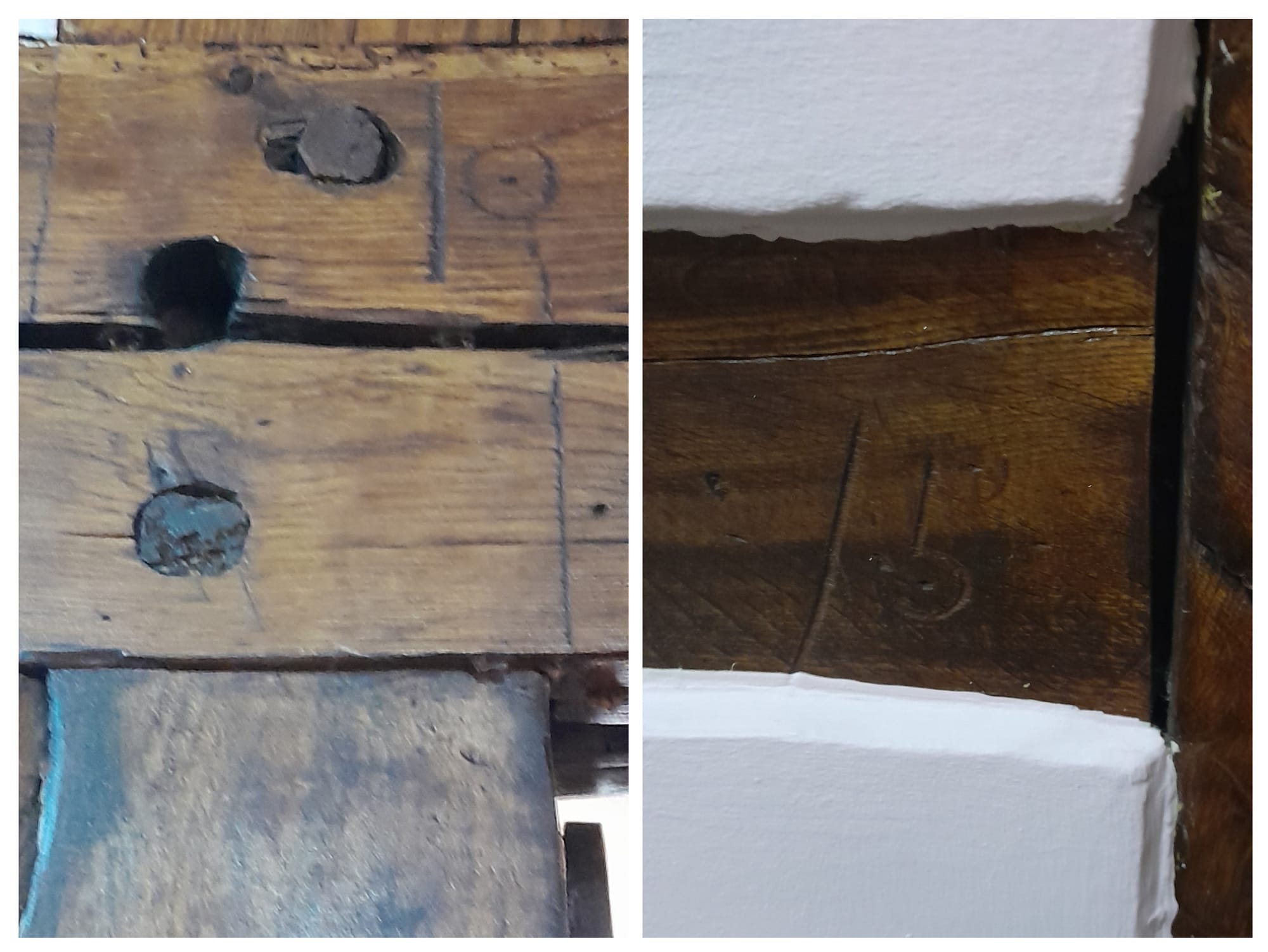 Pegged mortise and tenon joints in a timber framed wall.
On the ground floor is a large hearth behind a bressummer and chamfered rustic beams. A six panel oak door with butterfly hinges at the foot of the stairs is an original feature of the house. On the first floor there is an attractive Tudor-headed stone fireplace. The attic however gives a true glimpse into the past with exposed wattle and daub walls.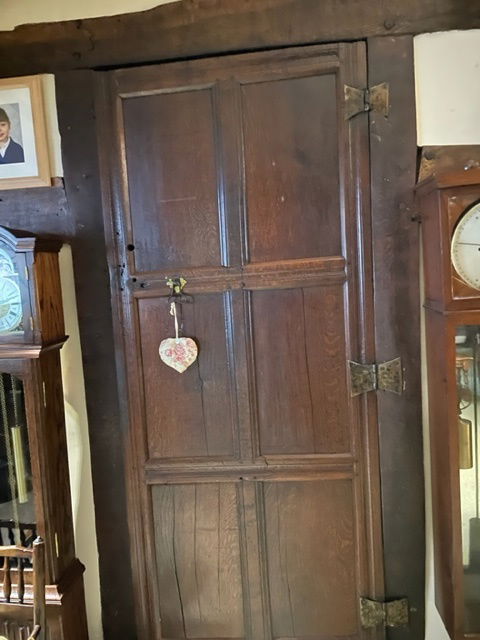 Original six panel oak door with butterfly hinges.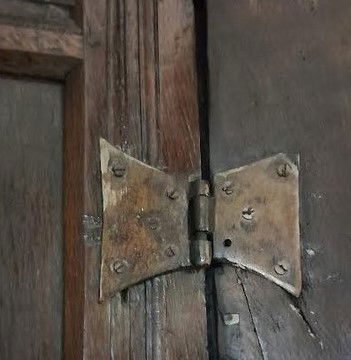 Details of butterfly hinge hand forged by a blacksmith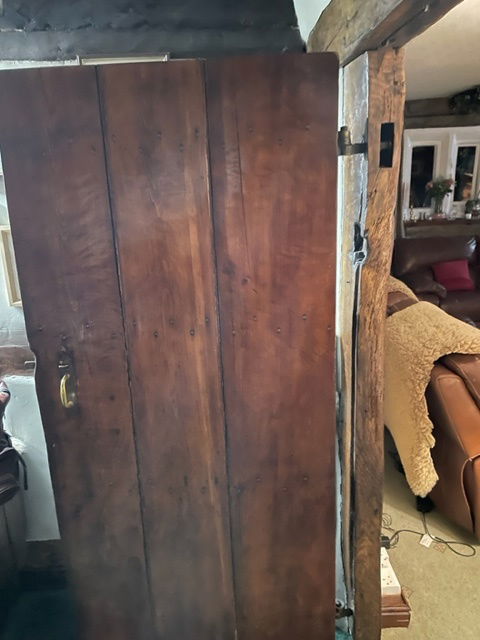 19th century three plank oak door in living room.
It is thought that the height of all the doors were raised in the 1800's, as witnessed by the vacant tenon and mortise joint (above) and the cut out on the inside of the door frame (below) where the original hinge would have been located.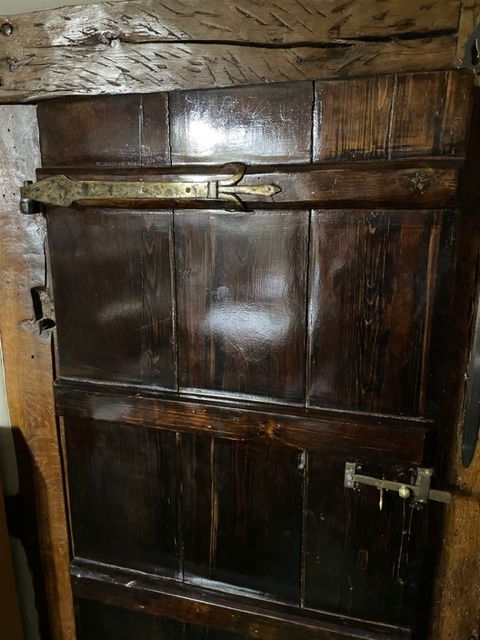 19th century door with gudgeon hinges
In the front garden stands a font that once belonged to the original St. Elizabeth's Church in Aspull. Constituted in 1838, it was originally in the parish of Wigan and referred to as Haigh and Aspull Church. In 1868 it was made a separate parish, and the present church dates from 1882. The font was acquired by Roger's grandfather Alfred, who transported it to the farm by horse and cart. Now it is utilised as a giant plant pot and every Spring is filled with blooms.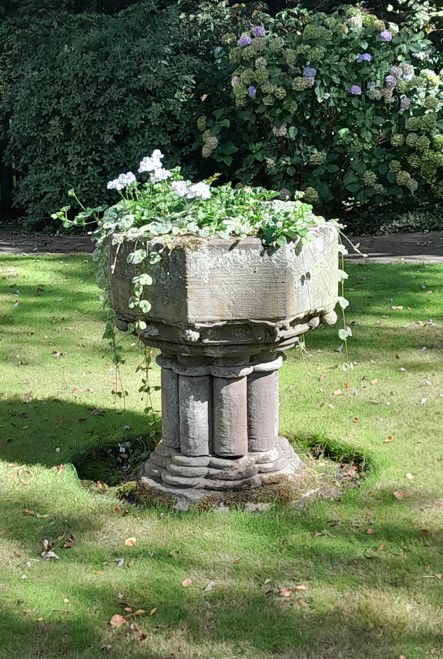 Haigh and Aspull Church font.The main barn has a datestone of 1898 and the initials HS. This corresponds with a major upgrade of the entire Standish Estate by the last Lord of the Manor, Henry Standish.
King Coal
In the early 1800's Wigan Coal & Iron Company Ltd sank Billy Pit close to Giants Hall Farm. To transport the coal away from the pithead a tramway, nearly a mile in length, was constructed. It ran through Standish Lower Ground, over the Wigan to Shevington road, and on to the coal tippler on the Leeds and Liverpool Canal near Crooke Hall, from where coal was loaded onto barges.
Peculiar to the Wigan area was the endless rope system No. 2 which used two sets of rails. A steel cable was coiled around a pulley in the engine house and one at the terminus at the canal and would be moving continuously two or three miles per hour.
The full tubs were attached to the endless rope with rope clips at the pit head and unhooked at the far end to be emptied. The empty tubs were hooked on the rope which then came back to the pit on the other set of rails.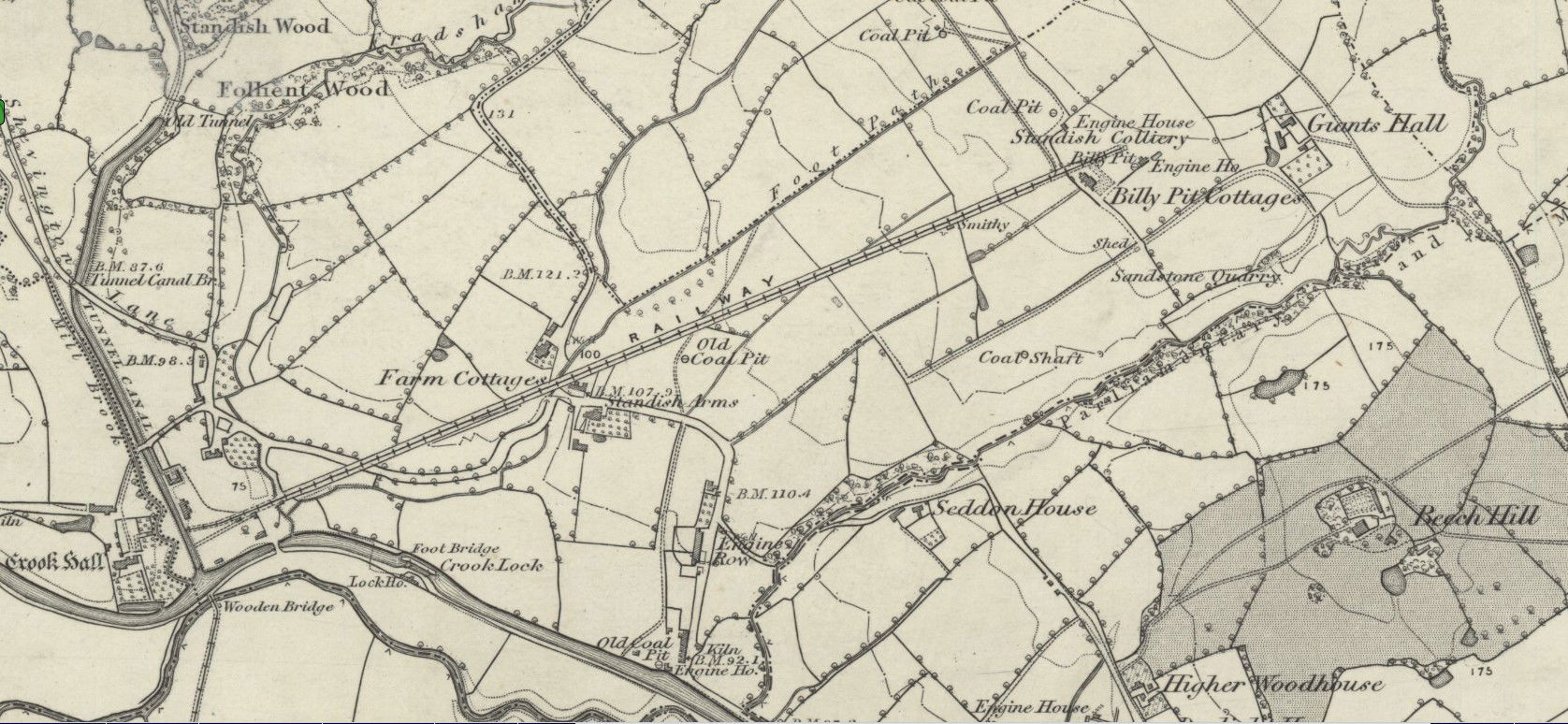 1849 ordnance Survey map showing the tramway from the pit head at Giants Hall to the canal at Crooke.
A row of eight cottages, now long gone, known as Billy Pit Cottages, was built close to the farmhouse on the track leading from the present day Giants Hall Road in Standish Lower Ground. Two hundred yards south of Giants Hall a stream runs through a feature known to locals as 'the valley'. It is shown as Billy Pit stream on Ordnance Survey maps, and is the Parliamentary and Municipal Boundary between Wigan and Standish. Eventually Billy Pit was worked out and closed in 1846.
With the coming of the railways tramways were made redundant. These were replaced by mineral railway lines linking the pits directly with the canal, and these continued into the mid 20th century to transport coal more locally to waterside factories. However new opportunities had opened up for the colliery owners to transport their coal more efficiently.
Standish Railway Company signed a private sidings agreements with the North Union Railway and a standard gauge mineral branch line was constructed connecting Almond Brook Pit, Taylor Pit and John Pit to the main railway line at Whitley.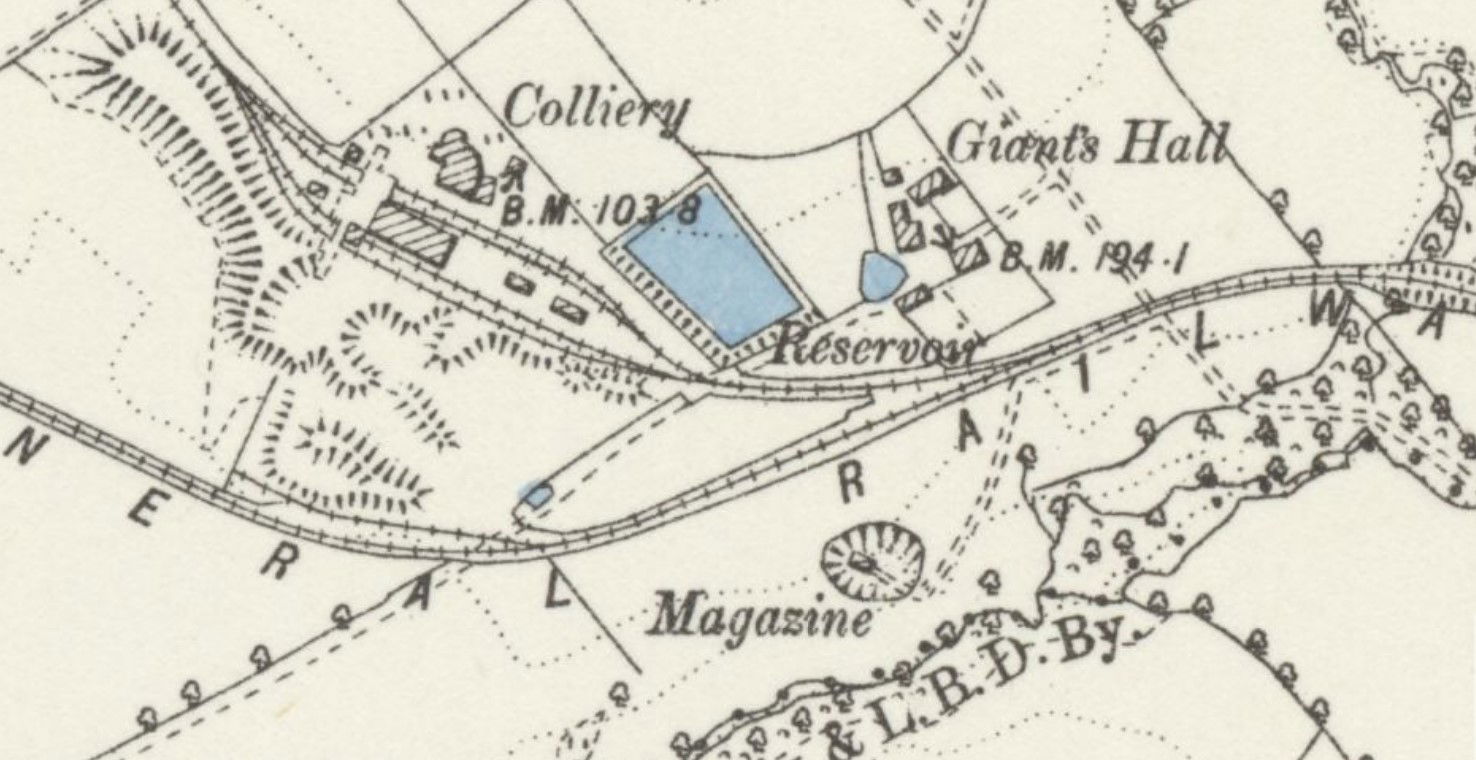 1894 Ordnance Survey map of Giants Hall showing the mineral line from John Pit and the spur going in to Giants Hall Colliery.
Between 1876 and 1881 Wigan Coal & Iron Company, which became the largest colliery owner on the Lancashire coalfield, employing 9,000 workers, sank two more shafts close to the farm. The new pit was named Giants Hall Colliery after the farmhouse and was to dominate the landscape around its namesake for the next eighty years. The existing mineral line running past Giants Hall enabled a spur to be added, giving the pit access to Rylands Sidings at Whitley.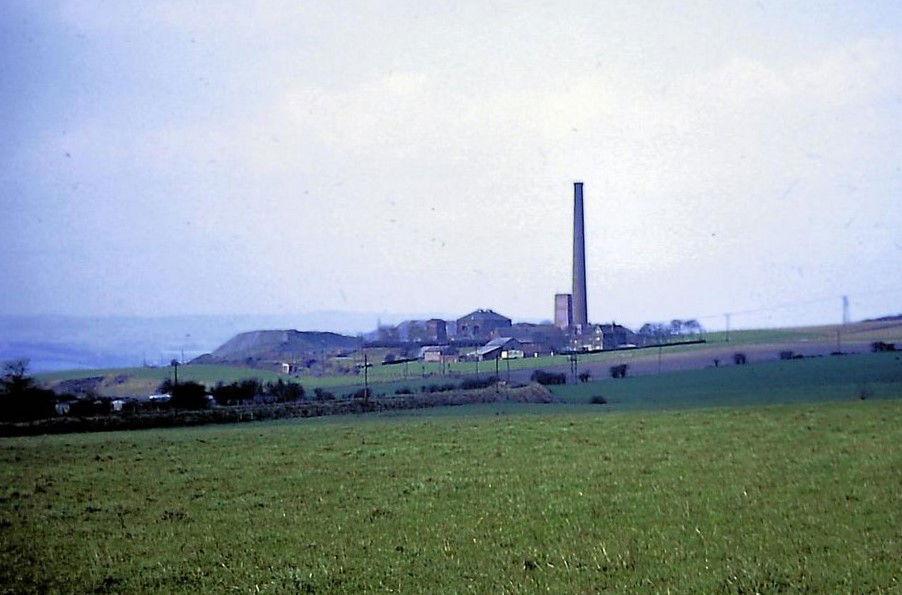 Looking west from near Brimelow Farm showing Giants Hall Farm dwarfed by the colliery boiler and ventilation chimneys and the slag heap to the left.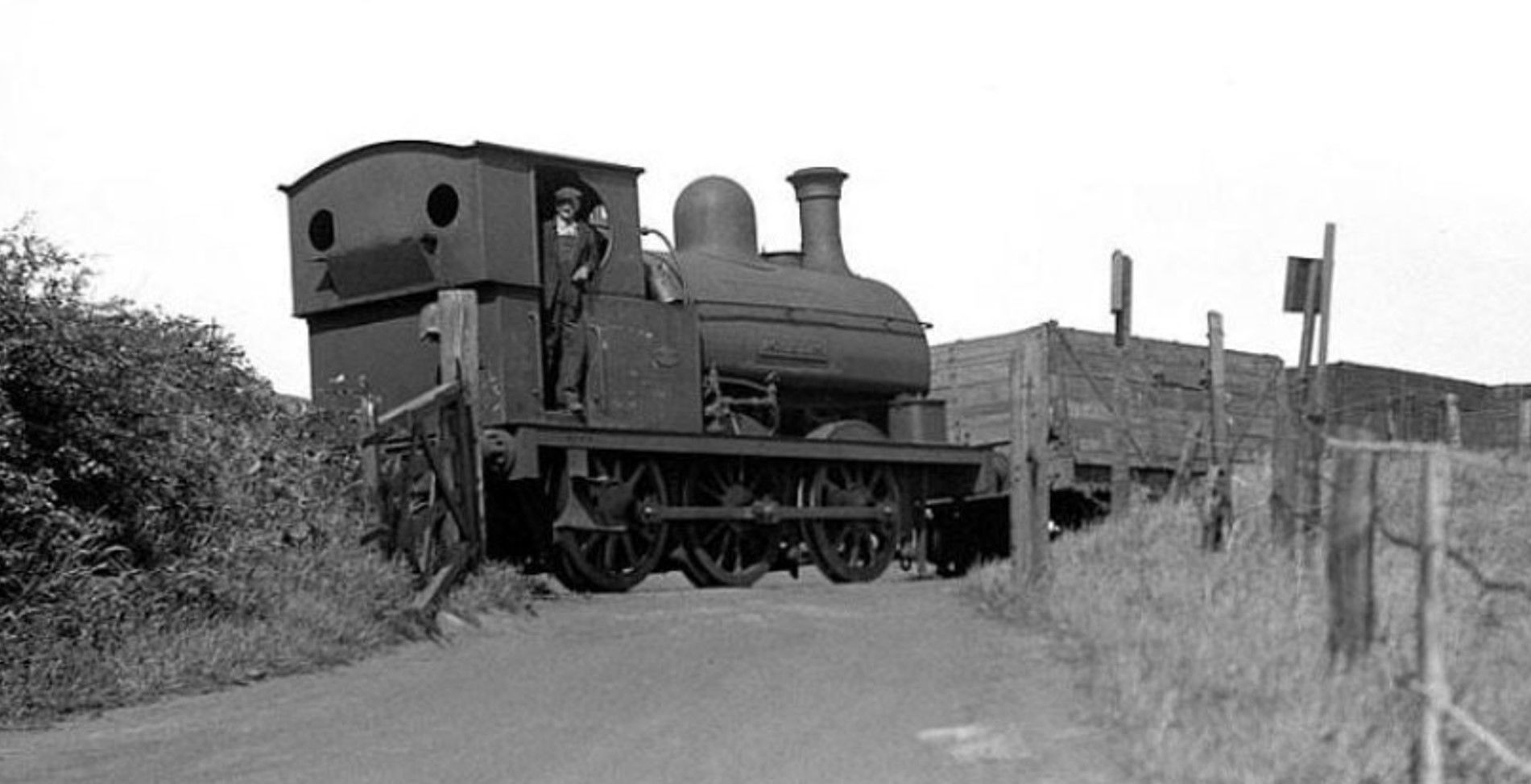 0-6-0 saddle tank 'Hector' crossing Standish Wood Lane near Giants Hall Farm in the late 1950's. The little shunter is returning to the pithead with empties from Ryland's Sidings at Whitley.
Just south of the farm, in between the mineral line and Billy Pit stream is an old sandstone quarry, this was deemed a suitable place to locate the magazine in which to hold explosives for the colliery. The local children referred to it as the 'bomb hole'.
With the railway running close to the property and the colliery engine house less than 200 yards away, it must have been an unpleasant experience living at Giants Hall during this period with all the noise and dirt and disruption that this entailed.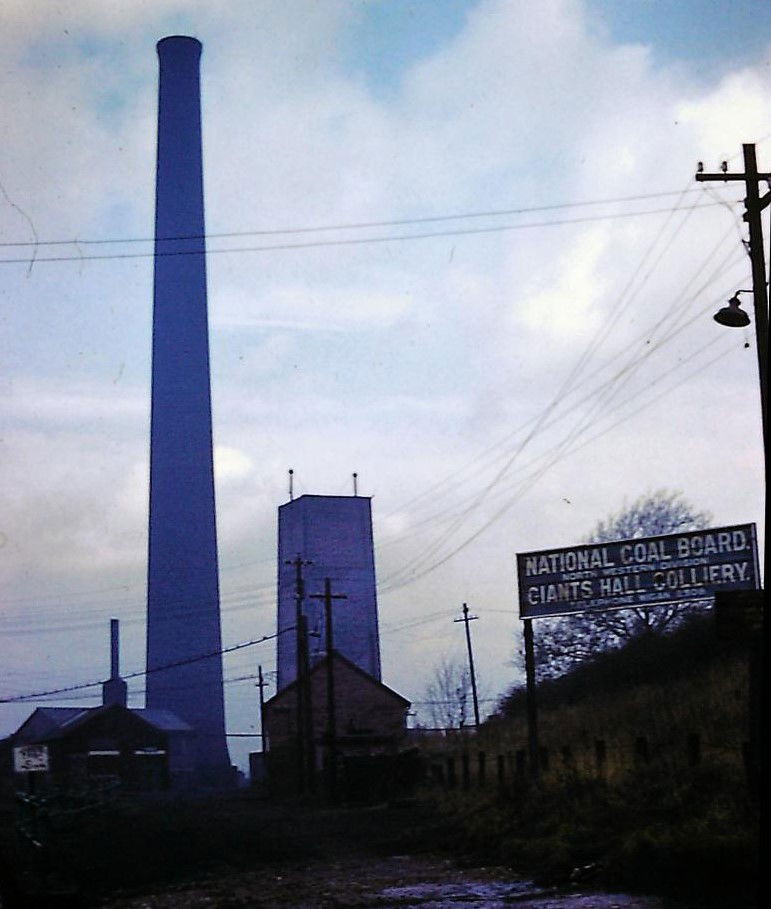 Giants Hall Colliery
In 1930, the same year that Taylor Pit closed, the Wigan Coal Corporation became the new owners of Giants Hall Colliery colliery when the Wigan Coal & Iron Co. Ltd and the Pearson & Knowles Coal & Iron Co. Ltd combined their coal mining operations. Later, when the mining industry was nationalised after the Second World War the pit became the responsibility of the National Coal Board. John Pit closed in 1954 and eventually in January 1961 Giants Hall Colliery ceased operations.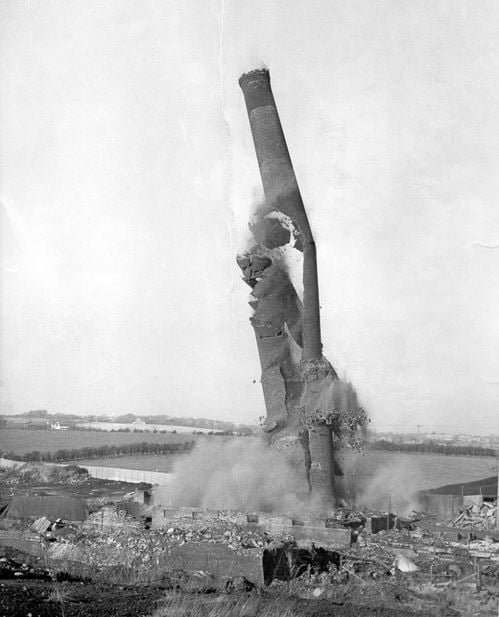 Demolition of Giants Hall Colliery chimney in 1972
In November 1972, nearly twelve years after the closure of the colliery, the 225 foot high colliery chimney was finally demolished. The only link left now to the mining industry is the former reservoir, which became a fishing lodge, and although well stocked, is no longer open to the public.
Gill Family Origins

The Gill family tree can be traced back to West Lancashire in the 17th century. Hugo Gill lived in Lathom, between Ormskirk and Skelmersdale, he died a pauper in 1674 and is buried in St. Peter & Paul CE church in Ormskirk. Records suggest that he may have been born in Kildwick-in-Craven, North Yorkshire. A village situated between Skipton and Keighley, where the road between the two towns crosses the River Aire.
Hugo's son Thomas lived in Dalton near Skelmersdale and his son Jacob who was a mason by trade moved to Wrightington after his marriage to Katherine Dickinson in 1721. The Gill family were to reside in Wrightington for the next 160 years.
Prior to St. James the Great CE Church being built in Wrightington in 1857 the Gills were mainly baptised, and buried at St. Mary the Virgin CE church in Eccleston, one of the oldest churches in Lancashire.
Roger's four times great grandfather, Joseph Gill, son of Jacob Gill and Katherine (nee Dickinson), was born in Wrightington in 1730. He married Ann Green on 11 April 1757 at St. Michael & All Angels church in Croston.
On 13 July 1757, in the reign of Charles II, Joseph and Ann appeared before Justices of the Peace at the Quarter Sessions held at Wigan. This followed a complaint by the church wardens and overseers of the poor in the township of Mawdesley, part of the parish of Croston. They deemed that Joseph and his wife were so poor that they would be a financial burden on the parish and applied to have them removed to Joseph's place of birth, Wrightington.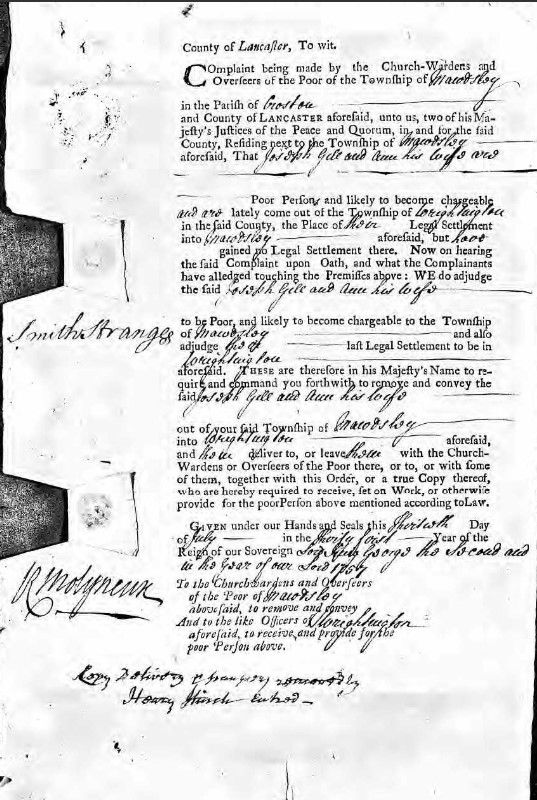 1757 Settlement and Removal Order for Joseph and Ann Gill
Settlement and removal were court settled processes that formed part of the Old Poor Law system which operated from 1601 until 1834. Under the Poor Law system, each person had a parish of settlement which was usually determined by the following considerations: where you were born; where your husband or father was born or had served an apprenticeship; or where you husband or father rented property worth £10 a year.
A person who had moved away from their parish of settlement could be sent back (removed) if they ever fell on hard times and had to apply for parish relief. Removal was ordered for those who had become, or were likely to become, a liability on the parish such as paupers, or unmarried pregnant women. Vagrancy was also a problem that fell to the parish to deal with, so vagrants were also widely subject to removal orders.
After determining Joseph's parish of settlement the magistrates issued a removal order for Joseph and Anne to be taken back to Wrightington, where the authorities there would be responsible for any assistance the couple needed under the Poor Law Act.
Joseph and Ann had eight known children, four boys and four girls. Their baptism records show that Joseph was a husbandman (an early name for a farmer below the rank of yeoman).
By the time of the first census on 6 June 1841, Roger's great great grandfather Joseph Gill was living at Tanner Whalley's Farm in Carr House Lane, Wrightington, where he farmed 15 acres. He was to remain there until his death in 1883.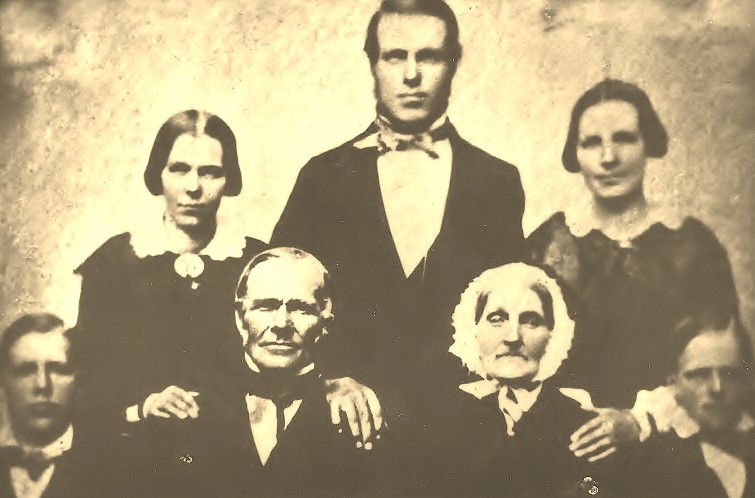 Gill family, Front left: Joseph Henry (1846-1922), Joseph (1802-1883), Ann (nee Berry 1805-1884), Alfred Thomas (1850-1912), Back centre: Robert 1839-1913), flanked by Ellen (1832-1914) & Susan (1837-1913).
Joseph's three sons Robert, Joseph Henry, and Alfred Thomas were to sever the links with Wrightington when they moved to Wigan to run their own farms or become farm bailiffs. At some point after their move to Wigan the Gill family adopted the Methodist faith and worshipped as Non Conformists.
Robert the eldest moved to Giants Hall Farm, Joseph Henry to Beech Hill Farm, and Alfred Thomas to Brimelow's Farm. Eventually the wider Gill family also farmed Upperwood, Lowerwood, Brockhurst and Wakefield farms.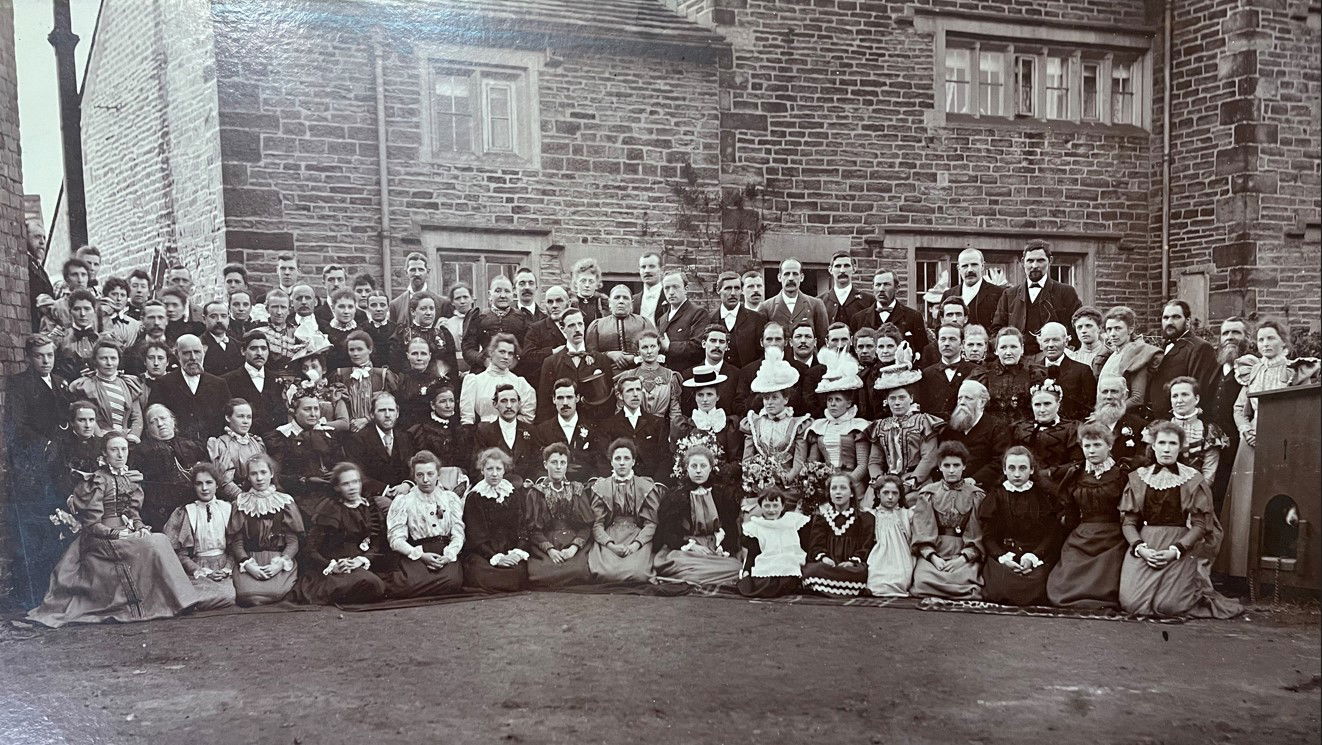 A gathering of ninety five guests in front of Giants Hall Farm House on 18 May 1898. The occasion was the wedding of Ellen Gill to Daniel Farrimond, who were married at the Wesleyan Methodist Church in Standishgate, Wigan. Joseph Henry Gill (1846-1922) is seated 2nd row, 2nd from right. His son Alfred (1881-1961) who purchased Giants Hall in 1921 is stood extreme left, 3rd row.
Joseph Henry, Rogers great grandfather married Jane Marks who came from Blackrod in 1869. They then moved into Beech Hill Farm in Beech Hill Lane with its 40 acres of land. The 1871 census finds them living there with their 10 month old son Joseph, Jane's sister Mary who was employed as a domestic servant, Jane Wareing their five year old niece and John Astley a 19 year old farm servant.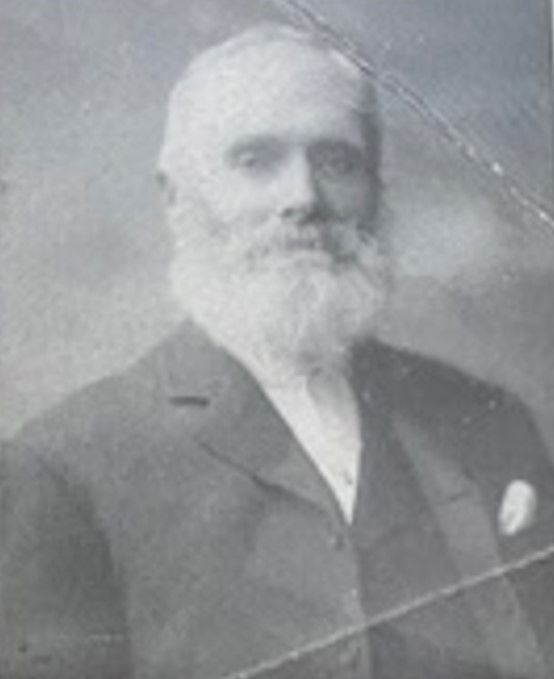 Joseph Henry Gill (1846-1922)
Joseph Henry and Jane went on to have seven children, four boys and three girls, all were baptised at the Primitive Methodist Chapel in Station Road, Wigan. Jane died in 1893, but Joseph was to marry for a second time in 1889 to Elizabeth Taylor.
Of the seven children, two died in childhood, Joseph the eldest in 1881 aged 10 and Susannah the youngest in 1885 aged 18 months. They were both buried in Wrightington.
John Henry, the second son married Minnie Hickson in 1898 and shortly after took over nearby Daylight House Farm, a dairy farm, also in Beech Hill Lane on the other side of Beech Hill Avenue. By the Second World War he had become an arable farmer at Firs Farm, Hindley. He died in 1967 in Shevington aged 95.
Martha Ann the eldest daughter married John Arthur Smith in 1899 and died in Urmston in 1951 aged 76. Mary Ellen married Thomas Hidden in 1900 and died in 1969 in North Wales, aged 90.
Their father, Joseph Henry Gill who had first moved into Beech Hill Farm 50 years previously died at his son John Henry's home, Daylight House Farm on 22 Feb 1922 aged 76. He was buried along side his ancestors three days later at St. James the Great church in Wrightington by a Methodist Minister.
The American Connection
After his marriage to Mary Marks in Wigan on 1 January 1873, Alfred Thomas Gill, (Roger's great grand uncle) moved into Brimelow Farm at the top of Gidlow Lane where he was a farm bailiff. His main task was to oversee the tenant farmers making sure that rent was paid and farms were well looked after.
The couple and their six children, three boys and three girls emigrated to America in 1882, arriving in New York on board SS Alaska on 4 September of that year.
They laid down roots in Watertown, Tuscola County in the State of Michigan. Alfred carried on farming and he and Mary had five more children, a boy and four girls. They spread their wings and settled in places as far apart as New Mexico, California, Oklahoma, Texas, Kansas, Nevada, Colorado, and Pennsylvania. Alfred died aged 62 on 1 April 1912 in Amistad, New Mexico. Mary died on 23 May 1943, aged 91.
Robert Gill, the older brother of Roger's grandfather Alfred married Fanny Elizabeth Fairhurst, who hailed from Standish in 1903. He also emigrated to America, sailing on the SS Caronia on 26 March 1907 from Liverpool, on the 10 day voyage to New York. His occupation on the ship's manifest is shown as carpenter. Robert settled in Mayville, Michigan where Fanny joined him at a later date.
Also on the voyage were Peter Durkin, a farm labourer from Standish and Mary Johnstone from Leyland who both also travelled to Mayville with Robert. The ship's manifest states that they were friends with Alfred Thomas Gill.
On 12 Sept 1918 as World War One was coming to a close Robert had to undergo a mandatory US Military Draft Registration Board interview. At the time he was aged 44 and the records show that he had a crippled knee and an artificial eye so was classified as unfit for military service.
On 6 Nov 1922 he applied for an American passport as a naturalised citizen in order to visit England on a two month long trip with his wife and two daughters.
The UK & Ireland Incoming Passenger Lists show that on 11 Aug 1949 Robert and Fanny arrived in Liverpool on the SS Franconia from New York via Quebec. Their destination address in England was Giants Hall Farm where Robert stayed with his younger brother Alfred. Robert died on 1 Jan 1961 at Ferndale, Oakland County, Michigan aged 87. Fanny died in 1971, aged 89.
Other Known Occupants of Giants Hall Farm

Peter Lathom
In 1725 Peter Lathom farmed 29 acres of land at Giants Hall, belonging to Lord of the Manor Ralph Standish.
William Lathom
By 1764 the lessee of Giants Hall was William Lathom. His lease rent in 1778 to Edward Towneley Standish was two pounds and three shillings, a day's harrowing or two shillings and six pence, four days shearing or two shillings, three capons and two hens or five shillings, a day's cart work, twenty plants, keeping cock and dog, and performing the medieval custom of performing 'suit of mill and court'. This was an obligation of the tenant to grind their corn at the Lord of the Manor's mill. For providing this service the Lord of the Manor was entitled to 1/6th of the value of the ground corn.
James Ainscough
The records show that in 1840 James Ainscough was the tenant.
Thomas Leslie
By the time of the census on 30 March 1851 Thomas Leslie, an unmarried 34 year old was farming 63 acres from the property. Thomas was a native of Coldingham, on the east coast of Scotland between Berwick upon Tweed and Dunbar.
John Ball
The census taken on 7 April 1861 shows that a local farmer, John Ball, aged 54 held the tenancy of Giants Hall and was farming 41 acres. Born 2 July 1807 he came from a farming family and had been farming in Standish Lower Ground for the previous twenty years. He married Margaret Harrison, who came from Bretherton, in 1827 at All Saints Parish Church, Wigan. Also shown on the census are their four sons who worked the land with their father, two daughters, a grandson and granddaughter. John died six months later, on 10 August 1861, at Giants Hall Farm aged 54. He was buried three days later at St. Wilfrid's church Standish.
Robert Gill
The next tenant was Robert Gill, the brother of Roger's great grandfather Henry, he was to farm Giants Hall for the next fifty years. He was born at Tanner Whalley's Farm in Carr House Lane, Wrightington. Robert married Mary Astley, a native of Heskin, in 1862. They were to have four daughters, Ellen, Susannah, Ann, and Jane. By 1901 Robert was farming 110 acres and employing five farm labourers and a dairy maid.
Robert died on 14 September 1913, aged 74. With no sons to take over the tenancy his wife Mary moved to Coronation Villa in Standish Lower Ground, where she died in 1928, aged 88.
John Rothwell
The last lessee of Giants Hall Farm was John Rothwell who was born in 1860 at Finch Lane Farm, Wrightington, where his grandfather, also John, farmed 20 acres. He was baptised at Douglas Chapel, Parbold on 11 November 1860. John married Elizabeth Fairclough on 16 July 1892 at St. Michael's & All Angels, Dalton. They were to have eight children, four boys and four girls. The 1921 census finds the couple at Giants Hall with their sons, David and Richard and daughters Eleanor and Rose.
Elizabeth died at Parbold Hall Cottages in 1825 and was buried on 25 August of that year at Christ Church, Douglas in Parbold, Plot No. 10. I. John died three years later in Appley Bridge, aged 66. He was buried alongside his wife at Parbold on 25 July 1928.
Sale of the Standish Estate
The last Lord of the Manor of Standish was Henry Noailles Widdrington Standish, who had inherited the manorial seat in 1883. Of mixed parentage Henry opted to live in France, the country of his mother's birth. In 1894 he purchased Chateau de Montjoye at Clairefontaine-en-Yvelines, to the south west of Paris, for 200,000 Francs. In ailing health he died on 31 July 1920 at a thermal health spa at Contrxeville in the Vosges Mountains, leaving no heirs. The chateau is now owned by the French Football Federation and is the base for the National Football Academy.
On 17 March 1921 the Standish estate was sold at auction, held over two days at the Empress Ballroom (later the Casino) in Station Road, Wigan. The vast estate covered a total of 3,000 acres and included many businesses and homes and almost all the well-known farms in the area south of Standish. As well as Giants Hall It included Brimleow, Wakefield, Upper and Lower Wood Folds and Brockhurst farms.
Alfred Gill
Giants Hall Farm was Lot 95, sold on the second day. It was purchased by Alfred Gill, Rogers grandfather, the property conveyance was eventually dated 29 May 1923. After a gap of ten years the farmhouse was back in the hands of the Gill family.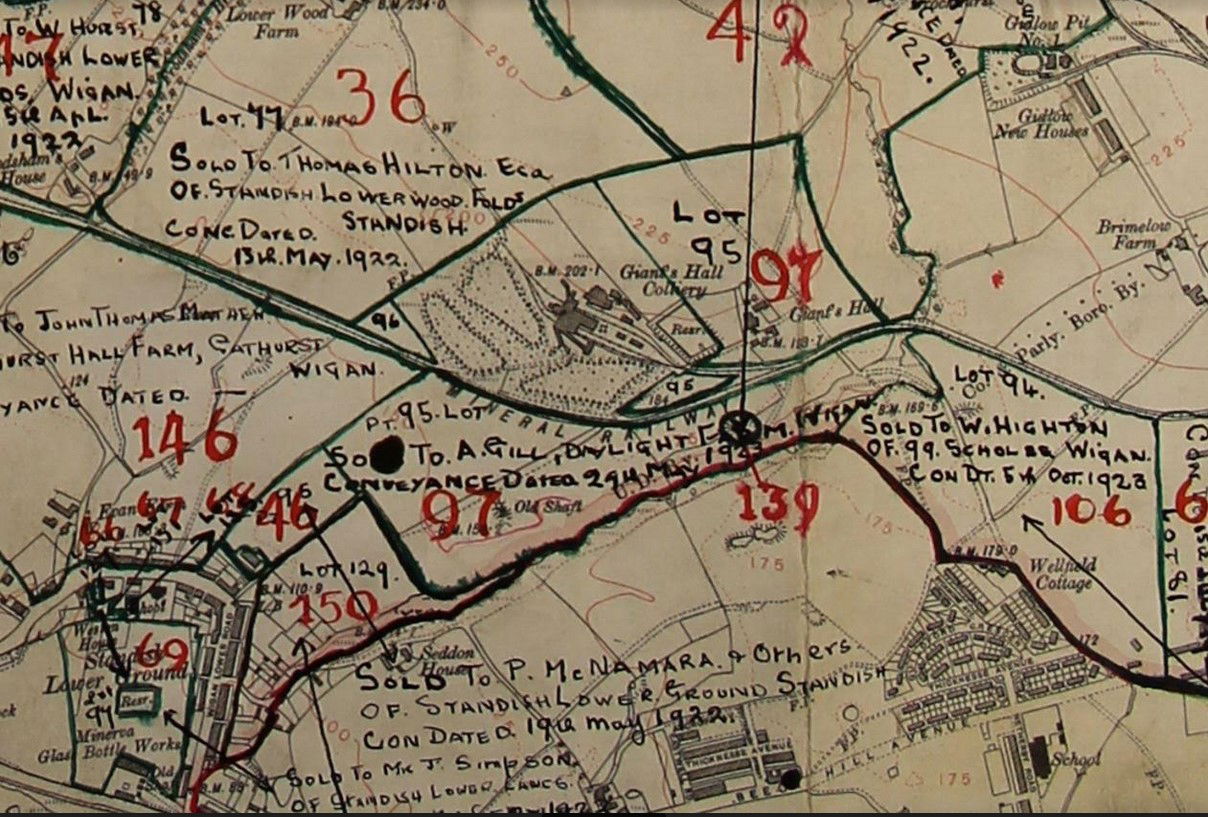 Standish Estate sale map of 1921 showing individual lots. Giants Hall was Lot 95
Alfred, the seventh child and fifth son of Joseph Henry Gill and his wife Jane (nee Marks) was born 7 June 1881 at Beech Hill Farm in Beech Hill Lane. The property dates from the 17th century and is now Grade 2 listed. He was baptised nine days later at the Primitive Methodist Chapel in Station Road, Wigan.
His parents had moved into the 40 acre Beech Hill Farm, twelve years previously, about the same time that Joseph Henry's brother Robert had taken over the tenancy of Giants Hall Farm.
Following his marriage in 1906 to Eunice Morris, Alfred moved a few doors away to 106 Beech Hill Lane, where the 1911 census finds him employed as a farm bailiff. Alfred and Eunice had six children, Marion (1906-1990), Susan (1909-1987), Geoffrey (1910-1980), Dorothy (1911-2000), Alfred (1912-1980) and Maurice (1919-1939).
By 1921 Alfred was farming Daylight Farm in Beech Hill Lane, previously farmed by his uncle John Henry Gill (1872-1967). As well as his wife and six children, his father Joseph Henry, stepmother Elizabeth and mother in law Mary Ann Morris were resident at the farm.
Eunice died in 1953 aged 68, the following year Alfred married for a second time to Annie Ascroft. Alfred died on 1 July 1961 aged 81, probate records show that the farm and all his assets had been left to Annie, and Gerard Ascroft, her brother who was a building contractor.
Geoffrey Gill, Alfred's eldest son was obliged to come to a financial agreement with his step mother in order for him to take over the farm and continue it's operations. As a consequence, during the 1960's the farm fell onto hard times and into a state of disrepair.
Restoration
By the 1960's Giants Hall Farm was run down and badly in need of renovation. The window mullions on the gable end of the attic at both front and rear are eroded from the inside. Some of the oak floor boards in the front bedroom below the attic have been replaced with pine boards but further in the room the original oak boards are still in place. However the level of the floor is out of plumb and has a significant slope.
Due to a gap in the records it is thought the house was unoccupied for three or four decades in the early to mid 1800's and that the space had been open to the elements, suffering damage.
The property was split into two dwellings at some point and a glass roofed lean-to built along the front of the cottage. In the mid 1960's, to generate extra income for the farm the adjoined cottage was rented to Brian Smith, his wife Elizabeth and two daughters, with the Gill family living in the larger building. Following their marriage in 1975 Roger and Christine moved into the cottage.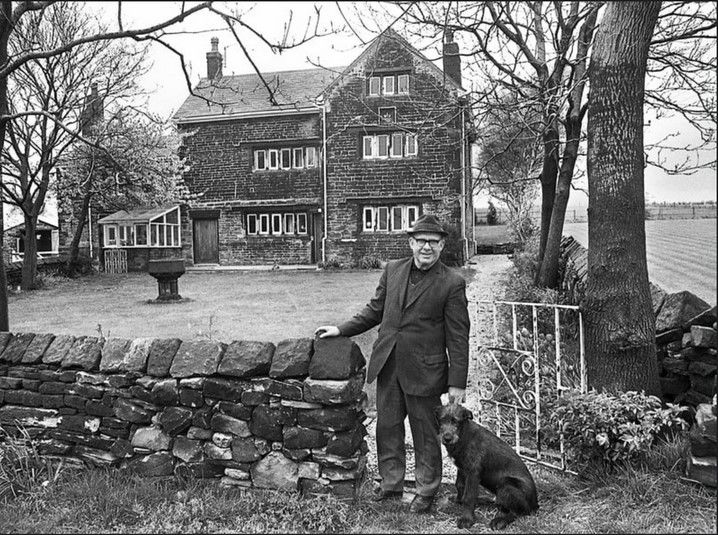 Geoffrey Gill (1910-1980) pictured outside Giants Hall with his Irish Wolfhound 'Guinness'.
Shortly after Geoffrey's death in 1980 the exterior of the soot blackened farmhouse, which was down wind of the pit, was sandblasted and pointed to remove the decades of coal dust that had accumulated on the stones, made worse by a fire in the slag heaps.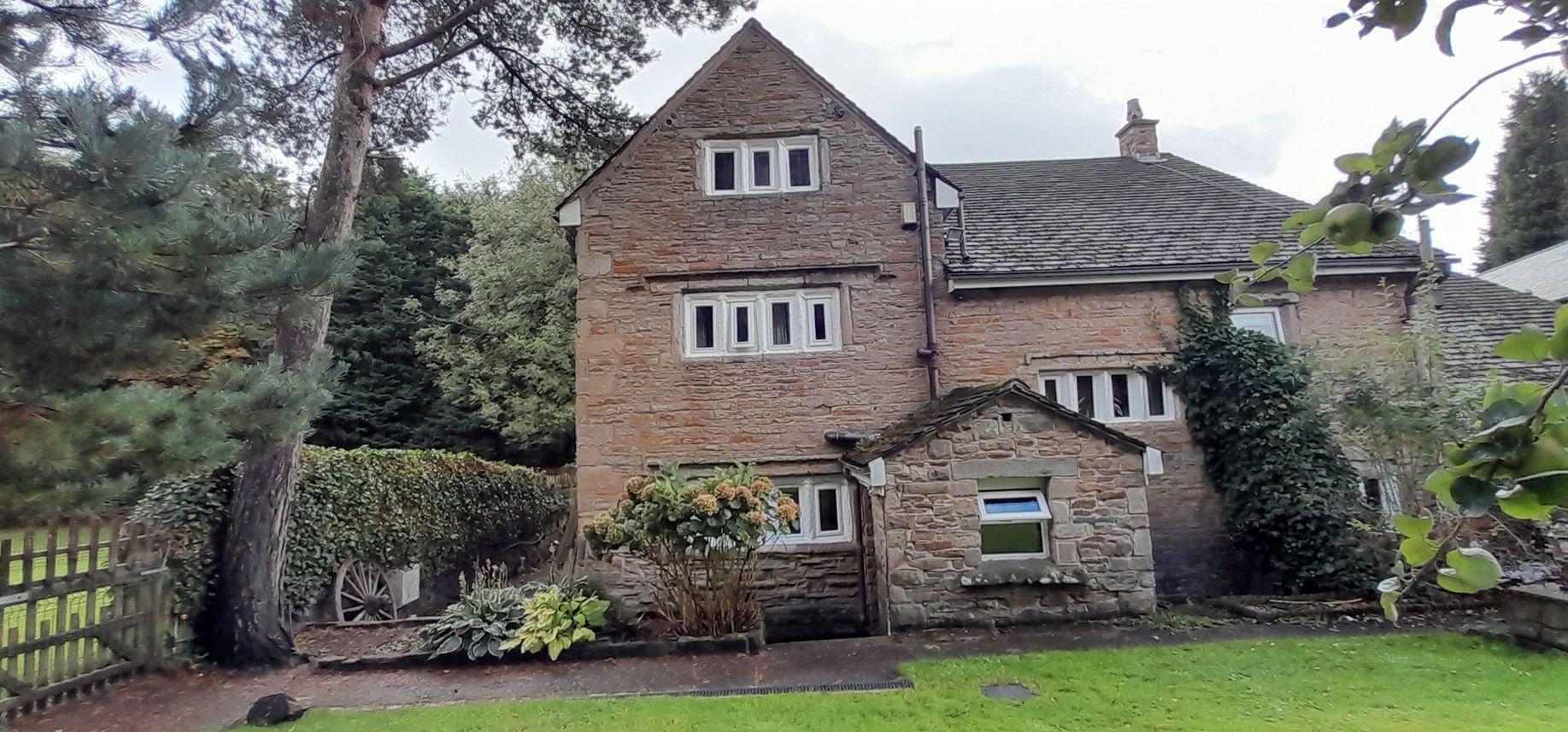 A rear view of the farmhouse
In 1984 Roger, a qualified chemical engineer established a business, G&B (North West) Ltd on site. The company develops, manufactures, and supplies high-quality glass reinforced polyester products and flat roof systems to the trade, as well as running training courses for tradesmen.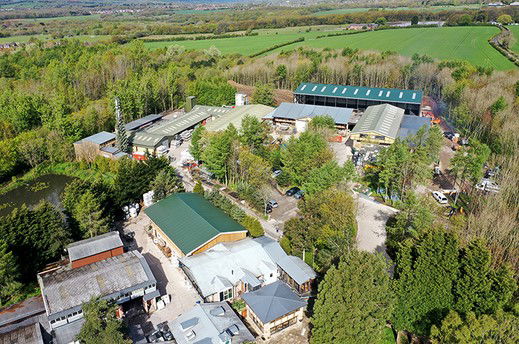 An aerial view of G&B (North West) at Giants Hall. To the upper left is a mobile phone mast which carries a microwave link to Winter Hill and is disguised as a tree to fit in with its surroundings.
The income from his business has enabled Roger to undergo a restoration programme of the farmhouse. In 1990 the house was converted back to one dwelling and a porch built in between the cottage and the main farmhouse. Six years later in 1996, with the aid of a grant from the Forestry Commission, Roger enrolled into the Red Rose Forest scheme and embarked on a six year plan to plant 47,000 trees on his 50 acre property. The renovation work is still ongoing with plans for replacing the roof of the farmhouse with flagged stones in the pipeline.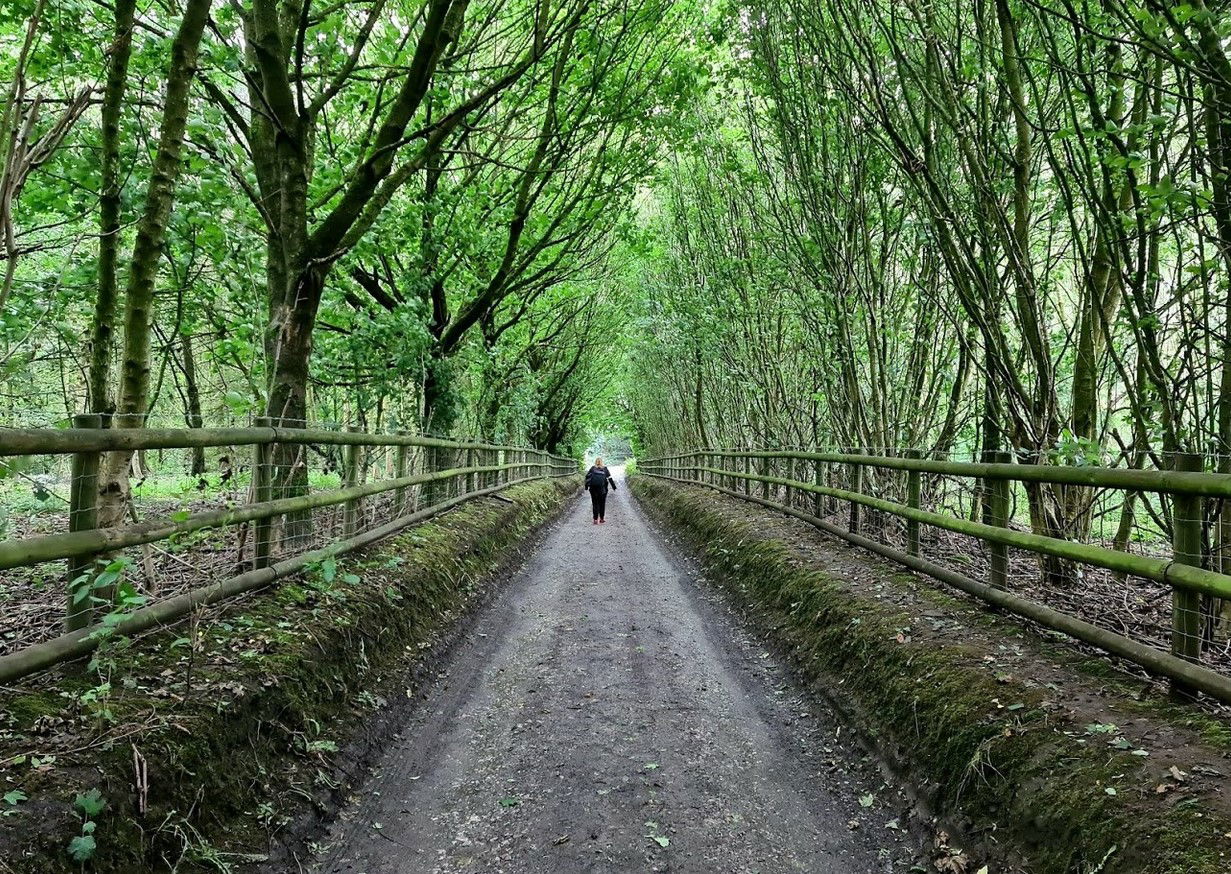 Standish Wood Lane adjacent to Giants Hall Farm under a canopy of trees
Roger and Christine Gill are to be congratulated for their dedication in restoring the farmhouse to it's former glory and preserving the beautiful historical building for future generations.
Graham Taylor 2023