A Standish Baptism
By Jim Meehan
In modern Standish all churches and faiths work in unity and that's exactly how it should be. However, over 270 years ago there were tensions as new non-conformist religions took shape. The growth of Methodism, being led by John Wesley, was seen at the time as a threat to the establishment. His preaching was popular with the "labouring classes" and his following grew.
Wesley had been banned from church pulpits and began preaching in the open air to crowds of ordinary people. He once said "I look upon the whole world as my parish". Unfortunately, the whole world did not always make him feel welcome.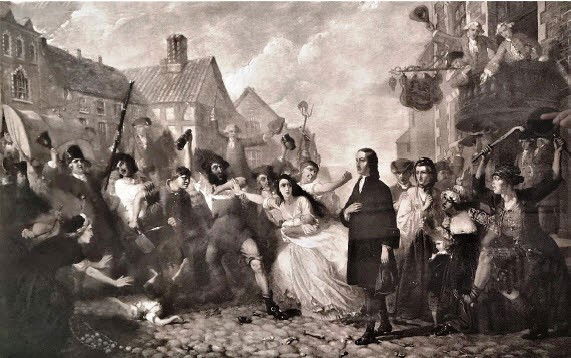 A mob trying to stop John Wesley preaching in 1742 - Courtesy of John Wesley's News Room
The story goes that when he visited Standish he was "seized by ruffians" who dragged him through the Malt Kiln Pond on High Street and chased him out of town. The story can't be verified but there are a few things on record that might support the legend.
We know John Wesley visited the area on a number of occasions including in 1764, 1768, and 1785. There is also a note he made in his journal during the 1768 visit which said, "most of the congregation were wild as wild might be".
And there is evidence of the Methodists receiving a far from warm welcome in 1790. The Parish records show the Church Wardens paid the bell ringers 2s 6d "when the Methodists preached, for driving them out of the town". Despite all of this the Methodists persevered, and their numbers started to grow. They rented a floor in the old Quaker meeting house in Quakers' Yard (now Quakers' Place). As the congregation continued to grow they longed for a larger church of their own.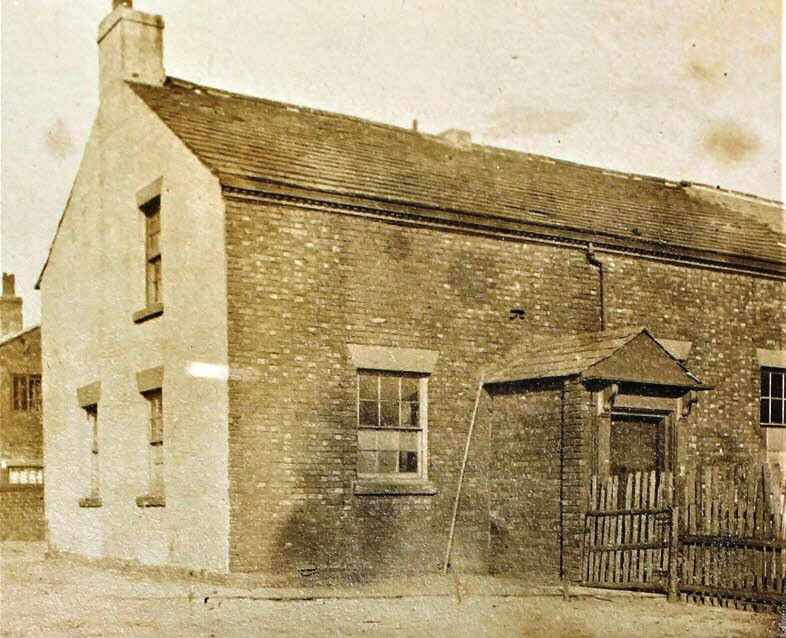 The old Quaker Meeting House in Quaker's Yard where the early Methodists rented a floor
After years of trying, they eventually acquired a prominent site on Standish High Street. And here's the twist; it was the very site of the Malt Kiln Pond, that according to legend, Wesley had been dragged through.
The church would be built using money raised over an 11-year period. To save on costs the congregation set about filling in the pond themselves. With the help of the Wigan Coal and Iron Company they moved over 980 tons of waste material from the nearby Prospect Colliery.
Eventually in July 1897 the new church and Sunday School were opened.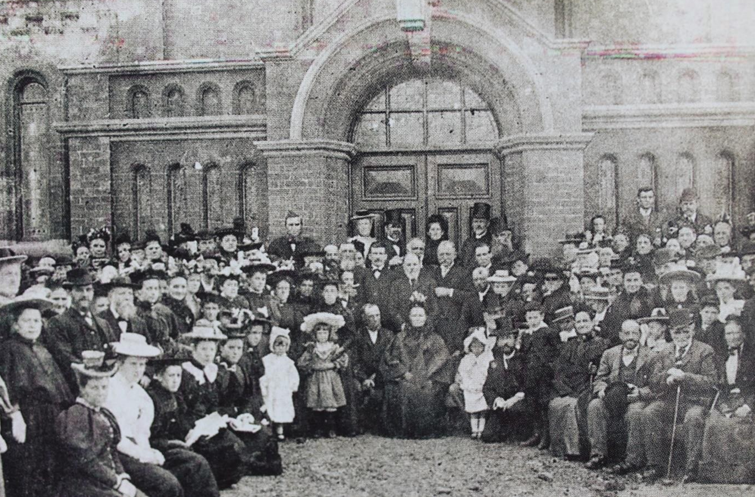 Opening ceremony of the Chapel on Standish High Street 1897
Standish Methodists could have been resentful of the treatment dished out to their founder, but they looked at it another way. Being dragged through the pond was a kind of Baptism. A Baptism for their religion in Standish which went on to flourish. Thanks to their founder and their own hard work, the church is built on solid foundations in every sense.