A LETTER FROM THE PAST
In 1942, during the Second World War, James Parkinson, a widow whose wife Mary had died the year previously, wrote a letter to his sons Ernest and Harold. In it he told them about the hardships of life growing up in Wigan in the Victorian era.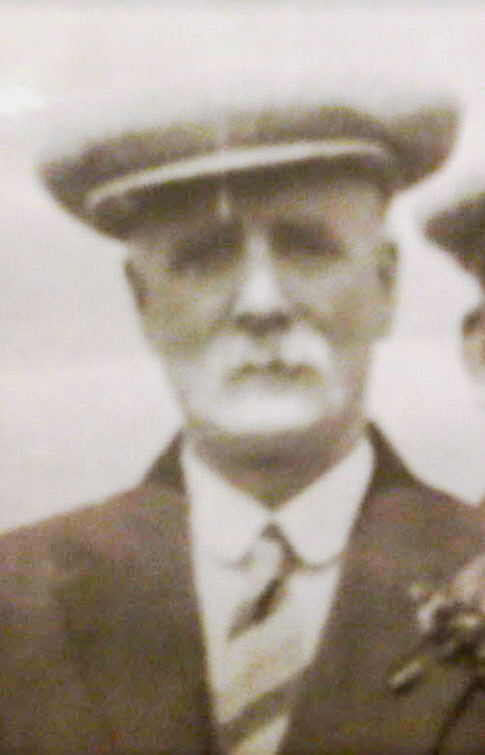 James
James was born 16 Oct 1873 in Moores Buildings, off Frog Lane in Wigan. At nine years old he was working part time in a local cotton mill and by the age of 13 was working full time down the pit.
On 19 June 1895, aged 21, he married Mary McNulty at All Saints Parish church. At the time James was living in Prescott St and Mary was living in Frog Lane. They moved to Standishgate where their son Ernest was born the following year, then to Swann St in Wallgate where the 1901 census finds them in residence.
Sometime in the early 1900's James and Mary moved to 405 Warrington Road in Abram, where they remained for the rest of their lives. Their second son Harold was born in 1907. James was now working underground at Maypole Colliery.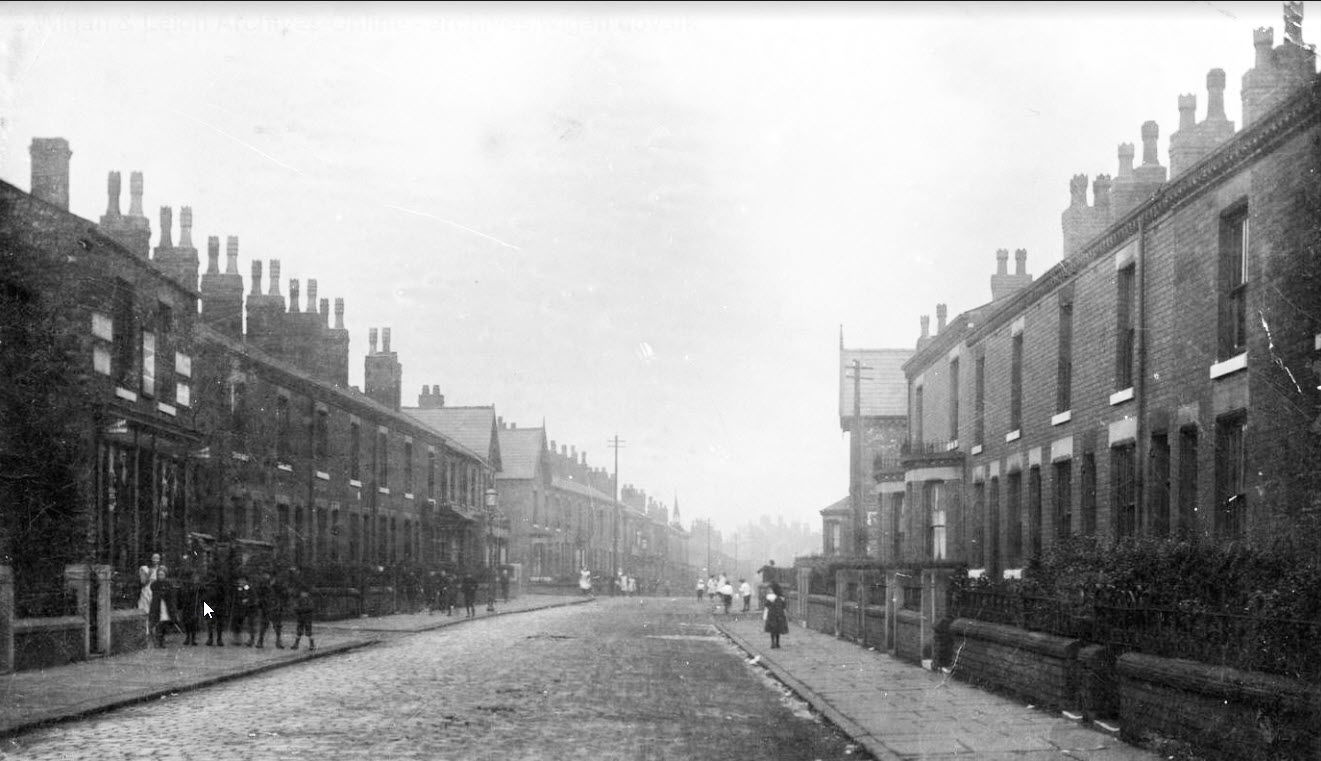 Warrington Road, Abram, early 1900's
He was off shift that fateful day on 8 August 1908 when an underground explosion at the pit claimed the lives of 76 miners. Like many other miners who lived in the village he helped with the rescue operations.
James was awarded the 'Lancashire & Cheshire Coal Miners Rescue Station Medal' following the underground explosion at 7.50 am on Wednesday 21 December 1910 at No 3 Bank Pit, Hulton Colliery. Located on Hulton Park land on the border of Atherton and Westhoughton, it was more popularly known as Pretoria Pit because the shaft was sunk in June 1900, the same time that British forces captured Pretoria, the capital of South Africa, in the Boer War.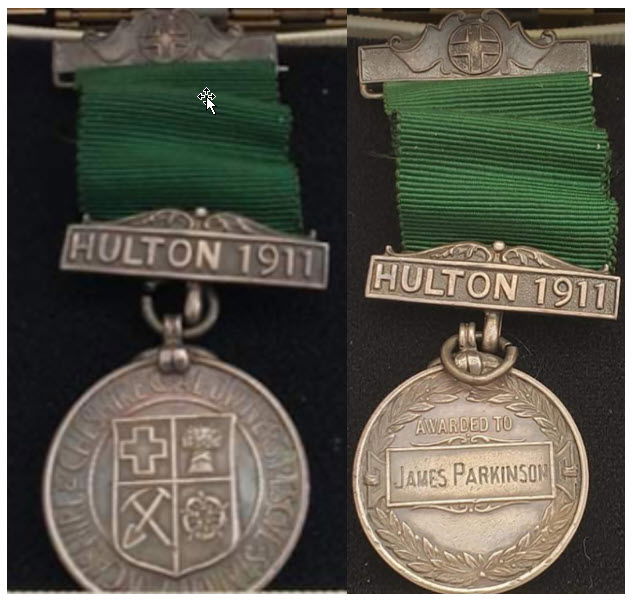 The disaster was England's second worst mining accident and cost the lives of 344 men and boys. Forty two victims were aged 13 to 15, the oldest was aged 61. Several hundred men from other pits in the area were involved in the rescue work which went on for the next eight weeks. It wasn't until 14 February 1911 that the last body was recovered. Family members relate that James was very distraught over the tragedy.
On 7 Dec 1914 his eldest son Ernest enlisted into the 10th Battalion Lancashire Fusiliers and went out to the Western Front on 15 July 1915. He attained the rank of Sgt, was injured, received the Silver War badge and discharged into the Reserves on 7 June 1918.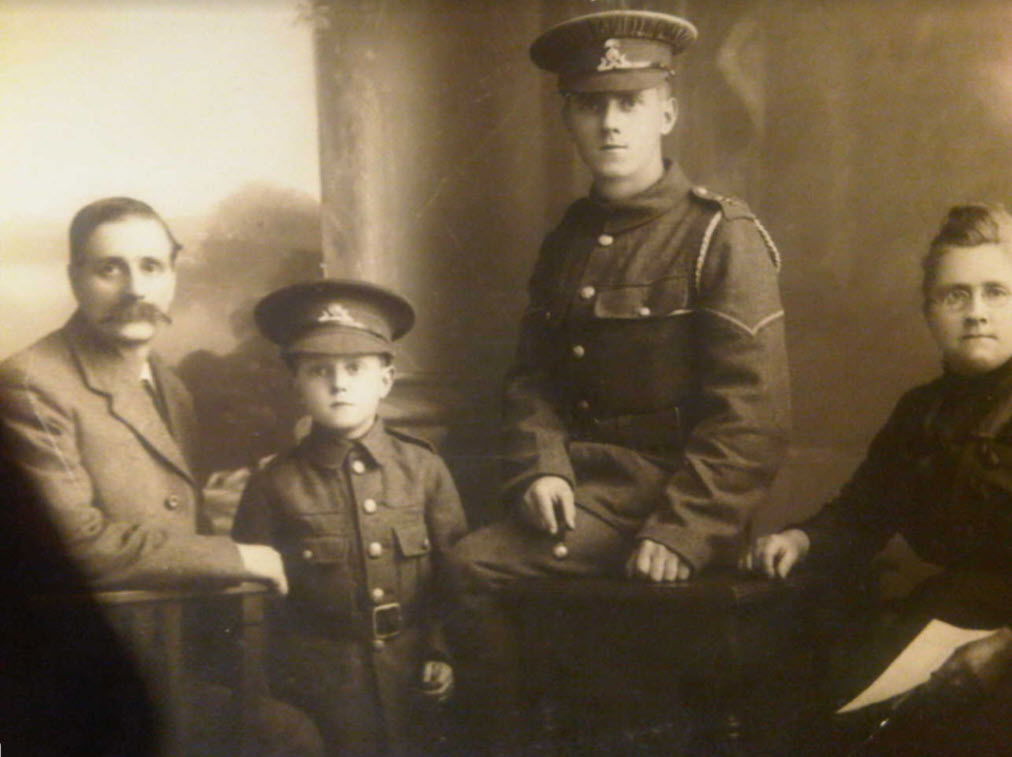 James, Mary, Ernest and Harold Parkinson
James died 11 March 1955, aged 81, at the home of his youngest son Harold in Margaret Street in Hindley. He was buried alongside his late wife Mary in St. John's graveyard in Abram on 15 March 1955. Grave No, 30.O.C.S.
December 1942
Dear Harold and Ernest
I should like to give you a short biography of my life ever since I can remember. I remember very well starting school when I was five years of age. I had about a mile and a half to go from home to school and I can tell you that we used to have some very rough times. There was three of a family then, two girls and myself. Well we had to go the same way (as regards Religion) as my Father and Mother. My father and all his family were very strong Roman Catholics but my mother was a Church of England member but she turned Catholic to marry my Father. Well lad all my troubles started then.
I was only a baby as you might say (five years of age) and when we turned out at half past eight in the morning to go across the market square in the winter time crying nearly all the way, cold and hungry you may know what we had to go through. You know when a child doesn't get enough to eat and clothes to wear. The wind, snow and rain gets into your bones, especially when you have to go across places like the Market Square was then (sixty five years ago). No buildings of any sort to shelter behind. You had to face it and make the best of it.
Well time dragged on for five long years, until I was about a month short of ten years of age when my Father and Mother (I remember it well) told me that I had got big enough to start to work and that I must try and get a job but before that I had to be out of bed about seven o' clock every morning to take Grandad's breakfast to Woods Factory, bottom of Wallgate from Grandma for the high sum of a halfpenny a morning.
When I come to sit here and think about my past life, I just wonder how I came to live through it all. In those far off days I remember we used to have a lot of blue milk porridge. Three and half times water to half of milk and we had to be satisfied if we ever got a penny from a neighbour we used to go from Frog Lane to the Market for a pennyworth of broken biscuits. A capful for a penny. I have wondered many a time what would children say today if they were treated the same as we were in those days.
Well to get on with my short story. When I was getting close on ten years of age I had to get a job of work, so when I was about a month short of my tenth birthday I went to an overlooker in the factory, one that lived close to where we lived in Frog Lane and asked him if he could find me a job and he promised he would do if he could and a few days after he sent word that I would start any time (half time).
The job was two shifts, one week on morning turn and next week on afternoon turn. When you was morning turn you had to be out of bed at five o'clock until twelve thirty dinner, rush home from work get what there was to eat (not much) then rush to school to be there by one thirty and I can tell you it was a nice long trail.
Every child that got work had to leave the school to attend no matter what religion he was and go to this one school or else he had to give up his job and that school was St. Michaels close to the Infirmary and so I started to increase the income for home but things didn't get much better because my father used to spend a lot of his wages in gambling on horses and other things and always kept my mother very poor so she could not give us what she would have liked, neither in food or clothes so we had to be satisfied to carry on in the best way possible.
I carried on like that until I was thirteen years of age and then I had to start work full time. My work had to have a big change then because money was very scarce then at home and I had to get a fresh job with more money. All the boys I had known, worked down the pit and they didn't half swank with their spending money at weekend, jingling their two pennies together in their pockets and I none. So I decided to go down the pit as well.
At that time one shilling and sixpence to one shilling and ninepence a day. It was very long hours then down pit very often eleven hours down below and I can very well remember not seeing daylight for a week on end, dark in the morning when you went down the pit, dark when you came home only seeing daylight on Saturday afternoon.
Well lad, I carried on for another four years getting my spending money like all other boys. Twopence a week and there came a night when I met your mother. Well Harold as I was seventeen and a half years of age by that time I thought it was time that my pocket money was risen a bit, seeing that my wages had gone up.
After a few weeks, I got another twopence, making it four pence a week. I thought I was a millionaire but I never knew what it was (up to that time) to ever have a new set of clothes. Always second hand clothes from second hand shops in Mesnes St.
The first new suit that I ever had was one I bought myself. I had to pay one shilling a week for twelve months for it. I was twenty one then and I was thinking of getting married. We had been going together for nearly four years and my spends had been risen to sixpence per week. So that was the time when I told my mother that I could get married in an old second hand suit and the reply was "Well lad you will have to buy one yourself" Fancy that on sixpence a week, but that was how it started and I was getting a fair wage then. Four shillings a day I thought it was getting time that I started a fresh life because your mother was always a good pal to me in those days. Things that I never forget or ever will do if I live to be a hundred.
The reason that prompted me to write this little story is a very simple one. Two or three months ago, I broke my pipe and as you can't buy any cheap wooden ones now, I started to smoke one that your mother bought me when I was twenty one years of age. That is nearly 49 years ago and it brought back memories, "happy memories" of being together and I have to admit that no man ever had a better wife or child a better mother than your mother.
Well we carried on for a while thinking how we were going to manage it because I had nothing and she had very little because she had only four and sixpence a week in service to keep herself and as you know she had to keep herself respectfully dressed. So for two or three week before we got married, I got a few shillings from my mother but my father didn't know or else the fat would have been in the fire.
Well we arranged everything at Wigan Parish Church and we made a big show in the Market Place on June 19th 1895 and at the entrance there was a lot of people stood. I'll bet when they saw the couple of grey horses and coach draw up, they thought it was somebody big and a not a poor old collier lad with no money in his pocket. After I had paid 4/6 to be married and 15 shillings for the carriage. I was broke to the world.
Well lad I could go on writing for hours telling you of my past life but I think I have told you enough. Just to let you know what a hard life I had to live before I decided to change it by getting married to your mother. I can tell you lad it was very hard at first. No furniture, no clothes, nothing but a bed (one that the lady where your mother lived gave us) we started on our wedding life, but we saved a little bit somehow and we kept buying a bit there and then until we got a few things together and something to sit on chatting by the fireside.
I am now getting to what they call the allotted span Harold and Ernest (3 score years and 10) and when the time arrives for me to go from this world, I hope and trust that you will see to it that I am left in Abram with your mother. There will be enough insurance money to draw to see that I get put away decently. If I can only just keep up with the present policies I now hold, also the benefit from the Foresters Society.
I will now close this little sketch of my past life, hoping that none of yours will have to go through it like I had to.
Your Dad"
by Graham Taylor 2021
Acknowledgement
Thanks to Phil Howard, gt/grandson of James Parkinson
Sources
Ancestry Census, BMD & Military Records.
Lancashire Online Parish Clerks